---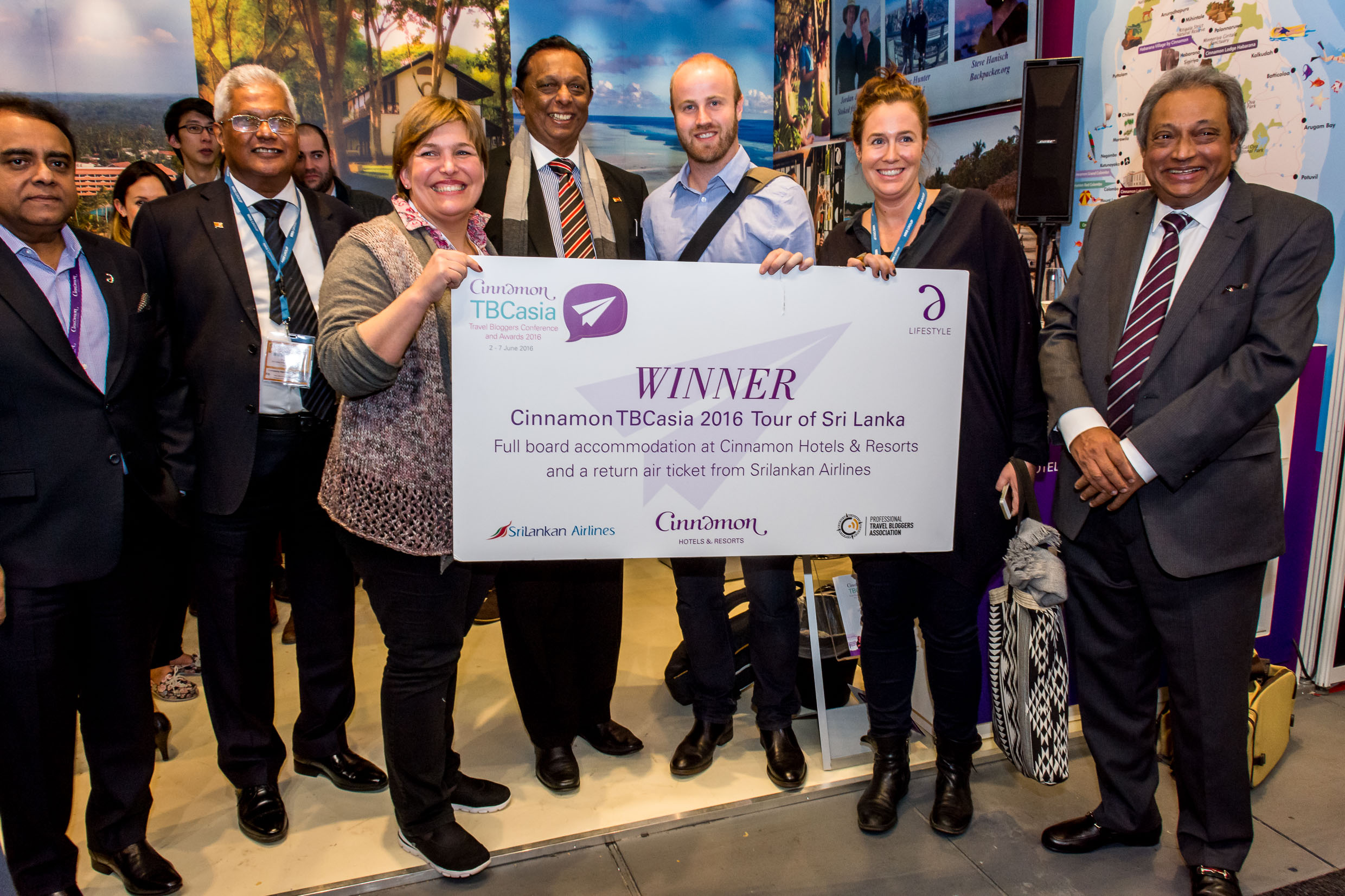 Lucky Winners of Cinnamon TBCasia tour of Sri Lanka proudly display their prize.
Standing L-R
Sunimal Senanayake- sector head, leisure resorts in Sri Lanka and Maldives at Cinnamon Hotels & Resorts, Paddy Withane- Chairman, Sri Lanka Tourism Development Authority,Monika Roozen, Mum on the Brink blog, Hon. John Amarathunga- Minister of Tourism Development and Christian Religious Affairs, Brendan Van Son , Brendan's Adventures blog, Annika Ziehen, Midnight Blue Elephant blog, Ajit Dias- Chairman, SriLankan airlines
Cinnamon Hotels & Resorts together with the national carrier SriLankan Airlines are gearing up to host an incredible group of 60 travel bloggers in the country as part of the Cinnamon Travel Bloggers conference Sri Lanka- Cinnamon TBCasia from 2 to 7 June 2016. This year a novel component has been introduced, which is the Cinnamon Travel Blogger awards.
Of the selected bloggerswho will travel to Sri Lanka for Cinnamon TBCasia, 30 award finalists were recently announced at an event held at ITB in Germany, the world's biggest tourism trade fair and B2B platform for trade visitors. Three lucky bloggers who attended the eventalso won a raffle draw prize with a fully-hosted trip to Sri Lanka and the chance to attend Cinnamon TBCasia courtesy of Cinnamon Hotels & Resorts and SriLankan Airlines.
Cinnamon Hotels & Resorts in partnership with the Professional Travel Bloggers Association (PTBA) and SriLankan airlines initiated Cinnamon TBCasia in 2014, facilitating vast opportunities for travel bloggers around the world. Cinnamon TBCasia is the only travel bloggers conference around the world to have a four day pre-conference tour for all hosted bloggers. Following the successful completion of the event held in 2014, the event is now scheduled to take place in June 2016 with the inclusion of Cinnamon Travel Blogger Awards – that recognizes the contribution and role that travel bloggers play in the travel and tourism industry.
Apart from the 30 award winning bloggers who will be present at this year's conference, there will also be 30 other popular bloggers from key generating markets such as the United Kingdom, China, India, Germany and France, creating a global audience that will generate a mammoth reach in terms of international exposure and online visibility for Sri Lanka in a very short span of time.
The presence of these 60 bloggers during Cinnamon TBCasia will similarly provide local travel companies, regionaltourist boards and hospitality organizations the opportunity to network and connect with the international blogging community during the one day conference on 7 June 2016. It will be the ideal opening for the Sri Lankan travel and tourism industry to grow and expand their businesses while learning to work with such a diverse online fraction with a strong global appeal.
Dileep Mudadeniya, head of brand marketing at Cinnamon Hotels & Resorts, also pointed out the benefits such a conference can offer the onlinecommunication and international marketing sector in Sri Lanka. "Cinnamon TBCasia is an incredible opportunity for anyone involved in digital content creation and global marketing to connect with some of the world's most influential bloggers, but also to hear from leading international speakers on issues and opportunities in blogging. We know that one of the challenges facing many businesses is how to grow their business using online media and find and identify the right bloggers to work with. Cinnamon TBCasia will provide them with the ability to meet and network with some of the world's best bloggers," he explained.
Saminda Perera, general manager marketing, SriLankan Airlines said, "Bloggers have become a decisive factor in the contemporary travel. In fact, online media has taken precedence over traditional mainstream channels for its authenticity of voice and people-centric views. SriLankan Airlines, as the national carrier of Sri Lanka, considers it a pleasure to partner Cinnamon Hotels & Resorts for yet another futuristic tourism promotional endeavour such as the Cinnamon Travel Bloggers Conference 2016; the first edition of which was a huge success. I am confident that the insightful interactions with these widely-read bloggers will be an inspiration to anyone who aims to elevate Sri Lanka's position as a prime travel hub."
Cinnamon TBCasia will welcome over 300 participants and explore corporate content and how bloggers can help, influencer marketing and strategizing a successful campaign, the use of virtual 360 in the travel industry, experiential storytelling: communicating experiences and authenticity in the digital world and crafting your digital strategy.
For registrations please visit www.tbcasia.com or call +94 71 862 2917.