---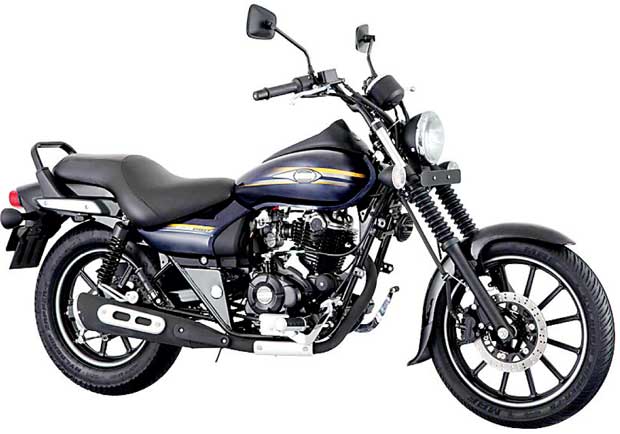 David Pieris Motor Company Limited (DPMC), Sri Lanka's largest automotive company and sole distributor for the best-selling Bajaj motorbikes, is proud to announce the launch of Avenger STREET 150 for cruiser aficionados in Sri Lanka, who have long yearned for an exhilarating and powerful ride.
Cruiser motorcycles have defined the American riding culture with their distinctive styling and powerful sound, as well as the upright riding position. Typical cruiser enthusiasts have historically customized their bikes to suit their individual preferences, resulting in wide variations in styling, as well as the performance of the bikes themselves.
With its unique cruiser styling, longer wheelbase, wide handlebars and comfortable, upright riding posture, the Avenger STREET 150 provides the ideal choice for those who desire a motorbike that combines power and manoeuvrability, with comfort and unique styling. Due to its healthy power-to-weight ratio, the Avenger STREET 150 feels equally at ease on city streets or cruising down byways.
The Avenger STREET 150's five-speed gear system feels smooth to use, with a light and progressive clutch action. The 150cc DTS-i engine translates into more power, better performance and lower emissions.
Avenger STREET 150 also comes with 17-inch front tyres with 130mm section and 15-inch tyres at the rear, both with black alloys. The longer front shock absorbers are telescopic and anti-friction, while the dual-spring suspension setup at the rear provides a comfortable ride. The 14-litre fuel tank can carry sufficient fuel for long rides.
Avenger STREET 150 also packs in extra features such as white hue headlamps for better visibility for night riding, semi digital meter console with speedometer. The comfortable foam padded seating, with an elevated rear seat, adds to the feeling of a real cruiser.
Slicing through busy urban traffic is quite easy, while reaching high speeds on byways becomes a breeze, thanks to the powerful engine, along with sharp brakes and excellent grip. Even on bad roads, Avenger STREET 150 offers a comfortable ride.
The overall styling of Avenger STREET 150 echoes the contours of the larger, heritage American cruise bikes, which will resonate well with Sri Lankan cruiser enthusiasts who look forward to the same look and feel. The smooth nature of the engine provides a calm riding experience expected from a cruiser.
The competitive retail price of Rs. 329,900/- makes the Avenger STREET 150 highly attractive to buyers, as it gives them the option of owning a city rider cum cruiser.
However, the biggest benefit to those who invest in an Avenger STREET 150, is the valuable after sales service offered by DPMC, an ISO 9001:2008 and ISO 14001:2004-certified company with a state-of-the-art assembly plant and 40 regional offices as well as 1,400-strong spare parts sales and service dealer network spanning the entire island. DPMC, as the sole distributor for Bajaj, also has the best of technical expertise in the form of cutting-edge diagnostic tools and equipment, as well as highly trained and experienced personnel who can help maintain the Avenger STREET 150 in excellent condition for years ahead.