---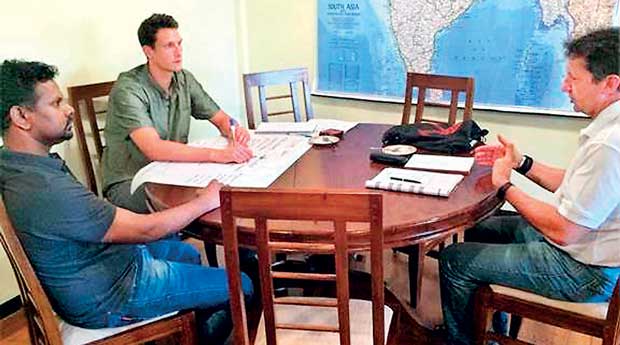 Australian consultants Sean Burk and Richard McKeon in discussion with Ceylon Chamber-led YBSL Country Manager Vartharajah Kumaraguru
Youth Business Sri Lanka, an arm of the Ceylon Chamber, which works to develop young entrepreneurs in the country, is looking to transform and grow its engagement model with the support of two Australian volunteers.

Sean Burk, from Tasmania, an experienced accountant and financial controller, and Richard McKeon, a Gold Coast-based management consultant with experience in international development, are currently in Sri Lanka working with the YBSL to strategize its transformation programme.

Sean, the CEO and CFO of Meals on Wheels Tasmania, a non-profit meal delivery firm in Australia, will use his considerable financial and management expertise to help YBSL improve its fiscal reporting system, expand its mentor development network, as well as provide overall strategic guidance.
Richard, who runs a small consulting firm in Australia, which helps corporations, social enterprises and charities solve their strategic and operational problems, is helping YBSL adapt to new trends in youth entrepreneurship by launching innovative new services.

The duo is part of the Australian Volunteers for International Development (AVID) programme, an Australian government initiative.

"I'm pleased to see the Australian volunteer programme in Sri Lanka making such a useful contribution to young entrepreneurs and the business community as a whole," Australian High Commissioner Bryce Hutchesson said.

The AVID programme is delivered in Sri Lanka by an Australian specialist project management company, Scope Global, in close association with the Australian High Commission, Colombo. There are currently a further 11 Australian volunteers working in Sri Lanka under the AVID programme in the fields of forest management, education and training and private sector development.

If you need help with a new business idea, you can get in touch with YBSL at info@ybsl.lk. You can follow YBSL on Facebook (@YouthBusiSL), Twitter (@YouthBusiSL) and on the web www.ybsl.lk.