---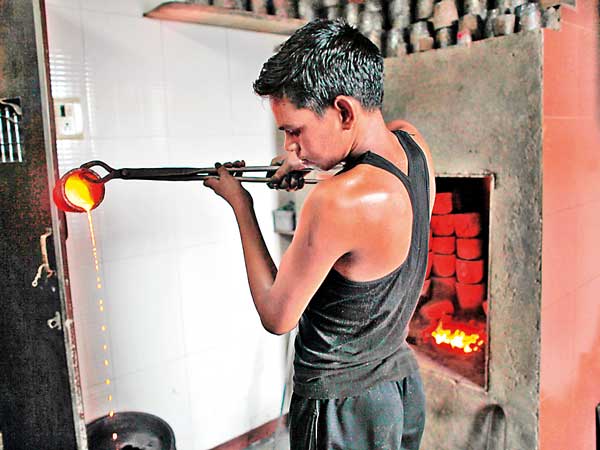 An Australian-Indian consortium wants to restart gold mining in a district that helped symbolise former British rule in India and produced some 25 million ounces over 150 years before being abandoned due to low bullion prices.

Mining in the Kolar gold field in Karnataka state in Southern India ended in 2001 as gold prices slumped. But a government tender could lead to mining leases held by Bharat Gold Mines Ltd sold to the highest bidder and operations resume.

A restart would come amid resurgent gold prices and steps by India to monetise some of the estimated 20,000 tonnes of gold held by its citizens and slow imports to free up capital to strengthen its economy.

India is one of the world's largest importers of gold, but mines only a pittance on its own. National demand reached 654.3 tonnes in the second half of last year, the third highest year on record, according to the World Gold Council.

Australian miner Citigold Corp, which has been conducting field visits to the Kolar sites since 2006, has agreed to partner with Indian conglomerate Essel Group to tender for the assets from the government.

"India can be a challenging place to work and partnering up with a solid local partner is key to making this happen," Citigold Executive Chairman Mark Lynch told Reuters. "We made sure we did our homework."

In the early years, the gold mine, sported a sprawling estate for its operators, with its own golf course and tennis courts. British engineers also constructed the world's longest transmission line with the highest voltage at the time to meet the hydropower needs of the mine.

By the 1920s 24,000 workers were employed, with Europeans holding most of the top jobs. The mines were nationalised in 1956 - nine years after the end of British rule - and by 1980 were running at a loss, though it would be two decades before
operations ceased.

India last year launched a "Gold Monetisation Scheme" to mobilise gold hoardings. The scheme has so far collected about three tonnes of gold in four months.
India plans to auction at least three gold mines this year, including Kolar, Mines Secretary Balvinder Kumar told Reuters on February 17. Kumar said several local and multinational companies had shown interest in the mines, without naming them.

Lynch said the Bharat project would require new infrastructure and mine equipment but that potential existed to get an early leg up by processing 32 million tonnnes of mine waste at the site, as well as open pit and shallow underground extraction.
Gold prices rose by 17 percent in the first quarter, the best performance in almost three decades.
"At today's prices, this project would be making money," Lynch said.
REUTERS