---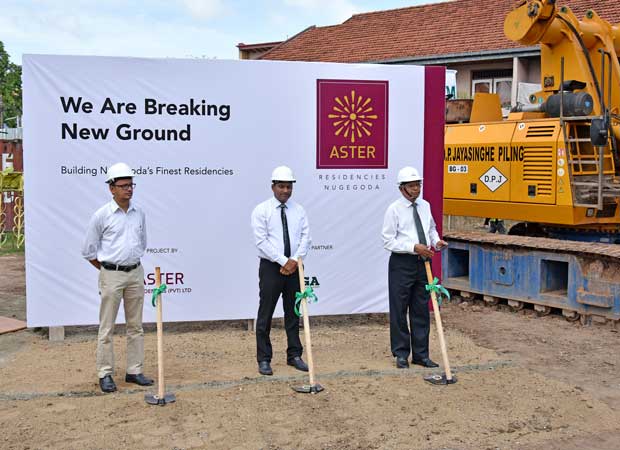 From left: OENS Design Studio Principal Architect Nihantha Munasinghe, Aster Residencies (Pvt.) Ltd Chief Executive Officer Chandima Anton Dilruk and Mäga Engineering Chief Executive Director M. Piyadasa at the groundbreaking ceremony
Aster Residencies (Pvt.) Ltd announced the launch of Aster Residencies, a unique apartment project in the heart of Nugegoda. This Board of Investment (BOI)-approved apartment project comes to light as a joint venture between Aster Residencies and Maga Engineering, the leading construction company in the country.

Situated in the tranquil environ of Poorwarama Road, Nugegoda, this apartment complex encompasses 10 residential floors which offer two and three-bedroom apartments and a limited number of penthouses equipped with high-quality finishes and modern fittings. The layout of each apartment has been thoughtfully designed to maximize the use of floor space and the result is the fully-fledged abode of your dreams. There are 48 apartment units in total.

Commenting on the project, Aster Residencies (Pvt.) Ltd Chief Executive Officer Chandima Anton Dilruk said, "With our successful investments under many businesses portfolios, we now enter into real estate with Aster Residencies project. Ours is a project which offers the best housing solution to our prospective customers who seek to reside in the bustling town of Nugegoda. The location chosen for the project is definitely a place where one can alleviate, indulge and rediscover modern living. Our objective behind the project is to build high-quality yet affordable apartments."

"We are proud to partner with Maga Engineering, the leader of Sri Lanka's construction industry, who has showcased its expertise through its involvement in many landmark condominium projects in Sri Lanka," he further added.

Attractively priced to offer modern living, the significance of Aster Residencies is highlighted with its design, which stands compatible with the needs of corporate sector managers, executives and entrepreneurs who seek higher standards of living coupled with the convenience to access the city of Colombo and reduce travel time losses.

Commenting on the project, Mäga Engineering Chairman and Managing Director M.G. Kularatne said, "It is indeed a pleasure for us at Maga to partner with Aster Residencies. I am quite sure that this project will fill the vacuum in the area for high-quality apartments at a competitive price point. We have deployed an exceptional project team to bring this project to life and deliver on our commitment to provide housing of exceptional quality."

The residents of Aster Residencies will have access to a range of high-end lifestyle amenities such as a swimming pool, kids' pool and play area and modern gymnasium, thus promoting healthy living. The rooftop features modern recreational options including a BBQ area for residents to hold social events.