---

Architect 2018 was ceremoniously launched recently at Hotel Galadari Colombo, with the participation of previous year patron companies and members of Sri Lanka Institute of Architects (SLIA), which was coincided with the 60th anniversary celebrations of SLIA.

Following a brief welcome address by SLIA President Archt. D.H. Wijewardena, felicitation of previous year stall holders began.

Sponsors of previous year events Alumex PLC, Lankem Robbialac, True Value Products, Ranjanas Ceramics, Nippon Paints Lanka, Idea Group, Naveen Ceramics were recognized for their patronage and awarded with tokens of appreciation.

The award ceremony that followed was dignified when Colourcon Roofing received the Award of Excellence and Mascons (Pvt.) Ltd received the Award of Merit under the category of Best Green Trade Stall from D.H. Wijewardena.

Merit Awards were presented to Latex Lanka (Pvt.) Ltd, SMS Holdings and Colourcon Roofing (Pvt.) Ltd under the category of Best Stall Displaying Local Products by SVP, Archt. Veranjan Kurukulasuriya.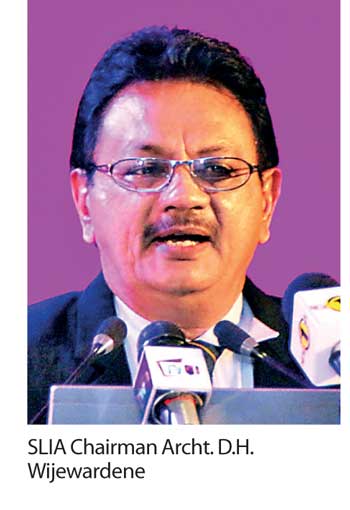 Alumex PLC received the Award of Excellence while Ranjanas Ceramics (Pvt) Ltd and Centre Point (Pvt.) Ltd received the Awards of Merit under the category of Most Innovative and Informative Trade Stall from Vice President/Chairman of the Exhibition Committee Archt. Russel Dandeniya.

Under the Best Stall With Innovative Use of Colour category, Award of Excellence was presented to Lankem Robbialac and the Awards of Merit were were presented to Ranjanas Ceramics (Pvt.) Ltd and Abdul Rahims (Pvt.) Ltd respectively by Secretary Archt. Rohana Bandara Herath.

A significant attribute of the launch of Architect 2018, was the recognition of companies that have been participating at the exhibition for last five consecutive years. CEO's of many companies were present at the ceremony to grace the occasion with Council Members of Sri Lanka Institute of Architects.

Exhibition Committee Vice President /Chairman Archt. Russell Dandeniya introduced the new A18 concept of the Architect Exhibition and the event advanced into digital web based mobile app with redesigned stall layouts which showed 324 trade stalls and 136 display panels of work done by Architects and focused into online stall reservation system.

Architect 2018 will be inaugurated on 21st February 2018 followed by National Conference on 22nd February 2018. The Inaugural opening of the exhibition will take place on the 21st of February evening and be open to the public for four days from 22nd to 25th February 2018 from 10:00 a.m. to 10:00 p.m.

The annual architects' exhibition has evolved into the most desired platform for the public to access latest products, and services available in the construction industry. Architect 2017 Trade Exhibition featured 168 companies occupying 282 stalls and were exhibiting the latest products the industry to offer. During these four days more than 65,000 interested individuals visited the exhibition and stall holders were satisfied with the enthusiasm shown by visitors and the new business opportunities explored which opened out through their participation in this mega exhibition.

As usual, the exhibition will be dedicated to university students who will be the immediate future of our country including school children for one day to enhance their knowledge in built environment.
The re-designed more user-friendly layout for Architect 2018 will feature a more web-based application for exclusive access for public with mobile apps, including walk-through digital panels, physical architects models, public lectures by chartered architects, art competition for kids with valuable certificates making it more attractive for the building trade in a very advanced manner.