---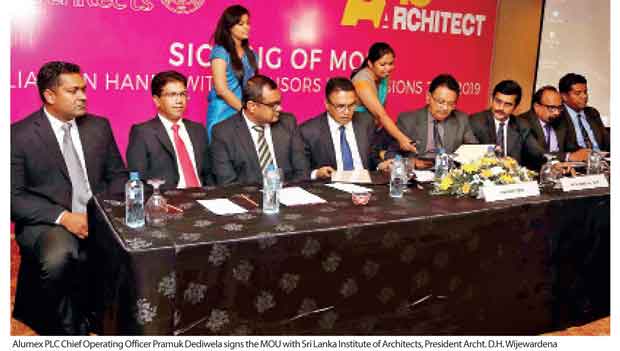 Helping to build a sustainable future that is based on values of creativity and innovation, Sri Lanka's foremost Aluminum Extrusion Manufacturer, Alumex PLC, announced its continuing role as strategic partner to the country's largest construction and architecture exhibition, Architect 2018 for the ninth consecutive year.
Organised by the Sri Lanka Institute of Architects, the exhibition is considered to be the largest and most influential event in the field of construction, architecture and design, drawing widespread participation from over 280 leading firms in the field and attendance in excess of 65,000 visitors.

"Alumex is greatly pleased to continue our long-standing relationship as strategic partner to Architect 2018. As in previous years, this exhibition has served as a hub for the showcasing of latest industry trends and emerging opportunities in the fields of construction, architecture and design. By supporting this important event, we aim to not only expand awareness on industry best practices but to also gain invaluable insights into how Sri Lankans respond to these new designs, products and services," Alumex Chief Operating Officer Pramuk Dediwela stated.

Taking place from February 22nd to 25th 2018 at the Bandaranaike Memorial International Conference Hall in Colombo, the work and trade exhibition will be hosted following a grand inauguration event taking place on February 20th and a national conference of architects on February 21st.

Alumex is a fully integrated manufacturer of aluminum profiles in Sri Lanka since 1986. The company develops and manufactures aluminum extrusions for an extensive range of applications for fabrication of doors, windows, shop fronts, other specialised commercial aluminium systems, proprietary and curtain walls systems.