---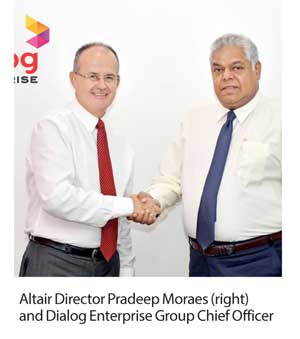 The residents of Altair, the inimitable twin tower residential high-rise nearing completion, are to be provided 'fibre-to-home' – a state-of-the-art high-speed fibre connectivity solution by Dialog Broadband Networks, under an agreement ratified recently.

Encompassing high-speed data services of up to 100 Gbps for broadband Internet, Wi-Fi and IPTV, the facility can also be used for home automation, which enables residents to manage their AV, lighting, air-conditioning and selected appliances through their smartphones.

Additionally, a hosted PABX will support an intercom facility for residents, connecting apartments with the front desk and other common locations such as the gymnasium and recreation centre, spa, Building Manager and security.

"We have chosen Dialog Broadband as our connectivity solutions provider for the company's ability to be among the first to rollout the latest advancements in technology in the local market," Altair Director Pradeep Moraes said.

"This is another example of our continuing efforts to exceed customer expectations by offering more than is promised in our contracts with apartment owners."

Apartment owners would however have the freedom to choose any other Internet solutions provider if they so wish, Moraes said.

Dialog Enterprise Group Chief Officer Jeremy Huxtable said, "We welcome the opportunity to provide our broadband services to a game-changing residential development of the calibre of Altair. The fibre optic Internet we provide connects through Dialog Broadband Networks' owns Submarine Fibre Optic Cable – BBG (Bay of Bengal Gateway) – that delivers over 6.4 Terabits per second of international bandwidth to Sri Lanka with direct access to the Google and FB servers. Altair will receive Internet at a significant speed within this capacity."

Besides speed, the other primary benefits of Dialog Broadband Networks' fibre-to-home solution are convenience and safety. Unlike copper, fibre significantly increases reliability of connectivity and eliminates risks such as interference from electronic or radio signals, inclement weather and human or electrical interference. The signal strength of fibre-optic Internet does not degrade as quickly over distance.
Fibre-optic Internet also eliminates delays that occur while processing data over a cable Internet connection -- termed latency issues -- especially when streaming video or high-definition content.

Scheduled for completion in July 2018, Altair comprises of two tower blocks, a 63-storey sloping tower which leans in to a taller, 68-storey vertical tower. Acknowledged as a new paradigm in contemporary living in Sri Lanka, the Altair building has already brought a new dimension in aesthetics to Colombo's skyline.