---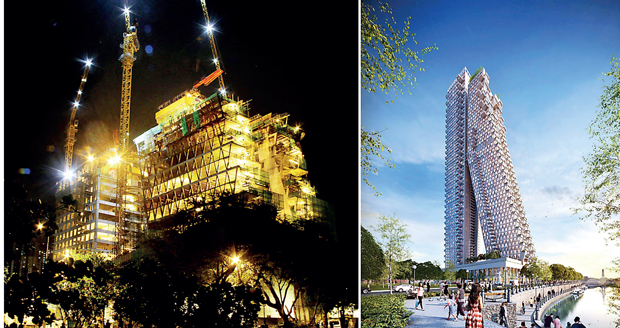 Sri Lanka's showpiece high-rise project Altair has broken new ground in the local property development market by installing a 24-hour live stream from its construction site, enabling anyone to monitor progress.
A new dimension in transparency, the live feed can be accessed via the Altair website www.altair.lk from anywhere in the world. It provides a real-time view of construction work from five different angles, with the views switching every 12 seconds.
"Approximately 45 percent of our customers are overseas buyers," Altair Director Pradeep Moraes said. "This first-of-its-kind facility enables them to watch the building rise and take shape whenever they want to. It's a simple and convenient way to track its progress."
"Because of the iconic stature of the project and its unique architecture, there is also a great deal of public interest in the building, which is why we have made the live feed accessible to anyone who visits our website," Moraes added.
By end-May, the twin towers of Altair had risen to the 16th level. On completion in 2017, the building will comprise of a 63-storey 'leaning' tower and a taller 68-storey vertical tower, with 400 luxury apartments that offer spectacular views of the Beira Lake, the Indian Ocean and the city of Colombo. The building is designed by the legendary global architect Moshe Safdie.
Visitors to the Altair website can go also follow the rise of the building over the past one year through a series of still images that depict monthly progress by clicking on the 'News' tab and selecting 'Development Progress.'
Designed to be a game changer in contemporary living in Sri Lanka, Altair will bring a new dimension in aesthetics to Colombo's skyline. It is intended to be a one-of-its-kind development in South Asia in terms of architectural design, structural engineering and living experience. The development's 1.5 million square feet of high-end eco-friendly living space will be supported by 40,000 square feet of supportive up-market retail space.