---
Access Engineering PLC; the foremost Civil Engineering Enterprise in Sri Lanka once again ranked among the Top 10 at the Best Corporate Citizen Sustainability Awards 2017.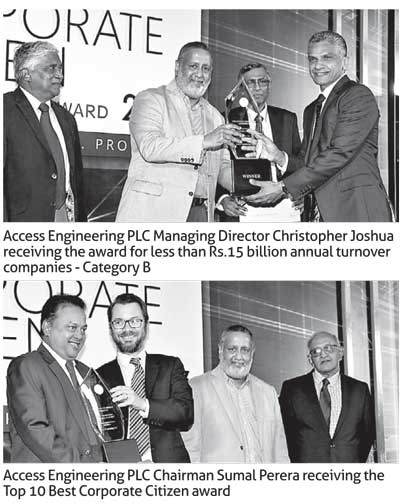 The Ceylon Chamber of Commerce (CCC) held 'The Best Corporate Citizen Sustainability Award 2017' at a glittering ceremony at Cinnamon Grand, Colombo last Tuesday bringing together organizations celebrating their achievements in improving business operations and excellent sustainability outcomes. Backed by cutting edge technology and a strategic imperative built around the concepts of environmental stewardship, human capacity building and local community development, this recognition is a testament to Access Engineering's continuous focus on
sustainability initiatives.

Despite being in a challenging industry, Access Engineering has ensconced sustainability into its core framework. It is sensitive and meticulously focused on reducing the carbon footprint, protecting the nation's resources and achieving sustainability through many green initiatives. The category award for Corporate Environmental Management that Access Engineering clinched at the ceremony is a validation to its continuous commitment to nature.

The company also bagged the Overall Construction Sector winner award and less than Rs.15 billion annual turnover companies - Category B, winner award.

The company was also presented with a Merit Certificate for its special project on the fabrication and distribution of class room furniture across 36 underprivileged schools across the country while facilitating the Vocational Training Institutes in the country.

"It is a great honor to be rated among the Top 10 Best Corporate Citizens once again and also to pick of a slew of prestigious accolades at the country's premier sustainability awards ceremony which encourages and recognize the outstanding work carried out by the corporate entities whose ethos transcend the immediate objective of increasing the bottom line," Said Access Engineering PLC Managing Director Christopher Joshua.

Access Engineering PLC which is woven into the fabric of Sri Lankan society touches millions of Sri Lankan lives every day. The company stands undeterred in its position to preserve the environment, achieving sustainability and inculcating a wholesome operational framework while chiseling a better world for the future generations.