---
Access Engineering PLC is nearing the completion of the pilling works for ITC Colombo One – Hotel and Residence, a luxury hotel comprising 29 floors and two basement floors with 350 guest rooms and an apartment complex comprising 49 floors and four basement floors with 133 apartment units.
The project, which is under construction on a five-acre land overlooking the Galle Face Green, is executed by ITC Limited, one of the largest diversified conglomerates in India, through Welcome Hotels Lanka (Pvt.) Ltd.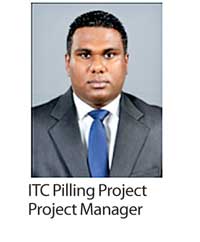 The development, which promises to offer world-class banqueting and cuisine experience in Sri Lanka, is the latest addition to the ITC Hotel Chain, the largest luxury hotel chain in India and is a part of ITC Limited. Scheduled completion in 2018, the development will uplift the urban landscape and will significantly serve the Sri Lankan luxury hospitality industry when completed. Upon the successful and timely completion of the contract for excavation and shoring works of the development, Access Engineering was entrusted with the bored piling work package by the developer Welcome Hotels Lanka (Pvt.) Ltd and the project is now nearing the completion, which is scheduled for July 2016.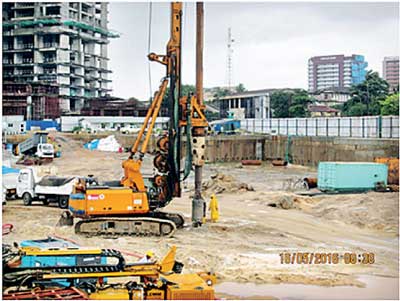 The scope of the project in progress includes installation and testing of 444 cast-in-situ bored piles of 600mm, 800mm and 1200mm in diameter, which are being driven to an average depth of 25m from ground level to support the superstructure of the hotel and residential complexes. Bauer rotary drilling rigs and related machinery and equipment of the company piling unit are deployed for the work, where necessary. Advanced testing instruments and techniques are being used throughout the project in order to ensure quality control requirements are met at every level.
"The construction team at Access Engineering PLC, striving for innovation and quality at every step of its way could introduce pile instrumentation using embedded strain gauges to measure the transfer of loads along the piles. As the loads of the piles were extremely heavy, constant measures had to be taken every step of the way to ensure quality requirements are met. Yet, it is pleasing to know that the pile testing work is about to begin which signifies the project is crossing over to another threshold of the project and we are inching closer to completion," said ITC Pilling Project Project Manager Pivithiri Jayasinghe.