---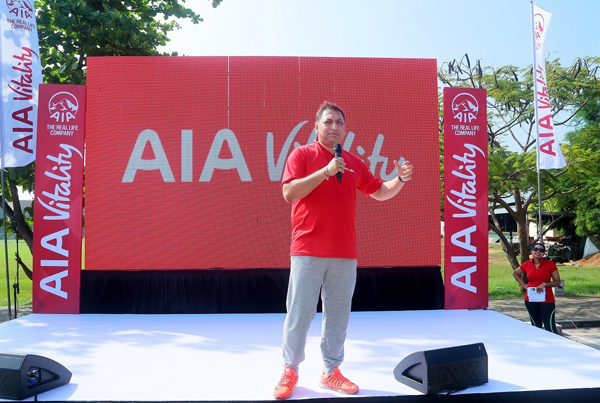 CEO Pankaj Banerjee at the AIA Vitality Launch
Prefer a walk to a nearby destination rather than getting stuck in traffic? Would you rather take the stairs instead of the elevator? Do you try your best to get in a small walk daily for exercise? If so, then the AIA Vitality programme, is just what you need, to make walking even better!
Asia's leading insurer AIA's 'Vitality programme' is the newest, most rewarding wellness platform in Sri Lanka, aimed at making Sri Lankans healthier, one step at a time. It's a first of its kind, science-backed wellness programme that provides participants with the knowledge, tools and motivation to improve their health.
It's an easy-to-use application which you can download for free from the Google play-store or the Apple app-store. Once you register, it lets you calculate your Vitality age (body age), but, be warned, you may be older than you expect! You will be given 'step targets' to earn 'vitality points' and if you achieve your targets, AIA will reward you. You can work-out in the gym, run or the easiest thing to do is just walk!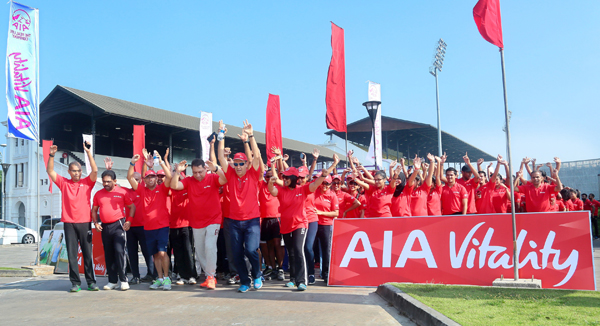 AIA Vitality Internal Launch
Why does AIA reward you for being active? It's no secret that unhealthy lifestyle choices and insufficient exercise is the leading cause for non-communicable diseases (NCD) in Sri Lanka, triggering over 70% of deaths in the country (Sri Lanka Health Ministry). More disturbingly, an astounding 95% of Sri Lankans acknowledge that there are definitely things they can do to improve their health but only 8% have taken major steps towards healthy living! (AIA Healthy Living Index 2016) So we can agree that whilst Sri Lankans have a high awareness of the importance of healthy living, we are not really doing much about it!
AIA is committed to help people live, longer, healthier and better lives. And what better way to start than by encouraging people to get active, exercise and be conscious of their health. Easier said than done! Many of us are only too familiar with that overwhelming temptation to take the easy way out. That which keeps us on the couch, or has us getting into a tri-shaw to travel a short distance. That is why the AIA Vitality programme uses rewards as an incentive for you to be active.
The globally renowned wellness programme uses extensive science backed research in behavioural economics and health incentives. Their research shows that incentives can work to nudge people towards adopting and sustaining healthier behaviours. So while your own good health should be the biggest incentive, AIA's exciting rewards including mobile top-ups, movie tickets, discount vouchers from e-tailers and taxi vouchers, do help!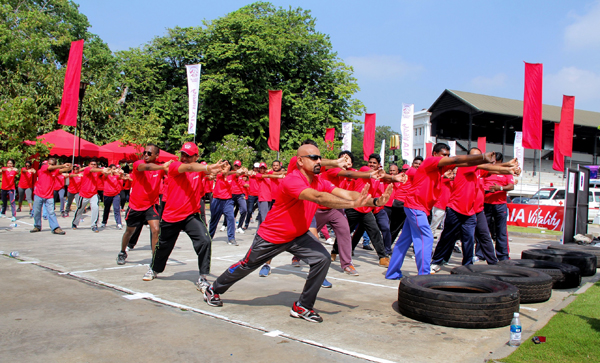 AIA Vitality Internal Launch
AIA Sri Lanka Chief Marketing Officer Nikhil Advani said "This is revolutionary to Sri Lanka as it is a programme that will bring about positive change in an engaging, fun and rewarding way. The message is simple. Most people may not be able to exercise all the time, but every day will present you an opportunity to walk, and you should grab that opportunity, because staying active is imperative for good health."
He added, "Unlike other wellness programmes, AIA Vitality uses a combination of incentives and principles of behavioural economics to achieve sustainable change. It is designed to make people accountable for their own health."
CEO Pankaj Banerjee commented, "We are excited to launch AIA Vitality in Sri Lanka, which is proven to work, evidenced by the tremendous success that it has enjoyed in the other AIA markets. As the Real Life Company, we care about your well-being. AIA is constantly looking for ways to help you live longer, healthier, better- so all of us can make the most of our lives and be there for those that matter the most to us." So get on-board the AIA Vitality programme- it may be the best New Year's resolution you make!