---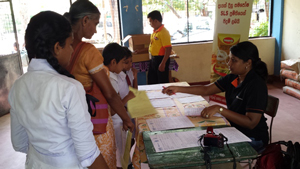 Although it's not a statistic that leaps out at one often, given the many severe health issues that ail the human populace, shockingly, in this day and age when healthcare is available to most, about 300 million of the world's population suffers from low vision due to being unable to afford corrective lenses.

In Sri Lanka alone, close to 800,000 people suffer from low vision and do not have the means to purchase eyeglasses, which at a minimum cost anywhere between Rs. 3,000 to 5,000, with no Government subsidy existing for eye aids.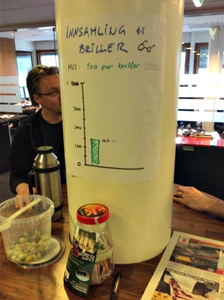 Comprehending the daily stress and distress caused to the visually impaired, the 99X Technology CSR Foundation joined hands with 'So Others May See' (SOMS), a not-for-profit vision care programme which provides needy individuals with free prescription eyeglasses, in support of the SOMS vision to have "a world where everyone can see."

In 2013, employees of the company donated money for over 100 pairs eyeglasses to be purchased for the disadvantaged and then conducted eye clinics in Monaragala, a grueling yet rewarding experience for all those involved.

This year too, the company tied up with SOMS to provide underprivileged schoolchildren in Polonnaruwa with the gift of sight through donations by 99X Technology's employees and friends. Even company clients donated generously when they became aware of 99X Technology's efforts to raise funds.
A team from SuperOffice AS in Norway, a customer of the company, when visiting the 99X Technology headquarters in Colombo, were moved by the company's efforts to assist the disadvantaged and wrote to their team in Sri Lanka upon their return to Europe: "Our visit in Sri Lanka and our Sri Lankan team's engagement in helping others less fortunate in getting better sight by collecting money to buy glasses inspired us in Norway to also contribute with our share. We started our money collection yesterday. Our goal is to collect Rs. 70,000 to send to you."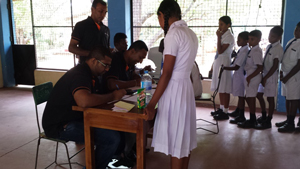 A mere Rs. 750 covers the cost of a new, custom-fit pair of eyeglasses with a follow up process and warranty, all of which are provided through SOMS. A team from 99X Technology then travelled to Aralaganwila, 40 kilometres off Polonnaruwa in June, to assist So Others May See with the eye camp which was held at Leelaratne Maha Vidyalaya.

A teacher training program had been held the month before, at which teachers were taught to identify students with possible vision problems. After this initial round of filtering, around 240 students from close to 20 schools in the area, attended this camp. They were accompanied by their teachers and parents, and had to go through many hardships in getting to this location (due to limited transport facilities).

Some students were prescribed eye glasses, some referred to the Polonnaruwa hospital for further tests which require dilation and others were taught eye exercises to overcome convergence problems. All in all, it was an incredibly rewarding and heart-warming experience for all those who helped out with the camp.

99X Technology is a software product engineering company that specialises in delivering high-end software product development services to independent software vendors (ISVs) worldwide, with a primary focus within the European region. Headquartered in Sri Lanka, the company is also based in Oslo, Norway and has an outstanding track record in building and delivering over 150 high quality commercial products. It has been ranked amongst the top 15 best companies to work for in Sri Lanka in both 2013 and 2014 by Great Place To Work Institute.

---
---
Add comment

Comments will be edited (grammar, spelling and slang) and authorized at the discretion of Daily Mirror online. The website also has the right not to publish selected comments.

---