---
Time and time again, 99X Technology has been recognised and rewarded for its unwavering commitment towards creating a great place to work for its foremost asset – its people, and the company shone once again at the Great Place To Work Asia awards ceremony in Mumbai when it was named a Best Workplace in Asia, becoming the first and only Sri Lankan company to be ranked on this prestigious list.



The company won this accolade in Asia's Best Small and Medium Workplaces category, and is one of 60 organisations in the Asian region recognised for dedication towards sustaining high-trust cultures for employees. Putting their people first is a key priority for these companies and these workplaces have been distinguished by their extraordinary levels of trust, pride, and camaraderie.

This has placed 99X Technology among global powerhouses including Google, Microsoft, Marriott, American Express and Hyatt, among others, all of whom have been listed on the inaugural index of Best Workplaces in Asia.

"Being ranked on this esteemed list is a landmark achievement for us, both as a company and as a Sri Lankan entity representing our ICT sector on a global platform. We are truly honoured to be recognised in such an arena, for our efforts in improving the lives of our people and look forward to being a leader in pioneering workplace practices, spearheading the way into this fast-evolving economic age," stated 99X Technology Co-Founder and CEO Mano Sekaram, commenting on this accolade.

99X Technology is the only IT company to be ranked on the Great Place To Work Index in Sri Lanka for two consecutive years, in 2013 and 2014 respectively, and was also presented with two 'Special Category Awards' in addition to the primary accolade last year, for talent development and for being the best-in-class in the Small Enterprise category (50-200 employees).

To be considered for the regional Best Workplaces in Asia list, a company must be accepted on a national Best Workplaces list. From the companies that met the national list criteria, 303 were eligible to appear on the inaugural Best Workplaces in Asia list. From that pool of companies, the 60 Best Workplaces in Asia were selected.

99X Technology is an award-winning software product engineering company that specialises in delivering high-end software product development services to independent software vendors (ISVs) worldwide, with a primary focus within the European region. Headquartered in Sri Lanka, the company also has offices in Oslo, Norway and has an outstanding track record in building and delivering over 150 high quality commercial products. It has been ranked amongst the top 15 best companies to work for in Sri Lanka in both 2013 and 2014 by Great Place To Work Institute.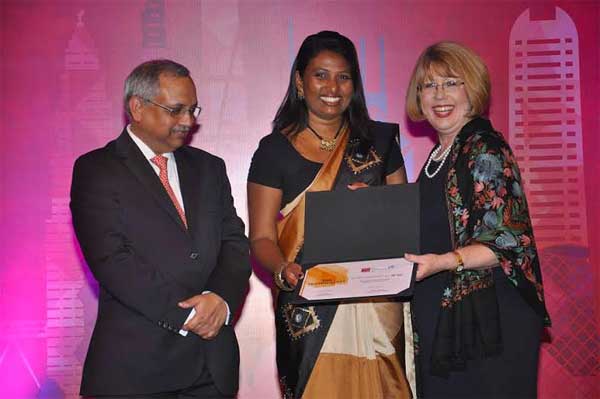 99X Technology Process and Delivery Manager Shehani Seneviratne receives the Asia's Best Workplace award from Great Place To Work Institute Global CEO- China Gorman at the awards ceremony, held in Mumbai