---
The elections fever is on. Though the exact dates are not yet known, it is speculated that a presidential election is going to be held either in January or March next year. While, the government led by President Mahinda Rajapaksa is busy getting ready for the important event, the opposition seems to be embroiled in an elusive quest for a common candidate who could pose a serious challenge to the incumbent President.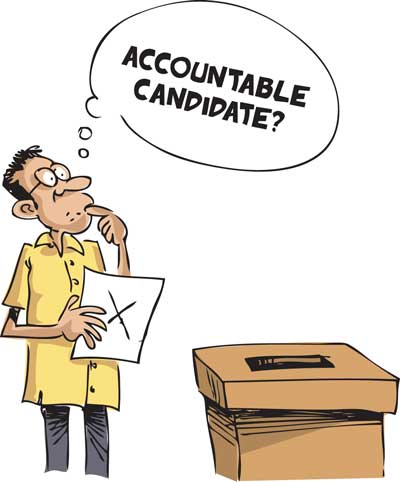 The media mentioned several names including that of former president Chandrika Bandaranaike Kumaratunga, United National Party (UNP) stalwart Karu Jayasuriya, Ven.Omalpe Sobitha Thera and Democratic Party leader Sarath Fonseka as prospective common candidates.

The search for a common candidate itself gives it away, as it shows how bankrupt the opposition has become during the Rajapaksa regime. In fact, the incumbent president has won half the battle in the opposition's quest for a common candidate.

Is it a common candidate the country needs? This is a serious question the opposition parties should ask themselves. If the sole objective of finding a candidate is to defeat the incumbent president at the polls, they will sooner or later realize that it is an unworthy goal. They will soon realize as the Sinhala saying goes it will be like trading ginger for chilies. Because some of the names that have been mentioned as potential contenders to be the common candidate evoke such concerns.

What the country now needs is not a common candidate, but an accountable candidate. A candidate who delivers on what he or she promises and protects the basic rights and freedoms of the people. What the country sorely needs is a candidate who is credible, responsible and truthful in his actions and accountable to the people. It is for such a candidate that the opposition or the ruling party should look for.

With the end of the war in 2009, Sri Lanka had a chance to redefine its future. But instead of grabbing the chance with both hands and making the best use of the opportunity provided; dirty power politics came into the forefront. Maintenance and continuity of power became the single most important objective. As a result, inequality and disparity heightened, the rule of law was openly disparaged, good governance was humiliated and accountability became a word never heard of.

Therefore it is clear that the opposition's effort to find a common candidate is futile and is inherently flawed. The word 'common' is emphasized as they wanted to find a leader who would appeal to all the opposition voters who are from various communities and creeds. Hence it is not incorrect to say that the underlying element in common candidacy is communalism. We believe it is high time that Sri Lankan politics grew beyond such bankrupt notions.