---
By Dhammika Mendis
Democracy simply means rule by the people. Democratic form of governance permits people to elect representatives of their choice, by using their franchise at elections. The elections are expected to be conducted free of corruption, fraud, any form of malpractice and intimidation, to ensure that, the inalienable sovereign rights of the masses to use franchise according to their free will would not be undermined.

One of the primary duties of the elected representatives would be to enact laws, with the noble objective of establishing, principles, norms and tenets pertaining to every conceivable facet of the country's affairs, and work tirelessly to bring about solutions to people's problems and help them realize their aspirations.

The duty to legislate casts a tremendous responsibility upon Members of Parliament to comply with laws and conduct themselves as law abiding citizens. Such conduct is expected to set examples for public to emulate. Moreover, the body politic has an indispensable responsibility to ensure that affairs of the government are conducted in conformity with laws of the land and principles of good governance, which include, inter-alia transparency, accountability, justice, fair play, equality, respect for human rights, integrity, impartiality to name a few.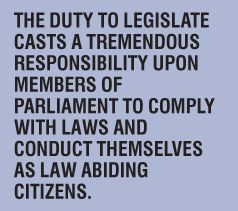 It is common knowledge that the current economic situation of our country leaves much to be desired, despite glorified pronouncements trotted out by the officialdom displaying servile obedience to political big wigs. In spite of that, not a day passes without disappointing news about added hardships and misery being heaped on the majority, who are suffering in frustration and despair. Many people are increasingly finding it difficult to make ends meet and compelled to stomach their hardships in silence, whilst the so called political masters pay lip service to their burning issues. Mounting instances of wasteful extravagance of public resources indulged in by rich, elite and political big wigs, in callous disregard to the principles of good governance and the plight of fellow humans suffering in abject poverty are aplenty. Carnival is bound to continue and escalate to monstrous proportions. The promises made for Good Governance, prosperity, better future and wonders to craftily grab power have gone with the wind. It shows the enormity of the blunders that people have made.

Come what may, when the next election time dawn, we the gullible souls are once again bound to witness the repetition of the ugly spectacle of grinning political mugs adorning every wayside wall, shamelessly begging for people's franchise for another round of day light robbery.

Will there ever be a day that people would wake up to the reality and say in unison that no more nonsense folks, we have had enough.
---
Add comment

Comments will be edited (grammar, spelling and slang) and authorized at the discretion of Daily Mirror online. The website also has the right not to publish selected comments.

---