---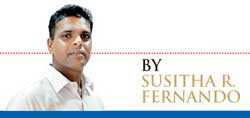 The country's oldest community dates back to thousands of years. The Vedda community or the indigenous community held its annual Wariga Sabha (Council of the Clan) to take crucial decisions on behalf of its nearly 500,000 members. The Council held to coincide with the International Day of the World's Indigenous People is usually organised with government patronage. But this year it was held in Dambana with native community deciding not to accept any government sponsorship or invite any government leaders for their ancestral ceremony. Struggling against the encroaching social, cultural and economical changes, the community leader, Uru Warige Wanniya Aththo described the reasons why they decided not to accept state patronage and the crucial issues that affected his community.

Q What is the difference between this year's Wariga Sabha and the Sabhas of previous years?

During the previous years, we held this ceremony with the sponsorship of the government. But we decided to have this year's Wariga Sabha on our own. We decided that this year's event should be conducted in Dambana.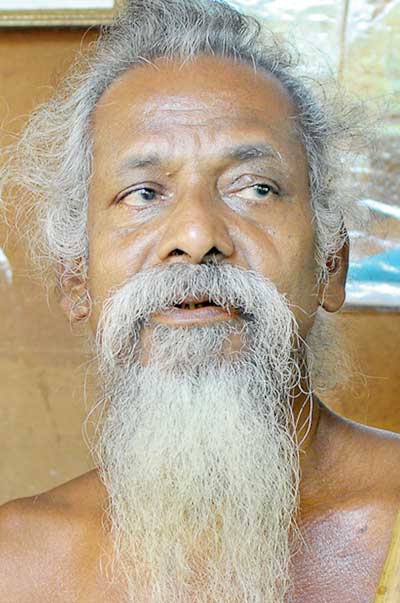 So we invited 25 people from each community from various villages where our community people live. In the previous years 50 or more people took part in this event representing their respective areas but we decided this time to have it with the participation of only 25 representatives.


QCompared to the previous years, this year you have decided not to take State sponsorship for this event. Is this some sort of a protest against the government because it had not met the grievances or aspirations of your community? Is that the reason you did not invite government leaders?

We had this event earlier at several places; Dambnana, Pollebedda, Henanigala and Vakarai. For these events it was the government which gave sponsorship. When the government sponsors it, the discussions go on till the last date. So, to conduct these discussions groups come from Colombo and ten to twelve vehicles are used.
In one instance about 30 people from the Ministry participated in these discussion.
All these people are coming here with the intention of helping us but when they make these journeys it is public funds that are spent.
So I decided that this year the money allocated for the ceremony should be used for the benefit of the community. There are 60 different villages where our people live. In these villages there are problems like water, medicine and education for children. The money given by the government should be spent for the benefit of the community and we will conduct our ancestral ceremony on our own. We are not against the government or we do not boycott the government. What we are asking is that the money spent on this ceremony be used for the betterment of our community.


"As long as I live, our people will be able to go to the forest and no one will protest against that. But I don't know what would happen
after me"
QHas the government kept the promises that were made at last year's ceremony?

The government made a number of promises and some of them have been kept. But most of them have not. I met the minister at the last year's ceremony where some promises were made. A year has passed but I have not seen the minister or his secretaries since then.
There are things that I cannot tell in public. But when they lie I cannot keep silent. To cover up one lie, they utter hundred of lies. There are things that I don't tell but keep to myself.


QOver the last year there had been several incidents relating to your community. Were these issues discussed at the last Wariga Sabha?

There are many issues we discussed relating to other communities as well. Anyway, the government has done various things for this community but our main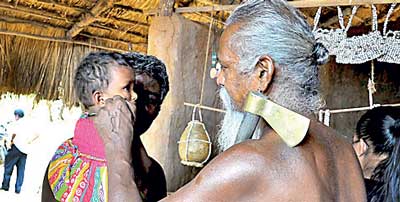 problems have not been solved. Solutions for these problems are given like the way you give pills to ease one's headache. For example, we have been given an identity card to enter the forest. We were happy that our rights have been established and we went to the forest with our picture in the ID card.
But when it comes to the law there is no special benefit we have got and the same law that applies to others applies to us. We have to go after 6 a.m. in the morning and we have to come back before 6 p.m. To enter the forest at 6 a.m. we have to leave the previous night.


Q What is the biggest need to protect your community?

The biggest problem against the existence of this community is the loss of land and environment. If we have that we can protect this community for a long period. The other problem is by this time there are vehicles in the villages and various people are entering the village.
And our Kekulo (children) see them and try to speak the language of these outsiders and follow their cultures. When they grow up they also want to be like these outsiders. This is the biggest problem. This destroys our community.
However, we can't stop this change because our traditional way of living as a community moving from one place to another has changed. When we were children we learnt from this forest. We went with our fathers. But today the children are being prevented from entering the forest.
So, they don't know how to hunt and what to hunt. They don't know the footsteps of the animal. They don't know whether the bee is going to drink water or to collect honey. This we learnt from our fathers.



"A year has passed but I have not seen the minister or his secretaries since then. There are things that I cannot tell in public. But when they lie I cannot keep silent. To cover up one lie, they utter hundred of lies. There are things that I don't tell but keep to myself."
QWhat do you feel about the future of your community? Do you feel scared or sorry?

I am not scared or frightened. Everything in this world is impermanent. We all have to leave this earth and this land does not belong to me. And we must know that this land does not belong to politicians either. What we have is the right to live here.


QIt seems that it is necessary to have some political representation to solve your problems. Would someone from your clan like to join politics?

If our people join them, they will also fall to their level. They will not be different from them.


QSo what will be the future of your clan with the forest?

As long as I live, our people will be able to go to the forest and no one can stop that. But I don't know what would happen after me. What we need is a legal right to live in the forest. It is not just giving an Identity Card.


QWhat is your political ideology?

I am not into politics. I even don't like to talk about it. So far, no one has come to this area. All the people coming here will be welcomed and accepted. Anyone who goes to Ven. Mahanayake Thera will be welcomed. Ven. Mahanayake Theras would not send anyone away.
Likewise I would welcome all those who come here and listen to any one who wants to talk to us.


QDo you have any idea of joining politics?

May be I might get some votes if I contest but I don't want to come into politics. Some of our people also might join politics. I don't know whether I would live till then.


QDo you think that your community has got due recognition? And what contribution can your community make to enrich this country?

In the law books there are references to difference ethnic groups but there is hardly any mention about our community. There are 23 ethnic groups in Sri Lanka and most of the discussions on minority groups are about the Tamils and the Muslims.
In a country there should be a variety of ethnicities and they should have the right to foster their cultural identity. Then only that country becomes beautiful. When a picture has only one colour it is not that beautiful but when it has many colours it would be more beautiful.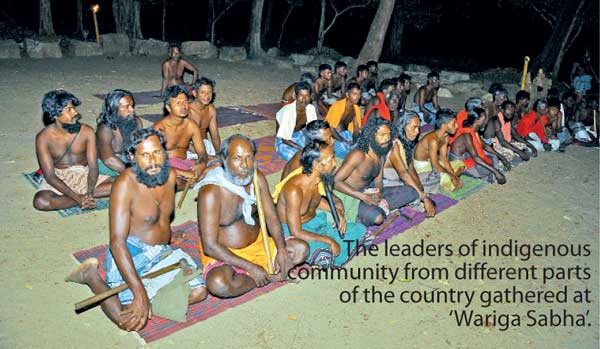 QWhat international recognition has your community got?

In 1996 we went twice abroad. That was to Geneva and Nepal. Before that nobody knew that a community like us, is living in this country.
During President Chandrika Bandaranaike Kumaratunga's government we went to Geneva and after signing a petition by 135 countries we were recognised. If that did not happen this community would have vanished by now.


QDo you think that it is necessary that your community should participate at more fora like that and get international recognition?

The invitation should come through the government and when one person goes to such an event, it costs at least one million rupees.
And we have to take at least two others as interpreters. So it is going to cost about
three million.