---
…. and its probable effect on 'Power Devolution'




A news item carried in the Daily Mirror on Friday said the government had expressed concern over a memorandum of Understanding (MoU) between the American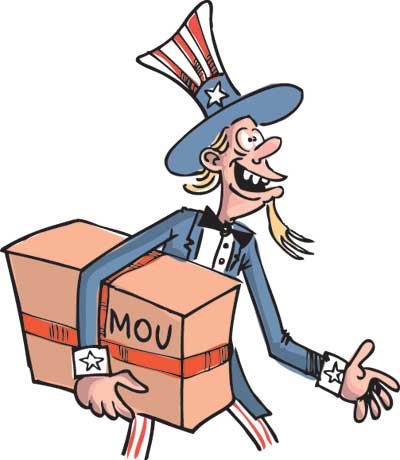 Embassy and the Trincomalee Urban Council (TUC) to jointly establish a public information and activity centre known as American Corner without the knowledge or authorisation of the External Affairs Ministry.

At a time when a heated debate is going on over the devolution of power, with some Ministers calling upon the government to totally scrap the power sharing system, while India and some UN agencies are emphasising on the need to devolve more powers to the peripheral units, the alleged by-passing of the External Affairs Ministry both by the US embassy and the Trincomalee UC run by the TNA has the potential to widen the gap between the pro-devolution and anti-devolution groups.

The MoU between the Public Affairs Section of the US Embassy and the Trincomalee UC signed on March 22 at the Trincomalee public library was intended to establish the third American Corner in the country during a period of five years.

One would not contest the purpose of the MoU which had been outlined in the fact sheet of the US Embassy. It said "The American Centre will provide access to current and reliable information about the United States via book collections, the internet and through a variety of events such as public readings, films, speaker programmes, workshops, meetings and exhibits." However, it is not the end but the means that had been followed by the two parties to the MOU- overlooking the Sri Lankan External Affairs Ministry – which was the hitch that has been worried over. This is more so when considering the fact that the Trincomalee UC is run by the Thamil Arasu Katchi, commonly known as the TNA, which is the main Tamil political coalition that has been agitating for more powers to Tamil dominated North and the East.

One of the thorny issues that has been a hurdle in resolving what is called the ethnic problem throughout the past four decades is the mistrust between the two major communities- Sinhalese and Tamils. The majority of the Sinhalese are of the view that the devolution would end up in a division of the country and they suspect this to be the motive of most overseas countries as well. The involvement of foreign countries in peripheral administrative units has been a contentious issue throughout the long discourse of power devolution not only in Sri Lanka, but elsewhere as well, and the accepted norm has been for international players to reach out to the periphery through the centre.

In the light of the need to quell the mistrust between the two sides of the great ethnic divide, it is pertinent for the leaders of the TNA who demand to repose trust on them and vest greater powers in them, to have a moral duty not to leave any room for suspicion in their activities, even if it is for the establishment of an information centre.