---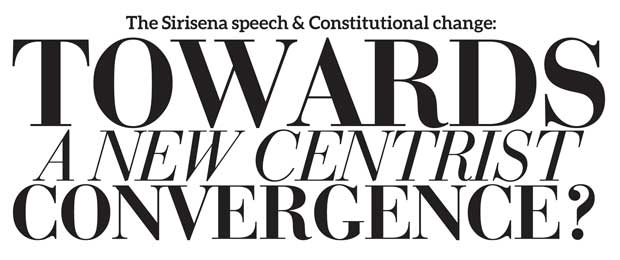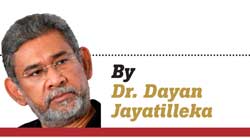 "What Sri Lanka's national crisis—and it is clear that the unresolved ethnic issue is the core of that crisis—has ultimately achieved is that it has compelled us to come to terms with our identity."

--Mervyn de Silva, (Marga lecture, 1985, in 'Crisis Commentaries' p.72)

The crucial and challengingly complex task facing Sri Lanka remains the resolution, or successful management and containment, of the ethno-national question.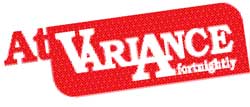 What is the National Question or Nationalities Question? It is one of our composite and politically contending collective identities. More fundamentally it entails the existential questions: What is Sri Lanka and how can a better Sri Lanka come into being? How must we structure the State in order to become Sri Lankan?

Though he didn't get everything right (e.g. on the Presidential system and in his tangential PTOMS allusion) President Sirisena's speech in Parliament on January 9, commencing the process of constitutional change, showed statesmanlike courage in saying what he did on the North-South question. As a non-patrician, non-cosmopolitan, he projected an organic,"homegrown" Sinhala Buddhist pluralist-liberalism, with echoes and inflections of DS Senanayake, President Premadasa and Vijaya Kumaratunga. If certain conditions are fulfilled and obvious blunders avoided, could this discourse be a platform for a pluralist-progressivism and a new centrist consensus and convergence?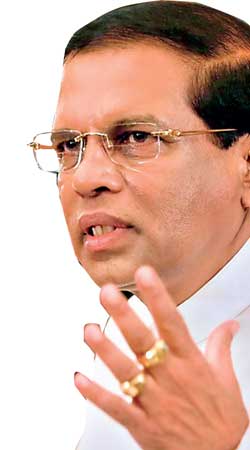 President Sirisena's speech which followed the PM's also made clear, that it was he, rather than Mr. Wickremesinghe who had the greater stature, maturity and seriousness. The PM started off cleverly enough, but soon lapsed into characteristic prickliness and cheap asides. President Sirisena who sat inscrutably during that performance, occupied by contrast, the moral high ground in his speech. Had he not spoken in Parliament (having intervened backstage), the PM's political behaviour would have caused the Constitutional initiative to hit a landmine.

The Sirisena speech rightly lamented the missed opportunities of the B-C and D-C pacts and was astute in its implication that we must settle the Tamil issue, while Mr. Sampanthan is the political leader of that community.

That said, while discourse is important, good Presidential speeches do not necessarily make for good outcomes. A good speech accompanied or followed by bad politics (and policies)can be worse than no speech at all. Had Chandrika followed up her August 2000 address to Parliament by deploying Lakshman Kadirgamar to secure global support for an Anuruddha Ratwatte-driven military victory, or by supporting the Karuna rebellion, she could have implemented her vision. Not being half the Commander-in-Chief her mother was, she imprudently and irrationally turned to the Norwegians and Martti Ahtisaari instead.

President Sirisena traced a brief history of the Nationalities Question in Sri Lanka and was spot on when he identified an important aspect of the problem: the North is allergic to the term 'unitary' and the South to the term 'federal'.

There are four possible ways out, of which two, probably three, are non-starters. The four are (a) federal in all but name (b) unitary in all but name (c) quasi–federal in all but name (d) unitary with genuine provincial autonomy. Silence on definition of character of the state isn't a fifth option, but disaggregates into one of the four stated above.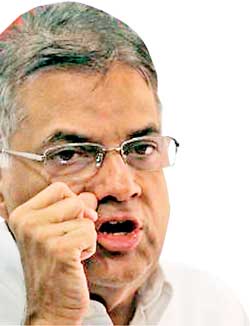 Realism offers two lessons: firstly, a powerful cross-border secessionist insurgency with suicide bombs exploding in the cities, succeeded by coercive diplomacy and a 70,000 strong peacekeeping force projected by the regional superpower, could not push Sri Lanka beyond the 13th Amendment. Secondly, even the decisive military victory of May 2009 and a two thirds majority for the Government could not pull devolution below the 13th Amendment. The underlying lesson is that the socio political tectonic plates of this island dictate a solution which may readjust or reconfigure the 13th A`mendment but cannot leap beyond it without domestic destabilization.

This would accord with the tenets of philosophy. It was hardly without reason that two of humanity's deepest thinkers, the Buddha and Aristotle, advocated the Middle Path and the Golden Mean respectively. The Middle Path between 'federalism' and 'unitary' would be 'a unitary state with substantive provincial autonomy'. As models go we should not be looking at Austria as the PM does, but precisely South Africa—which is non-federal (Mandela refused to be stampeded into it), but makes for provincial autonomy.

The conditions for Constitutional transformation stand threatened by President Sirisena's UNP allies. How is there to be North-South reconciliation while there are parallel efforts that will inevitably result in South-South confrontation? How can Sinhala liberalism succeed in a process of autonomy-based reconciliation when military personnel are being arrested while Tigers are being released, and war crimes trials inevitably targeting a popular war and a large military, are on the agenda? If the prelude to Constitution-making has evoked such friction even in the Jan 8 bloc, imagine the bitter trench warfare over Special Courts with a (Zeid-approved) "international element" (Hugo Swire). Parties voting for 'war crimes' tribunals may crack at the base under the social strain. How can the North-South front be pacified while opening up the Southern front? It was always a choice between autonomy and accountability.

President Sirisena's moderate Sinhala Buddhism will be undermined also by the TNA itself. TNA MP from Jaffna Mr. S. Sritharan clearly revealed the Northern party's game-plan and sources of patronage in Sunday Virakesari interview:

"..So, they should offer us a solution based on federal structure and Tamils sovereignty under these circumstances. Foreign countries including US and India played a big role in crushing our struggle. Therefore, they promised that they will get a solution for us. If they cannot fulfil their promise, they have to create conditions where we can separate." (Virakesari, Jan 03, 2016)

The weakness of the President's perspective is that it represents the Idealist type of liberal reformism. Realist liberal reformism (e.g. Clinton, Obama, Kerry) succeeds; Idealist liberal reformism (Carter, VP Singh) fails. In Sri Lanka today, Realist liberal reformism means:

(I) Retaining the executive Presidencyfor power-balancing
(II) Recognizing the permanent geopolitical and existential threat from Tamil Nadu.
(III) Drawing clear parametric 'red lines' for Tamil and Muslim autonomy.
(IV) Avoiding alienation of the military, war veterans and their families and the creation of a military-monk-mob axis, through war crimes trials.
(V)Shifting to an Asian identity based on solid relations with India-China-Japan-Russia, and balancing off a Diaspora–influenced West.

President Jayewardene could not push through his agreements on devolution with the democratic Left (1986 PPC) and with India (1984-1987) because he had disenfranchised the leader of mainstream Sinhala Buddhist nationalism, the country's former head, Madam Bandaranaike, and had split the SLFP, thereby triggering spoiler behaviour. When JRJ restored Mrs. Bandaranaike's civic rights in 1986 the situation was already unstable. Throughout the 1980s, reform required her on board.

Mahinda Rajapaksa is the legitimate, historic leader of Sinhala nationalism. Any sustainable constitutional reform needs him on board or benignly neutral, for Southern nationalist legitimacy. On the ground, he wields a de facto veto. Instead of a Realist analysis which recognizes him as an irreducible power centre and indispensable negotiating partner, the Government has moved in exactly the opposite direction of persecution and ludicrous attempts at intimidation. Such provocation is profoundly counter productive. There cannot be a national consensus without the South and unlikely to be a Southern consensus without Mahinda Rajapaksa.

Mr. Sampanthan sagaciously requested Mahinda Rajapaksa's support, but that may take more than benign beckoning. It will take genuine outreach, confidence-building, structured dialogue, incentives and accommodation. To assume that at a referendum the Sinhala majority will vote for ethnic reforms that are not endorsed by Mahinda Rajapaksa, still less for those he opposes, is to play Russian roulette. North-South reconciliation requires South-South reconciliation, which means détente and reconciliation --or sustainable peaceful coexistence--between President Sirisena and ex-President Rajapaksa.
---
Add comment

Comments will be edited (grammar, spelling and slang) and authorized at the discretion of Daily Mirror online. The website also has the right not to publish selected comments.

---