---
While one would pay an ample amount of public money to tour around the world, the lack of allocation of which in necessary quarters can make one march straight to death.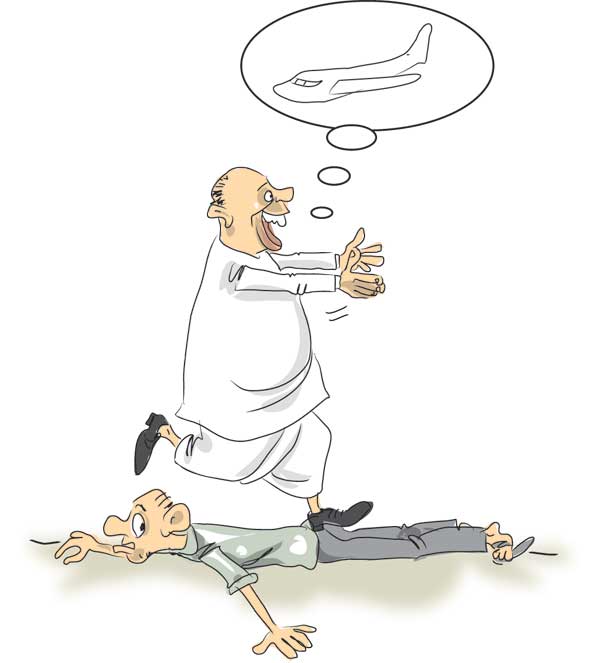 The story about the provincial councillors waiting to board flights to China for a holiday is one of those that poses the question whether Sri Lanka is as poor as the world takes it to be. Daily Mirror on Tuesday revealed that the Central Provincial Council would sponsor its 57 members for a seven-day visit to China at the end of the year. It further said the Council would provide each member a sum of Rs. 600,000 to cover the travel and accommodation expenses.

If the Guinness committee could widen its area, Sri Lanka would obtain the record for the biggest cabinet, the rapidly widening gap between the rich and poor, the biggest entourages whenever a foreign land calls for a Lankan delegation and now, the biggest pack of spendthrifts when it comes to public money.

It goes without saying that like in any other provincial council, those in the hills too are entitled to their fair share of foreign trips. Such trips should not be a luxury exclusively designed for their counterparts in the Western Province. Yet, under no circumstance should it be that foreign tours are given precedence over the dire needs of the people that require immediate remedies.

While the CP Councillors bask in their dragon-dreams and their counterparts in the higher echelons are craving for sumptuous breakfast menus, the not-so-privileged majority of the citizens are left to live in their cracked shells of misery.

Yet, not everyone is as lucky as them to board a plane or choose a destination for chillaxing!

The tragedy of unprotected level crossings hit the newsrooms again with the death of two children in Thalpe last week. For the last decade, these death-traps have claimed more than 150 lives and children have not been rare among the casualties. There are 563 unprotected level crossings across the country; perhaps, the number is not big enough to disturb the dormancy of those who only cross the protected ones in the comfort of their air-conditioned vehicles.

Monetary regulations cannot be more complicated than the lives of those who have been despaired by the loss of loved ones. At any rate, paying compensation once the damage is done, hardly averts the future disasters and neither does it bring the dead back to life.

At a time when lorryloads of money is poured down to renovate the Southern railway, one is at a loss to understand why the unprotected level crossings are allowed to devour human lives wholesale.

No doubt, speed thrills when it comes to night races. But it kills if the level crossing is devoid of protection. After all, not everyone is rich enough to go to China, or any other country for that matter; but their alternative destination should not be death!
---
---
Add comment

Comments will be edited (grammar, spelling and slang) and authorized at the discretion of Daily Mirror online. The website also has the right not to publish selected comments.

---