---
Victory Day will be celebrated in a big way again today with President Mahinda Rajapaksa, who is also Commander in Chief of the Armed Forces presiding at a spectacular military show to honour the war heroes who were killed or injured in the battle against terrorism. It would be more honourable and graceful if we also remember not only the security forces personnel but all people who were killed or injured in the thirty-year war. There were two bloody insurrections by the JVP in 1971 and from 1987 to 1989. Former Prime Minister Sirimavo Bandaranaike said that when we commemorate the victory over these insurrections we need to remember all those who were killed or seriously injured because they were all our youth who were misguided or provoked into armed rebellion because of social injustices including the inequitable distribution of wealth and resources.
As we celebrate Victory Day we also need to remember that though there are no suicide bombers or landmine explosions, the end of the war or violence does not mean a lasting peace.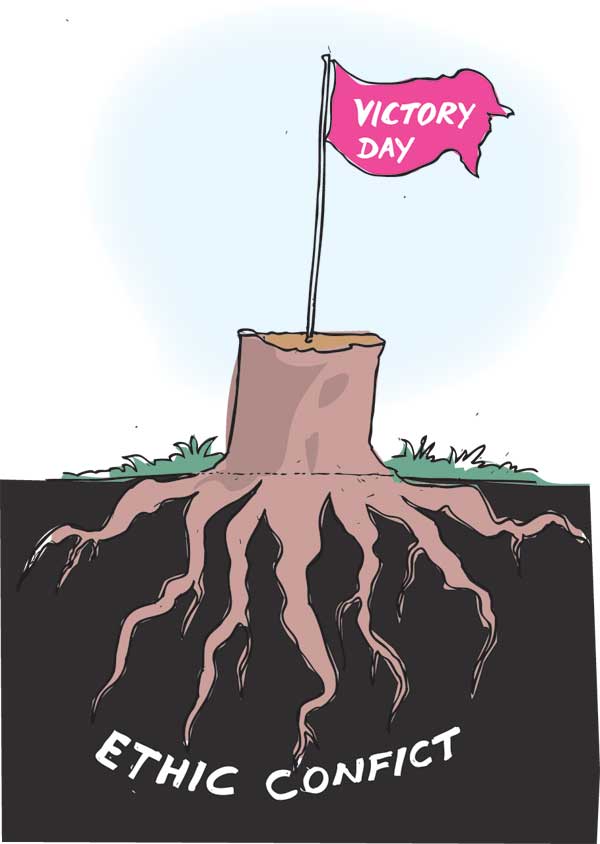 Government leaders have acknowledged and reality shows that a military victory over the LTTE does not provide a full solution to the ethnic conflict that has plagued our country for more than 60 years.

Three years after the end of the war it is tragic that the Government has made little progress in finding a just and fair political solution to the ethnic conflict. As a result Victory Day parades are being held today while Sri Lanka is under unprecedented international pressure to act fast in working out a political solution based on the devolution of power to the minorities in the Northern and Eastern Provinces. The Indian Government is known to be pushing for a political solution based on the 13th Amendment and going even beyond it, while Tamil Nadu leaders are calling on the United Nations to conduct a referendum on the setting up of a Tamil Eelam or a separate state. The all-powerful United States and the European Union are also putting heavy pressure on Sri Lanka to find an acceptable political solution while also taking action on accountability issues relating to alleged war crimes during the final months of the conflict.

President Mahinda Rajapaksa himself appointed the Lessons Learnt and Reconciliation Commission (LLRC) and told the international community the Government would solve the ethnic conflict through the home-grown solution given in the recommendations of the LLRC. But hardline parties are claiming the LLRC has overstepped its mandate while one even accused it of being an agent of the Tamil diaspora. The President needs to take bold steps even though they may be risky. He must sideline the extremist, take the middle path and work for a lasting peace with justice.

---
Add comment

Comments will be edited (grammar, spelling and slang) and authorized at the discretion of Daily Mirror online. The website also has the right not to publish selected comments.

---