---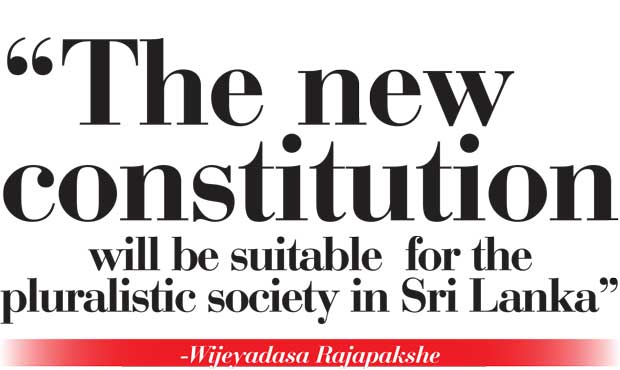 Minister of Justice and a former COPE Chairman UNP candidate Wijeyadasa Rajapakshe spoke of the new constitution his party proposes and about investigations conducted by the F.C.I.D.Excerpts.
---



Q If you get re-elected do you think you would be appointed as minister of justice?
I have no say in the matter. Whatever they offer, if I feel it is a subject that I can comfortably handle, then I will accept.



Q If you are appointed the minister of justice do you have specific plans?
There are a lot of reforms that I expect to do. I have already started a project to minimise the delay in litigation in civil courts. A draft is ready for Cabinet approval for the pre- mediatory trial system to reduce delay in civil litigation. Cabinet has already approved the Children's Judicial Protection Bill. Another Bill the Victims and Witness Protection Bill which was stuck in Parliament for 14 years passed. In addition w we have drafted a new Bill covering prison administration.Then there is the Buddhist Temporalities Ordinance and over 20 other Bills. Close to 50 per cent of them are done.




Q When you speak of delays in litigation, one allegation is that there is not much difference in them. For instance the Chief Justice was absent on several occasions and cases are being pushed back until a new Parliament sits.
The Supreme Court is the maximum service a government can render in respect of the country. We should not interfere with the judiciary. We provide facilities and make the necessary laws but the interpretation of the law is not for us; that's for a independent institutions the Supreme Court, the Court of Appeal and the Judicial Services Commission. If there is something wrong we can change the law. Otherwise we will be following the Mahinda Chinthanaya.



Q If the UPFA gets a majority in Parliament do you think the President Sirisena would be forced to appoint Mahinda Rajapaksa as the prime minister?
There is no possibility at all for that to happen. It's useless talking useless talking about Mahinda Rajapakse who is a non-entity. Regarding the appointment of the prime minister according to the 17th Article of the Constitution, it is based on the opinion of the president. If he thinks that someone in Parliament has a command of the majority in Parliament, that person could be appointed as prime minister. That's the law. Even under the 19th Amendment it is the same.
If a president has an opinion, you or I can't substitute that opinion. Never in history from JR to Premadasa has a president ever tested which person commanded the confidence of the majority in Parliament. If that logic is correct, then on Jan 9, Prof. G. L Pieris should have asked in Parliament how President Maithripala can appoint RanilWickremasinghe as prime minister as he had only 41 members in Parliament.



Q In a national government do you see Rajapaksa appointed as the PM?
No, we don't want a national government. However, we will invite [others in Parliament], to resolve burning issues in the country. We also need a new constitution in the next Parliament and are hoping to convert the legislator to a constituent assembly.
We have not decided what should be the form of the constitution, except that it needs to be changed. It is neither executive nor Westminster. We will sit together and prepare a new constitution which is suitable for the pluralistic society in Sri Lanka and it will be ours. For that purpose we don't want to make use of our power even if we get a two- thirds in parliament. We want the support of others, we want the consensus of all. That is why we want to have a constitutional assembly.



Q The FCID has conducted many investigations but no action has been taken. As minister of justice don't you think justice delayed is justice denied?
You can't say that nothing has happened. We have too many complaints. There are over 7,000 complaints and for the time being there are 600 police officers to investigate them. Many people were remanded and bailed out. That is the system, there is no other way.



Q But no concrete action has been taken?
All necessary action has been taken but it is a process that you will have to follow. The previous government didn't indict the murderers of Bharatha Lakshman for three years but we did it within one month.



Q You don't have man power; is what you are saying?
Definitely. When I was the COPE chairman I know how hard it was to unearth corruption and evidence. There was corruption running up to 300 billion rupees. It is a difficult task, but we will do it. If we rush through them there will be other repercussions.



Q The F.C.I.D. said it would not arrest those contesting the election until it was over.
That was a request made by the elections commissioner. We respect that. However, investigations are continuing; only arrests have stopped during their campaigns.




Q Speaking of being the COPE chairman, in the recent bond scam and the COPE issue, the deputy minister of justice got an enjoining order not to release the report to the public. Can I get a comment on that?
In Sri Lanka there are only two COPE reports that have been approved by Parliament. That was my COPE report, on 12thJanuary 2007 and another on 24thAugust 2007.
I was not a member of COPE and there was no COPE report presented to Parliament until it was was dissolved. Then the COPE becomes defunct until the next COPE was established under a new Parliament. Until then there is no COPE.



Q It was burning issue at the time, do you think it was right to not publicly release such a report?
To do that you will have to have a Parliament.



Q But Parliament was dissolved right before it could be tabled in parliament?
It only becomes a report if it is presented to Parliament. Otherwise it's just an investigation. Until it is presented to Parliament it is not a report.



Q Does that mean this report would never be publicised?
Investigations have to be continued by the next Parliament.



Q Do you think that it will be taken up again?
It has to be; we will insist on it. Until I exposed the Rs. 300 million corruption, the people in this country were not aware that there was anything called COPE.



Q Would the JVP ask the president appoint a presidential commission to look into Mahinda Rajapaksa's financial transactions with the LTTE? Do you think it should be done?
There are two options. One is under Article 157. During JR Jayawardene's time he brought a new amendment to the constitution, where you can file a case for encouraging or supporting separatism. And now Rajapaksa has no presidential immunity, so [ a case] can be filed..
Of course it is after investigations and solid evidence. If there is no evidence, then the best thing is to appoint a presidential commission.



Q Do you think it should be done? Specifically a president who defeated terrorism?
It is not just legal issues. There are other aspects to look into, so it will be a policy decision.



Q What is the policy your government would have on this issue if elected?
Our main aim is to look at reconciliation, at the fullest.



Q So, you don't think the reconciliation done by the previous government was sufficient?
I don't say they didn't; but, it was physical reconciliation, not mental reconciliation. The biggest mistake the last government did was that reconciliation was based on infrastructure. They were under the impression that the minorities in the North and East wanted roads and such.
But it is much more. They want dignity and equality. The last government did not recognise that.



Q Speaking of the North and the East what is your take on the TNA's manifesto?
If they have to win the election, like Mahinda Chinthanaya one and two, they would have to satisfy their community. They would have to promise some things like the devolution of power.
We can devolve power, we have said so in our manifesto, but it has to be consensual not ex-parte. Federalism and separatism is not new. Even Chelvanayagam in the 1940's wanted the North and East to be merged with Tamil Nadu.



Q What do you think of the TNA's demand for the merger of the North and East?
That will never happen. This is a small country and there are only nine administrative divisions and the whole country can be managed by the Centre. Certain powers have been devolved under the 13th Amendment. There are good aspects in the 13th Amendment but certain subjects like education are messy.



Q On the subject of devolution, if your government comes into power will a different stand be taken on police and land powers that fall under the 13th Amendment?
We have not decided for the time being, except for having a dialogue for a new constitution and decide with the consensus of all the stake holders how much of devolution should be recognised.
---
---
Add comment

Comments will be edited (grammar, spelling and slang) and authorized at the discretion of Daily Mirror online. The website also has the right not to publish selected comments.

---