---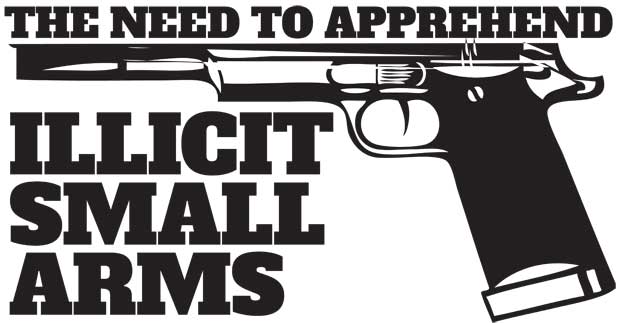 Sri Lanka's population today is living under the threat of illegally circulating illicit Small Arms and Light Weapons (SALW), which are still unaccounted for. This is mainly because of the failure of previous governments and particulaly the previous regime's inability to curb the proliferation of illicit small arms in post-war Sri Lanka.

Sri Lanka continues to accumulate an unknown number of illicit small arms since the Janatha Vimukthi Peramuna (JVP) insurrection in 1971. This was severely aggravated by the three-decade long armed conflict with the Liberation Tigers of Tamil Elam (LTTE), and again, the second JVP insurrection in 1987-8.
Apart from those internal conflicts, distribution of weapons to politicians by the previous government, underworld circulation of SLAW by private security firms, which means certain private security firms receiving weapons, including automatic weapons with the approval of the Ministry of Defence sometimes which are not returned or never recovered.



"Sri Lanka continues to accumulate an unknown number of illicit small arms since the JVP insurrection in 1971. This was severely aggravated by the three-decade long armed conflict with the LTTE and again, the second JVP insurrection in 1987-8."





Recently the media claimed that senior officer at the Ministry of Defence and Urban Development of the previous government granted licenses to issue firearms and explosives after collecting bribes amounting to millions of rupees. If this is proven it would be a grave crime committed by a senior government officer and would raise serious security concerns and questions on civilian safety.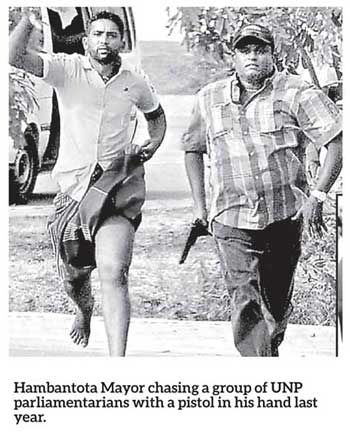 In Sri Lanka, State agencies are required to maintain records of the storage and movement of all firearms and ammunition under their control. And also, the government-sponsored armed groups, other armed groups and various underworld groups and politicians were responsible for the proliferation of illegal small arms and light weapons in Sri Lanka.

In post-war Sri Lanka there were unprecedented levels of illicit small arms circulating among certain groups in the country, directly or indirectly sponsored by the previous UPFA government. The present government need to look into this important matter immediately. Combating, preventing and eradicating the illicit trade of small arms are a must in Sri Lanka. The current level of circulation of illicit small weapons requires concerted efforts by the Government of Sri Lanka to protect its civilians.


The Firearms Ordinance and Other Related Laws


The Firearms Ordinance No 33 of 1933 was introduced during the British colonial period. Since then the Act was amended several times, the last in August 1996. The Amended Firearms Ordinance No 22 of 1996 is a completely outdated Act today. The Firearms Ordinance needs to be urgently amended or better still a new Act on Firearms should be introduced. Other applicable laws include the Explosives Act No. 33 of 1969, the Offensive Weapons Act No.18 of 1966, the Army Act, the Air Force Act, which also legislate on small arms.

In Sri Lanka, the law requires that a record of the acquisition, possession and transfer of privately held firearms be retained in an official register and only licensed gun-owners should lawfully acquire, possess or transfer a firearm or ammunition. The licensed gun-makers are required to keep a record of each firearm produced, for inspection by a regulating authority. The activities of arms brokers and transfer intermediaries are not specifically regulated by the law in Sri Lanka.



The National Survey on Small Arms


The survey on the 'Prevalence of Illicit Small Arms in Sri Lanka' was conducted in 2006 for the National Commission Against the Proliferation of Illicit Small Arms (NCAPISA) which came under the Ministry of Defence, carried out by the Saferworld UK with its partner organisations. This was a kind of survey on illicit arms carried out for the first time in Sri Lanka between November 2006 and April 2007. The survey revealed that the estimated total number of guns held by civilians in Sri Lanka was 300,000. This may have changed and be completely different if a new survey was held in post-war Sri Lanka.

The 2006 survey was carried out in a few selected areas, completely leaving out conflict areas in the North and East of Sri Lanka due to the ongoing armed conflict. On this ground this survey is not valid today. But the survey report has very important recommendations which were never implemented by the previous government. This shows the previous UPFA government's lack of commitment towards protecting civilians from illicit SALW in post-war Sri Lanka.



The Administration Report of the IGP


The only reliable report available in Sri Lanka to find out gun-related incidents is the Administration Report of the Inspector General of Police which is published every year. But this Report is not widely available in recent years either in libraries or universities and is not published in the official languages of Sri Lanka. This important report should be published in Sinhala and Tamil and should be made available to the public since the Department of Police is a public institution. This author has tried to get this report published in Sinhala and Tamil during the previous government but nothing worked out, and has already intimated this to the current government in the hope that they will positively look into this matter since the resources are available within the government.

The IGP Report has a categorisation on small arms usage. The areas of Homicide, Grievous Hurt, Homicide, Abduction, Attempted Homicide, Rape, Robbery and Unnatural offences. It has been reported that those firearms related offences since 2005 to 2010 were at 3029, 338, 2408, 3784, 3123, 1761 respectively. It has mentioned the type of weapons use for these crimes such as shotgun, rifle, pistol, trap gun and automatic weapon.



Post-war Sri Lanka and Illicit Small Arms and Impact on Civilians


The issue of illicit SALW has impacted on many socioeconomic and political issues in post-war Sri Lanka. The motives for possessing small arms in Sri Lanka needs to be discussed and analysed at all levels of the social, economic and political spheres. Currently Sri Lanka is ranked in the Global Peace Index at 105.

Post-war Sri Lanka should give priority to human security rather than national security. This will not undermine national security, it does indirectly strengthen national security at a lesser cost. Peaceful countries around the world have been increasing their budgets on health, education and social services rather than national security or defence. In the developed peaceful nations in the world, more funds are allocated on health, education and social services rather than on defence and each year funds are increasing for this sectors. Sri Lanka could follow the same pattern in the post-war setting.

The Police Department's involvement in eradicating illicit small arms and in post-war development is important. The Police Ordinance was enacted to stipulate powers and responsibilities of policemen under the Police Ordinance No 16 of 1865. Since then the Ordinance was several times amended and last in 1984. The Police Act of No 41 of 1984 is outdated. Sri Lanka needs a new Act for the Police Department under the current circumstances and particularly the post-war Sri Lanka setting. The Police Department needs a complete revamping and this includes revising the salary scales of police officers and a look into their welfare. The government should look for ways and means of uplifting the welfare of security forces and the Police officers.

Women and children are the most vulnerable groups with regard to the use of illicit small arms in Sri Lanka. Since the JVP insurrection and end of the ethnic war Sri Lanka has produced thousands of war widows, children without parents, parents who lost their children, and lost brothers and sisters. Most of them died due to the use of small arms. In post-war Sri Lanka this trend continues at an alarming rate. Women can contribute a lot to crack down illegal weapons in Sri Lanka by encouraging those who possess illegal weapons in the family to hand them over to the government, provide information to the government authorities, and take leadership in civil society organizations against illicit weapons, drug trafficking and violence against women. Due to illegal weapons such damage of the socioeconomic life in the society has occurred.

Underworld killings, abductions, drug trafficking, political killings also include election related violence, personal killings and other incidents which are reported from every corner of post-war Sri Lanka. This will badly effect many sectors in society such as law and order, ethnic and religious harmony, businesses and particularly tourism, taking ransom from businessmen and so on. This will erode the image of the country internationally.

If the members of the family leave automatic weapon/s at home, children may want to test them at home or at school. This is the culture currently prevailing in the US where children take automatic weapons from home to school and carry out carnage there. This may happen in Sri Lanka in the future if the government and society do not take any immediate precautions.



Needs to conduct a survey on illicit SALW


The previous UNP and UFPA governments were able to completely wipe out the military wings of JVP in 1988 and LTTE in 2009. Under the New Democratic Front (NDF) Government this should be a priority and a duty of eradicating illegal SALW from Sri Lanka and to make a safer place to live for its civilians and also to achieve meaningful good governance, democracy and social justice. The Government of Sri Lanka should take the leadership of conducting and collection of the survey on illicit SALW soon. Sri Lanka can seek international support, expertise and can study other countries' success stories relating to the eradication of illicit weapons from the society.


There should be a four way approach on Illicit Small Arms in post-war Sri Lanka;
4Declare and collect Illicit arms with a amnesty period.
4Conduct an island-wide survey on Illicit SALW.
4Amend or introduce a new Firearms Act.
4Continue to crack down on Illicit arms with public support.

A mass mobilisation against illegal small arms is needed in Sri Lanka. Establishing a National Commission on small arms is a must in Sri Lanka now. The Defence Ministry and the Ministry of Public Order and other relevant government institutes must take the leadership on the survey and to collect the illegal weapons circulating in the Sri Lanka. This needs to be supported by all sectors in society irrespective of their political, ethnic background, religion or any other affiliations. Community consultation, academia and the media should be part of the survey at all the levels and also with the collection of the arms and need to retain them and interest with regard to the illicit SALW. Overall areas of consideration with regard to the SALW should be, present level of arms control legislation, present management information system, awareness, survey, collection, destruction, present central and sub national level controls and stockpile management.

Even though there was no reference to the Lessons Learnt and Reconciliation Commission's (LLRC) Report and its recommendation or in the 'Maithri Manifesto' this should be a high priority for the new government at its early stages. This will hugely and positively benefit civilians in post-war Sri Lanka in relation to reconciliation. With regard to the 100 Day Programme or the manifesto "Compassionate Government Maithri A Stable Country" of the present government there is no reference on the subject of illicit weapon in Sri Lanka. But, this must be given a high priority for the new government if the government works towards creating good governance in the country. Peace lovers and good governance supporters dream of good governance from tomorrow and onwards without considering that there are thousands of illegal automatic weapons under beds and rich armouries in houses that can kill the whole family in a few seconds. Otherwise Sri Lanka's unarmed civilians will continue to live under the threat of illegal weapons not knowing when they will be targets. This is over to you President!



Signatory for the Arms Trade Treaty (ATT)


Sri Lanka which has been an active member of the United Nations since 1955 should be supportive of the global initiative to crackdown on the global illicit arms trade through regulating them. For this Sri Lanka should become a State party for the ATT of the UN. This needs to be studied seriously to find out why Sri Lanka is not a State Party for the ATT. It is important to note that the previous government has totally neglected to join the ATT which came into effect in 2013. A prominent Sri Lankan diplomat, Ambassador H.M.G.S. Palihakkara chaired and worked tirelessly on the Advisory Board on Disarmament Matters (appointed by the Secretary General of the UN) of its annual two sessions (57th and 58th) of the year 2012 which focused on the ATT at the UN Office for Disarmament Affairs (UNODA).

The UNDOA Advisory Board is to advise the SG of UN on matters within the area of arms limitation and disarmament, including studies and research under the auspices of the United Nations or institutions within the United Nations system and the implementation of the UN Disarmament Information Programme. The UNODA Advisory Board advised SG on the ATT. And also Conventional Arms Branch (CAB) of UNODA offers support to help facilitate conferences for the U.N. Programme of Action on Small Arms and Light Weapons and the Arms Trade Treaty process, among other agreements. CAB also serves as chair to the U.N. Coordinating Action on Small Arms.

Sri Lanka is an active member of the Parliamentarian for Global Action (PGA). Members of PGA, MPs are actively promoting universality and implementation of the ATT. The Chairman of the Sri Lankan Chapter of PGA for the previous government was former Minister Nimal Siripala De Silva MP and Secretary Thilanga Sumathipala MP. Both of them work hard to convince the government and general public on the importance of accession and ratification of the ATT by Sri Lanka. But their efforts failed with the previous government. The author of this article himself had several discussions with both the Chair and Secretary on the subject of ATT and its accession by Sri Lanka. They revealed that certain powerful elements within the government were not interested to join the ATT. The Government of Sri Lanka hosted the PGA's 33rd Annual Forum under the patronage of previous President Mahinda Rajapaksa in 2011 in Sri Lanka.

The UN General Assembly adopted the ATT as a resolution by the overwhelming majority of 154 "Yes" to ATT and 3 against with 23 abstentions which included Sri Lanka on 2nd April 2013 at its 71st Plenary meeting. This was a shame for Sri Lanka since the prominent Sri Lankan diplomat worked as the Chair of the UN SG Advisory Board, a senior Cabinet minister and well known parliamentarian canvassing to accede to ATT by Sri Lanka, Sri Lanka hosted PGA 33rd Annual Forum in 2011. Sri Lanka's position on this raises many concerns of peace loving people.

This particular treaty will not bring any harm to national security. Being State Party to the ATT will bring many opportunities for Sri Lanka and show the country's commitment and support towards regulating the illegal arms trade industry which is worth an annual US$ 70billion in the world. This shows the previous government's failure of engage with the world's peaceful policies.


The writer is a freelance researcher on socioeconomic development and disarmament. Currently he is the Country Researcher Sri Lanka for Landmine and Cluster Munition Monitor and the Project Coordinator for the National Languages Project of Sri Lanka. He also volunteered in the field of Wildlife Conservation. His latest publication is on 'Commonwealth States on Disarmament and Development A Socioeconomic Analysis.' He can be reached at vidyampa@hotmail.com