---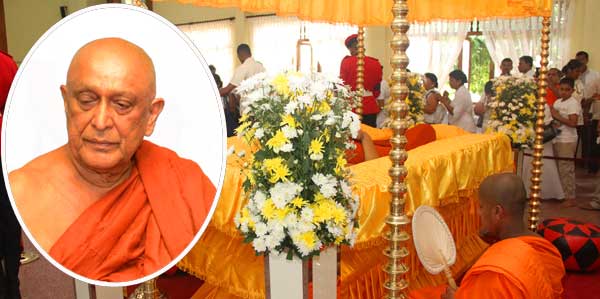 The demise of the Most Venerable Maduluwawe Sobhitha Nayaka Thera not only created a vacuum within the social fabric in the fight for social justice, but it also symbolised the role of a Buddhist religious leader in creating national unity and ethnic harmony in Sri Lanka. Furthermore,the iconic monk showed us how an extreme nationalistic fundamentalist could become a role-model in creating ethnic harmony and national reconciliation.

I have never seen a funeral of a Buddhist monk before where other religious and ethnic communities took a prominent role not only in respecting the deceased but also in providing facilities to the massive crowds that gathered to pay homage to the national leader. If one spent a few hours near the remains of Most Venerable Sobhitha Thera, hundreds of Muslims and other ethno-religious representatives could be seen queuing up to pay their respects to this leading Buddhist prelate. Some provided bottled water and food for the visiting crowds – who were mainly Buddhists, displayed banners and cutouts expressing their sympathies on the demise of the trusted Buddhist leader.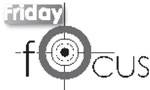 It was senior journalist Latheef Farook who wrote the first appreciation on Sobhitha Thera just after his death and circulated it via the social media. Non-Buddhist religious leaders volunteered in mobilising their communities to pay homage to the prelate and visited Naga Viharaya from every corner of the country.


"Why do Muslims love Sobhitha Thera so much", I asked N. M. Ameen, veteran media practitioner and president of the Muslim Council of Sri Lanka. "Because he was the only Buddhist leader who stood with us when we were in trouble," responded Ameen. "There were extreme circumstances where our community was facing uncertainties [during the previous regime]. We had no other person to turn to for assistance, but it was Sobhitha Nayaka Thera who openly appeared for our cause. Other Buddhist leaders would accept our existence and agree to our requests, but they would never appear openly on our behalf. But it was a totally different story with Sobhitha Thera. Therefore, Muslims from all over the country are visiting Naga Viharaya to pay their last respect to this great Buddhist leader," Ameen added.

These comments by Ameen reminded me of a speech Sobhitha Thera delivered at the invitation of a group of Muslim youth in Colombo several years ago. The topic was 'Religious harmony in that the Sri Lanka'. The strong words and solid arguments Nayaka Thera used during his speech would never fade away from my mind. "The Buddha taught us the lesson of religious tolerance and co-existence through his own practice. Several monasteries of other religious leaders like Makkhalee Ghosala, Ajitha Khesakambala were close to The Buddha's monastery, Jetavana, and The Buddha had powerful kings and all other influential segments of the society as his devotees. But never did he request those kings and his other followers to take action against those non-Buddhist monasteries – and remove them from the vicinity of Jetavana alleging that their existence was a threat to his own religion. He could have easily done that given his strong connection to royalty. But what he did was totally the opposite. The Buddha used to visit those non-Buddhist monasteries in the evenings – and when those people see Buddha walking towards them, they would prepare a place for him to sit and ask their colleagues to be silent as Buddha always appreciated silence and serenity. Then they would discuss issues of the Dhamma and this would be the most intellectual discourse on various issues – a specific symbol of The Buddha's inter-faith harmony and religious tolerance."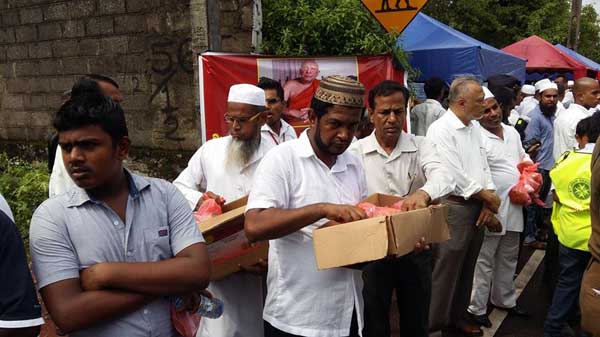 Hundreds of Muslims paid their respects to the leading Buddhist prelate

It was at this event where former Information Minister Imthiaz Bakeer Markar proposed that the Thera should be the common presidential candidate where he would garner the support of all ethnic communities in Sri Lanka. This was somewhere in 2011, I guess.

In fact Sobhitha Thera was a totally different person a couple decades ago. His ideologies were more towards Sinhala fundamentalism and extreme nationalism. His participation in nationalistic movements like the Sinhala Veera Widahana, Sinhala Balawegaya provoked the Harvard social anthropologist Stanley J. Thambiah to use a powerful image of Sobhitha Thera on the cover page of his book Buddhism Betrayed? Religion, Politics and Violence in Sri Lanka (Chicago University Press, 1992). It stirred much controversy in the media and in Parliament for months eventually leading to the book being banned in Sri Lanka and Thambiah demonised as a 'Christian Tamil' by Nalaka Gunawardana in his latest appreciation.

Somewhere in 2006, I inquired about his change of stand when I was accompanying him for a Dhamma sermon at our home. I gave special reference to Thambiah's book."Mahattayo, everything is subject to change. When we realise that our conduct is not according to accepted norms and practices – and especially in following of our most respected teacher-- we should change; that is what we call maturity," he said.

There is no argument that this most respected Buddhist prelate became a symbol of ethnic harmony in Sri Lanka. He visibly displayed the courage of a Buddhist monk who could command the respect of all segments of society irrespective of religion and ethnicity. He was the bridge between the temple and other religions. Some called him Desmond Tutu of Sri Lanka (where Mandela is still missing). Others named him as a Buddhist Ayatollah in Sri Lanka. But for me he was none of those, but a true son of The Buddha who taught us religious tolerance and ethnic harmony through strict discipline and sound knowledge. His funeral was the classic case study to support that contention.