---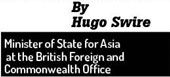 Like many, I await the wonderful Thai Pongal celebrations eagerly, but this year they take on a particular significance at a time of new beginnings for Sri Lanka. On this, my third visit as the United Kingdom's Minister for Asia, I have been struck by how far the country has come over the last 12 months. Today, I see a country in which many Sri Lankans, of all ethnicities, looking forward to a brighter future than the one that they faced just over a year ago. Since my last visit, shortly after Sri Lanka's people voted for change by electing Maithripala Sirisena as President, I have been encouraged and impressed by three things in particular. First, the commitment of his government to tackle the legacy of the country's conflict, which has cast a shadow for far too many years. Secondly, the government's determination to restore the checks and balances essential to a functioning democracy and thirdly, its desire to re-invigorate ties with old friends.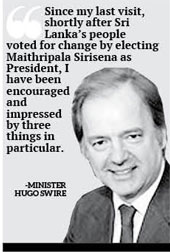 Some remarkable changes have taken place. At the same time, I can see that much remains to be done. The government faces a challenging programmes of reform. It will need widespread support to see through its ambition to open opportunities to all Sri Lankans to reap the benefits of sustainable prosperity, underpinned by a stable and secure country. Sri Lanka took a courageous step towards achieving this in Geneva last October when it co-sponsored a Human Rights Council resolution committing itself to taking important steps to advance reconciliation, accountability and human rights, and to deliver a political settlement that will bring equitable and just governance for all Sri Lankans.Friends of Sri Lanka in the international community all appreciate that this will be no easy task and would take time. However, Sri Lanka does not stand alone. We in the British government stand ready to help. Our Prime Minister, David Cameron, recently announced that we will provide a further £6.6 million of funding over the next three years to help the Sri Lankan government achieve these important goals.

Of course, it is not only about what governments can do. Many highly qualified Sri Lankans live abroad. They have skills they could share and resources to invest. The Sri Lankan government is right to be looking for ways to engage better with the diaspora in the UK – Sri Lankans abroad have the potential to be an important force for good. The private sector too has a vital role to play. Many British companies already operate in Sri Lanka, some of them little known, some of them international household names like Marks and Spencer, HSBC, De La Rue Currency, GSK and the Standard Chartered Bank. Our education links are already strong and we are keen to see them grow further. That is why we are keen to see more British businesses working here and contributing to change and economic regeneration in Sri Lanka. During my visit to Sri Lanka I am looking forward to seeing and hearing about the progress that has been made and discussing what more we can do together. I look forward to meeting old friends and to attend Thai Pongal celebrations in Jaffna and the Literary Festival in Galle. 2016 will be a year of opportunities and challenges. The combination of clear objectives, principled leadership and popular support is always a strong one. With Sri Lanka's multitude of friends around the world, I wish your government and people all the best as you move forward together.

---
Add comment

Comments will be edited (grammar, spelling and slang) and authorized at the discretion of Daily Mirror online. The website also has the right not to publish selected comments.

---