---
The government yet again has increased the prices of cigarettes to boost its tax revenue. The lower end fag prices were jacked up by Rs.2 and the high end by Rs.3. Interestingly Treasury Secretary Dr. P. B. Jayasundara had told media a few days back that the tax revenue of the government was on the rise.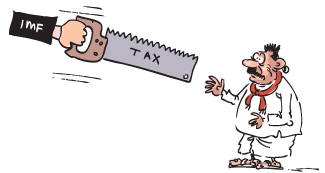 The International Monetary Fund (IMF) has been calling for the government to increase its tax revenue highlighting the fact that Sri Lanka has the lowest tax revenue (11 per cent of the Gross Domestic Product) in the region.
Therefore, the fag price increase announced yesterday could be considered a step in the right direction. However, the recent cigarette price increases have impacted the volume though it had affected neither the revenue of the Ceylon Tobacco Company—the monopoly operator—nor the tax income they generate for the government. But the government needs to be careful not to strangle the goose that lays the golden eggs.

At the same time the government should expand its tax net and further simplify the tax system. But it is indeed disheartening to see the tax breaks given by the government to those who plan to operate casinos in the country.
According to Investment Promotion Minister Lakshman Yapa Abeywardena, a US $ 350 million casino project operated by Australia's casino king-pin James Packer would be given a 10-year exemption from income tax in addition to a further concessionary 6 per cent tax on profit for 12 years.

The applicable flat rate of 5 per cent would be charged on gaming revenues, similar to proposed levies on a proposed resort by John Keells, however, no mention of corporate tax on casino profits was made in the gazette, unlike the latter development.
The tax concessions mentioned in the gazette shows that Packer has been handed over a sweet deal, depriving the government of a considerable tax income which could be used to improve the education, health etc. sectors of the country.
High taxes on cigarettes, liquor and gaming are imposed worldwide to compensate for the deterioration they cause to every aspect of human life. But it seems that in Sri Lanka some of these evil businesses are getting preferential treatment for reasons unknown to the general public.

It is true that the government should give tax and other types of concessions to businesses to attract foreign investment. Hardly anyone would find fault with the government making Hambantota and Colombo ports free ports to lure investments, as such investments are expected to realise benefits in the future free of social degradation. But can we expect the same from the incentives given to casino operators?
---
---
Add comment

Comments will be edited (grammar, spelling and slang) and authorized at the discretion of Daily Mirror online. The website also has the right not to publish selected comments.

---