---
UNP Colombo District MP Sujeewa Senasinghe, is currently playing a central role in the campaign for the Common Opposition candidate Maithripala Sirisena. In an interview with the Dailymirror he insisted that the incumbent regime is corrupt and hence should be voted out. During the interview, he reiterates his challenge at MP Namal Rajapaksa for a public debate, in which he said he would expose the government. Following are the excerpts of the interview, which could be viewed in full on our web portal.




---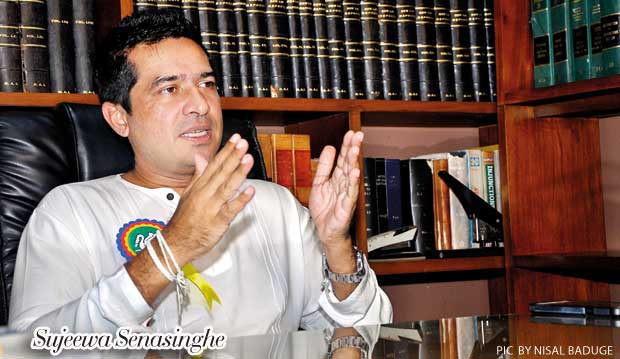 If could you first tell us about your initial reaction as to what transpired at the press conference, during which a local councillor took you by surprise by promising his support to President Mahinda Rajapaksa?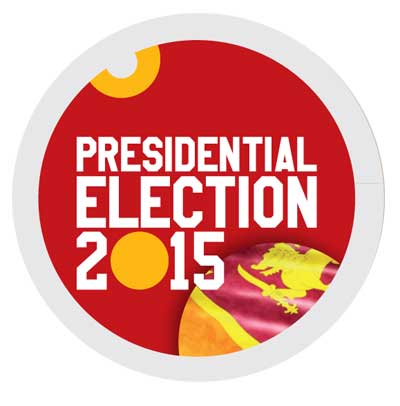 The press conference was initially called to point out to the people that the work for the youth as propagated mainly through Namal Rajapaksa and the 'Nil Balakaya' (Blue Brigade) was false and that the youth have not benefitted at all from this government. We pointed out that everything that was said was false; especially given the fact that many of our youth are going abroad and working as housemaids, many others are looking at various ways to leave the country. If you see the unemployment rate, benefit and youth education were hoodwinked by this government. We see China developing, India moving forward but we have reaped these benefits. Then all of a sudden I was told that a Dehiwala- Mount Lavinia local government member wanted to cross over and so I welcomed him. When he started speaking I realised what was happening, but I did not interrupt him and let him go on. He must have come for money or for other reasons. I was not aware of who he was, but I let him speak. I let the journalists present ask him questions as to what would have happened if this had taken place at Darley Road among others. When he was leaving, I told the people not to harm him and ensure his safety. I told the people to lodge a complaint with the Police to make sure he was safe when he left. We showed concern because if he was picked up by a white van outside the premises, the blame would come on us. This is what democracy is. We should allow people to express themselves and we let him to that. But certain print media carried different stories, but this is exactly what had happened. But this is how desperate the Rajapaksa regime is, that they would use our time and space to promote themselves.





You said that the Rajapaksa regime was desperate. Are they truly desperate, or isn't this just an urban phenomenon which to a large extent we witnessed during the run up to the previous presidential elections?
No. Not at all. I don't want to demarcate it as being between urban and village phenomena. The swing happens everywhere in this country. Even during the previous election where Sarath Fonseka contested, there was a swing but he wasn't mature enough to sustain this swing. During that campaign I advised him against making certain statements, and doing certain activities, but he made the wrong choice during the final stages. That was the reason why we lost. But Maithripala Sirisena is a politician with over 46 years of experience and he has all the maturity, calmness and everything that a leader should have. I am so impressed with him. Even at Kaduwela, the speech he made was that of a real leader. He is not vindictive, instead he objectively explained what this country was heading towards, and what to expect if the current regime is still in power.





But do you think that the people are willing to see this change and go back to the era of Ranil Wickremesinghe and Chandrika Bandaranaike? Especially, after Mr. Wickremesinghe has been rejected time and time again?
Ranil Wickremesinghe was not rejected, what he had came to an end in Sri Lanka and certain leaders made statements that adversely affected his reputation. Thereafter he was considered a traitor, and we have to wait for 3 to 4 years before the people actually realise the role Mr.Wickremesinghe played to end the war. If not for the Karuna-Pillayan split, the war would not have ended, and he played a pivotal role in that. Also, we are not going back to the era of Chandrika. She is just another person who wants to see an end to this regime and ensure that this country does not have this corrupt regime in power after January 8.





Isn't it a personal vendetta as opposed to a policy - in actual fact - that is currently being played out?
No! It isn't. If you see how dictators were thrown out across the world, it was due to a common effort. It is the need of the hour to throw out this regime.





It isn't the Rajapaksas versus the rest?
It is! It is against the Rajapaksa family who are ruling this country and their stooges who are fighting for them. These stooges are the most corrupt with many having allegations against them in the Bribery Commission and elsewhere. Because they are Rajapaksa's stooges nothing is being done. I can give you the names if you want.




Under a Maithripala regime, would such allegations be investigated and the perpetrators brought before the law?
Definitely! It may not be a 100%. But most certainly people will not be allowed to get away after perpetrating crimes.





Then what is your opinion about Rishad Bathiudeen, who was accused of stoning the Mannar Magistrate's Court?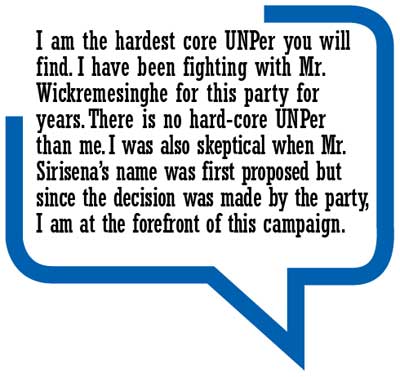 Appropriate action should be taken against that. It must be investigated and dealt with according to the law. I don't know in detail what had happened, but the allegations must be looked into and appropriate action should be taken against them. Not only that. If he is found corrupt, then that also must be investigated. I know it is not easy once someone supports you to take such action, but, we must start somewhere and Mr. Sirisena will have to say enough is enough and institute action, although, practically it will not be that easy. As young politicians, we will push him and support him.





One of the main cries of the UNP hardcore party cadre is that the UNP would be dissolved as a result of this alliance, and it's something that President Rajapaksa also keeps insinuating?
Mahinda Rajapaksa is the one who destroyed the UNP. He destroyed every other political party including the JVP, JHU and the SLFP to ensure his family stays in power. The UNP will not be dissolved. Sajith Premadasa, Sujeewa Senasinghe and the others who are the young blood of this party and who form its core, would not let it be dissolved. We will usher in an era of the Senanayakes, Kothelawalas and Premadasas for this party. Before 1994, we were in the opposition for a maximum of seven years, but since then there has been a lag on the party machinery and now it needs some oil and grease. This is what Maithripala Sirisena, Ven. Athureliye Rathana Thero and the rest are giving us. After 3 or 4 years, Mr. Sirisena will strengthen the SLFP and we will work on the UNP. The main point as of now, however, is to put this system on the correct track, the Rajapaksas have taken this country from Prabhakaran and sold this country and this must be stopped somewhere.





But would not the hardcore party cadre feel that way?
I am the hardest core UNPer! That you will find.





No. I am talking about the village level UNPer?
Forget about the village level. I am the hardest core UNPer you will find. I have been fighting with Mr. Wickremesinghe for this party for years. There is no hard-core UNPer than me. I was also skeptical when Mr. Sirisena's name was first proposed but since the decision was made by the party, I am at the forefront of this campaign. At every meeting, every rally, I am there. That is how we work.





Does this translate to the party cadre though?
Yes! of course it does! Did you come for my meeting at Kaduwela? There were about 12,000 people in pouring rain and they didn't come just to have a look at the stage and go. They came to listen to a message. Every member is backing Mr. Sirisena. I was also actually surprised to see the reception he received from the UNP supporters, they see something good and genuine in Maithripala. The people trust him, just like Modi. Before Modi swept into power, there was a lot of criticism levelled against him, but they trusted him and today look what he has done. He is not corrupt, he has taken a few best steps in favour of his country's growth. Maithripala Sirisena will do the similar thing for Sri Lanka, and together with Ranil Wickremesinghe's strategy and Sajith Premadasa's passion for social welfare. Also Champika Ranawaka's and Ven. Rathana Thera's nationalist approach, this country will be moving forward.





You were speaking about enthusiasm at your rally; didn't we see this same phenomenon during Sarath Fonseka's campaign?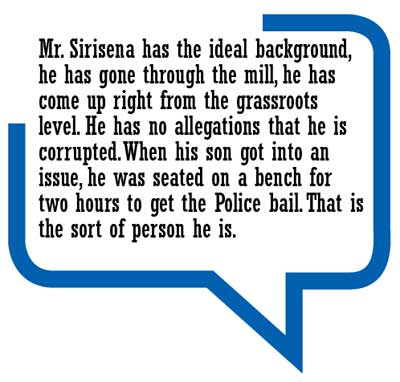 No. We didn't. The difference was that in 2010, the credit for the war victory was divided among three people. We told the people that the Rajapaksas would be corrupt but we could not get that message across. Mr. Fonseka did not rise as a politician, and that is understandable because he was a military man. You can't expect Mr. Sirisena to be the best Army Commander in the world. Can you? Mr. Sirisena has the ideal background, he has gone through the mill, he has come up right from the grassroots level. He has no allegations that he is corrupted. When his son got into an issue, he was seated on a bench for two hours to get the Police bail. That is the sort of person he is.




Finally, you had publicly challenged Namal Rajapaksa for a debate, is that challenge still alive?
Of course it is! I will be there alone and he can bring anyone he wants with him. He can bring S. B. Dissanayake, Wimal Weerawansa, Mahindananda Aluthgamage or anybody else he wants. Also he can have five times the duration I have. And the debate is wide open. If he is so smart as he portrays himself to be, he should come. He has apparently got over 90% at Contract Law at the Law College and I will only ask him two questions on contract law; if he can answer that, it will be an accomplishment itself. The challenge is on, as the son of the President, and one of the most powerful young politicians, I am willing to debate him in public, although, I am certain that he would not face it.