---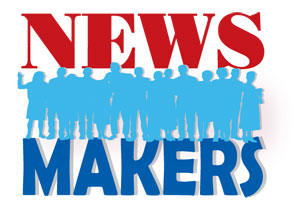 She may not have made headlines in Sri Lanka yet but Sushma Swaraj, the first woman to be appointed as India's Minister of External Affairs will be a key player in forging that country's foreign policy towards Sri Lanka over the next few years.

Swaraj was sworn in for the vital portfolio by Prime Minister Narendra Modi on Tuesday and her appointment should be considered a bonus for Sri Lanka which must be relieved at the prospect of a strong government in New Delhi that does not have to bow to the dictates of parties in Tamil Nadu.

Swaraj, unlike her immediate predecessors Salman Khurshid, S.M. Krishna and Pranab Mukherjee, is one of the few politicians in New Delhi that Sri Lankan leaders have developed a close rapport with. She also has a keen interest in Sri Lanka and has repeatedly supported Sri Lanka's unitary status.

Sri Lankans would remember that Swaraj-amidst protest from political parties in Tamil Nadu-led a twelve member delegation of Indian parliamentarians on a familiarisation tour of Sri Lanka in April 2012 in her then role as Leader of the Opposition in the Lok Sabha.

Swaraj spent six days in Sri Lanka, attempting to learn first-hand the complexities of ethnic relations in Sri Lanka. Most of that time was spent in the North and East observing the rehabilitation efforts launched by the government. Swaraj also visited the 'Menik Farm' village for refugees.

Swaraj then visited the Central Province where she met with representative of Tamils of Indian origin. She also held discussions with President Mahinda Rajapaksa, Minister Basil Rajapaksa, Opposition Leader Ranil Wickremesinghe and Tamil National Alliance chief R. Sampanthan.

During the visit, it was clear that Swaraj could relate to and establish a rapport with Sri Lankan leaders-in stark contrast to other visiting dignitaries from India who were often perceived by Colombo as having a condescending attitude towards Sri Lanka.

That visit, coming a few weeks after India voted against Sri Lanka when the first United States sponsored resolution was presented at the United Nations Human Rights Council (UNHRC) in Geneva in March 2012, helped considerably to ease strained relations between the two countries.

Relations between the Colombo and the former Congress government in India have taken a roller coaster ride since then with Sri Lanka refusing to bow to Indian dictates regarding the devolution of power and the former Indian regime being subjected to pressures by political parties in Tamil Nadu.

Restoring a sense of trust between the two countries will be a priority for the sixty two-year-old veteran politician who has a long and distinguished career spanning over twenty five years and was at one time seen as a Prime Ministerial hopeful for the Bharathiya Janatha Party (BJP).

Swaraj holds a Bachelor's Degree in Political Science and has also practised as a lawyer. She began her political career as a member of the Haryana State Assembly in1977 when, at the age of twenty five, she also became the state's youngest minister with the portfolio of Labour and Employment.
Swaraj first entered the Lok Sabha in 1996 and was appointed as Minister for Information and Broadcasting during the short lived thirteen day Atal Bihari Vajpayee Government. During this brief tenure, she was able to commence the live telecast of Lok Sabha debates.

She was re-elected to the Lok Sabha for a second term in 1998. In Vajpayee's cabinet again, she was sworn in as Cabinet Minister for Information and Broadcasting as well as Telecommunications. She resigned from the Cabinet to take over as the first female Chief Minister of Delhi in October 1998.
In the following years, Swaraj continued in national politics and held the portfolios of Information and Broadcasting and also Health, Family Welfare and Parliamentary Affairs, alternating between the Lok Sabha and the Rajya Sabha, India's upper house.

In 2004, Swaraj hit national headlines when she said she would shave her head if Italian-born Congress President Sonia Gandhi was appointed Prime Minister. Her stand won her admirers among Indian nationalists. However, despite a Congress Party victory, Gandhi declined the high office.

Swaraj was appointed as Leader of Opposition, replacing Lal Krishna Advani in December 2009. With the Congress Party declining in popularity and the BJP gaining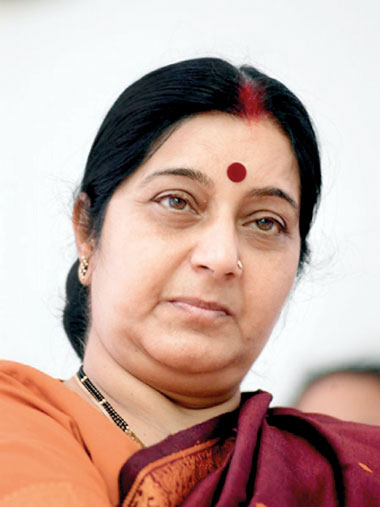 ground, she would have entertained hopes of becoming India's next Prime Minister at the 2014 general elections.

However, in September 2013, the BJP appointed Narendra Modi as its prime ministerial candidate, a move that caught both Swaraj and senior BJP leader Advani off-guard. Advani offered his resignation from the party and dissented publicly but Swaraj chose to be more circumspect in her response.

It now appears that the BJP's resounding victory at the recent elections coupled with Swaraj's own impressive win from her constituency and the need to put up an united front as a new government have helped to resolve Modi's misgivings, if any, about his erstwhile rival.




Sri Lankans would remember that Swaraj-amidst protest from political parties in Tamil Nadu-led a twelve member delegation of Indian parliamentarians on a familiarisation tour of Sri Lanka in April 2012 in her then role as Leader of the Opposition in the Lok Sabha



Modi has also acknowledged Swaraj's capabilities as a politician by appointing her to the plum portfolio of External Affairs-which others such as Narasimha Rao, A.B. Vajpayee, V.P. Singh, I.K. Gujral and most recently Manmohan Singh-have used as a stepping stone to the Premiership.

Over the years, Swaraj has earned a reputation for being honest and hardworking and is popular locally because of her well established nationalist credentials. Her dexterity as a speaker in both Hindi and English and her legal training bodes well for the new office she has been appointed to. As Indian External Affairs Minister, Swaraj has several tough assignments. She would have to walk a diplomatic tight rope in repairing her country's relations not only with Sri Lanka but also with neighbouring Pakistan, economic powerhouse China and the global superpower, the United States.

From a local perspective, Colombo will be thankful that someone who has a feel for Sri Lanka and understands its anxieties and concerns in now

handling Indian foreign policy. However it is up to Colombo to cash in on any goodwill that Sushma Swaraj brings to her new portfolio.