---


Enjoy the Christmas spirit with the Choir of Blind Singers of The Sri Lanka Federation of the Blind
By Sureshni Pilapitiya
The festival season has come and Christmas is just around the corner, making us imagine of all those lovely Christmas goodies, presents, the iconic Christmas tree which is a treat to the eye, the shops and streets decorated with colourful lights and Christmas decorations, what with holy leaves and colour bells, giving vivid thoughts about everything which is connected to Christmas. And what makes it more special and important is , that Christmas depicts the birth of a saviour, who showed the importance of sharing , caring, goodwill and giving .

Therefore, it is not only about getting round the Christmas tree rejoicing, but also a season of showing generosity and caring for the less privileged; to show them they are not alone. And who cannot forget the lovely Christmas carols and hymns? Think about all those choirs singing and bringing melody and spirit to the occasion singing the lovely, age old favourites such as '' silent night'' " O come all ye faithful'' and '' hark the herald angels sing ''.

From the olden times Christmas choirs have been playing an important role during the Christmas season. The Sri Lanka Federation for the visually handicapped is going to make Christmas even more special by having their choir of the blind singers to add more colour and spirit during the Christmas season .They sing in different languages such as Sinhala, English, and Tamil carols including German and Swedish verses too. They have performed at many leading institutions over the years. We tend to sympathise the visually handicapped, but there s something more than sympathising with a visually handicapped person walking down the street with a white cane. The choir was first established as a male choir. It continues as an independent group separated from the federation. According to P. S Handuwala , it was mostly bent on religious purposes. The funds they raise from performing, is shared among the choir members. It's a separate organisation. The federation started on 9th November, 1974. It was the brain child of Rienzie Alagiyawanna .


" They are also having the rights which any other person would have, and are capable of giving their service to the country. "


At the moment the federation has been developed as a national and an International organisation. He started the Federation while residing in Germany.

According to him, they don't get the facilities which blind people of the other people get. They are also having the rights which any other person would have, and are capable of giving their service to the country. They don't need sympathy, and he said that the visually handicapped people are more capable of doing their duties with responsibility. If they get enough support from the government they will be able to cater their services for the development of the country.
The choir sings in different languages, such as Sinhala, English, German and Swedish, which makes it more special. According to the members they get a good response each year, a lot of bookings at various hotels and institutions, etc. Thus they are recognised and are appreciated everywhere, which proves the fact that'' if there's a will, there's a way''. During the rehearsals, we were able to listen to some lovely Christmas favourites such as '' White Christmas'', ''Jingle bells'' added with a beautiful chorus. The group consists of senior members. The Daily Mirror was able to spend an interesting time with the members of the choir talking to them to and also to some officials of the institution.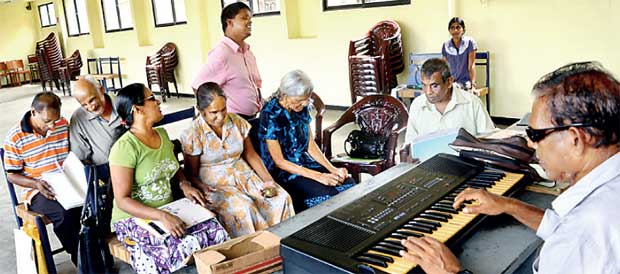 We first spoke to the leader of the choir, Chitra, who had time enough to speak a few words. She said that it was only this year that she joined as the choir leader. '' there was someone else before I took over and I'm really happy to be a member of this choir,' she said.

Willie Joseph, one of the oldest and enthusiastic members, expressed his opinion too.

'' The choir has a long history. We participated in competitions which were held by the SLBC and we won the 3rd place. After that we didn't go. It was a group decision. We get a lot of response from the audience wherever we go. In hotels we sing '' Silent night'', and we sing a lot of other favourites too. Sometimes tourists come and give us some money on their own''. We go to different hotels, and this time we are invited to perform at the Jet Wing Blue, Jet Wing Beach and also Jet Wing Sea hotels in Negombo. We have plenty of bookings from Colombo such as HelpAge, SSC Club, YMCA , Blue Water Wadduwa, Liberty Plaza and Aitken Spence. When asked, Willie said that if they get a chance, they are ready to sing at other events too, such as special occasions and weddings. He has been a member since the mid 70's and the 80's. R. P Seedara Nona, another member said that she had been a member there for 20 years. She said that if the young people also can join, that they will be able to hand over.
"There are no age barriers to join in'' she expressed. "I am happy to be a member of this choir, and have been here for a long time and would like to continue as well. We get a lot of good response from everywhere including hotels. Those who invited us before, invite us each year." Ranjith Wijesinghe was another chorister, who gave us a descriptive opinion about being in the choir and also giving his perspective of ''seeing'' life as a visually handicapped person and what they want from society. '' It's not sympathy we want, but empathy'', is his opinion. '' I was a member of the choir for 20 years. But I was not there for three years since I was abroad. Except for those 3 years, I have been an active member since 2000. This choir has been here since the 1940's and it first started as a male choir, it was only after then the female contribution began. Earlier, the male choir even used to do programmes at the SLBC on every Christmas Day each year, at 12 in the afternoon. Then gradually, the female choir also came into the scene. But ever since it began, it was more popular as a male choir, which was named as '''Seeduwa blind male choir''. It is a joy to be a member of this choir, because god has given me some talent to be of some service to others. There's no particular age group for this choir, but most of it consists of senior choir members. I think it's good if we can train some young group too. After us, I have a feeling there will be no youngster's to take over. At the moment I'm reading for my doctorate. But it has not reduced the attachment I have for this choir. I will continue to be a choir member till the end. More than sympathy, we need empathy."

The president of the federation, J. P Asanthi Ruwanmani De Silva said that the federation provides a lot of services such as rehabilitating , making them get into society , and also establishing Adult and women's forums. She said that the funds and which they receive are used for the members' welfare. There are telephone operators, computer operators, and they train the members in writing, reading and music. This is the largest organisation in Sri Lanka for the visually handicapped. If there are any others who want to join this federation, they are most welcome. Nowadays the visually handicapped are more advanced. They need support, not sympathy. It will be good if jobs from the private sector can be given. Compared with those days, there are a lot of blind students in Universities, but once they leave university, there is a problem if at least 5% percent of them get jobs. Jayatillaka Bandara , senior vice president of the federation , he has been here since 1991. ''We conduct various workshops and courses. We also proceed as a national organisation as well as an international organisation. And we would like to make a small request. It will be commendable if we can get a professional training institute too. ''

H. Chameera Pubudukumara De Silva , secretary of the federation said that they do not get a large sum from the government. Nilmini Samarawickrama, the president of the visually handicapped women's forum , which is under the federation said that this is established on behalf of rehabilitating visually handicapped . "The support from the government is not that enough," she said. "Still the visually handicapped people have no proper profession. There should be a proper recognition given to these people. They should not be isolated. We want to be recognised and be given a place in the society same as anyone else," she said. Thus, give them some hope during the Christmas season; encourage them to be confident of who and what they are.

Pics by Waruna wanniarachi
Those interested in inviting these singers to sing Christmas Carols could contact the Asst. Administrative Secretary of the Sri Lanka Federation of the Blind, Dinindu Suranga on
011- 2437768/ 071 6875510. Or contact via
Email : slvh@outlook.com