---

By Imran Furkun
The world today is experiencing some truly historic times. Not since the early 1990s where the fall of Communism ushered in democratic ideals around the world has there been so much profound change in the offing. The Arab spring that has swept the Middle East has also had an impact in places much further away such as Myanmar and Maldives.

The challenge for the media in times of change is to figure out its exact role in the unfolding global landscape and how then to execute its agreed strategy facing the numerous challenges and obstacles that will come its way.

Sri Lanka hosts the International Cricket Council Twenty- 20 Trophy this year as well as the more important Commonwealth Heads of Government Meeting (CHOGM) in 2013, hence the eyes of the world is upon us. This summit among the heads of state and governments of over 50 countries and territories will also see intense focus on not only the host countries hospitality but on its democratic institutions and media freedom among other things. Hence we will be under the microscope so to speak and what observers will see is a country with a proud democratic heritage but presently facing enormous challenges and struggling to overcome them. The world has much to observe and learn from contemporary Sri Lanka and its media industry.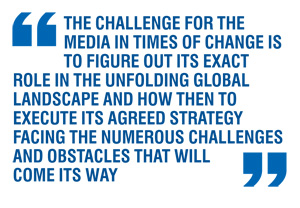 In a vibrant democracy the media is alive and active. Its voice is heard and heeded. However in societies where democratic ideals are under threat and where media is most needed it appears that the media is deaf and mute. Why does this situation arise? It's mainly for two reasons. One is the overt threats faced by journalists and media institutions.Sri Lanka has seen its fair share of attacks and murders against journalists and media institutions. However the intended outcome of these attacks, the perpetrators of which have still not been brought to justice was to silence the media.

However in the face of unprecedented physical threats the media industry in Sri Lanka has been remarkably resilient. Media institutions that have seen their printing presses burnt have resumed printing their papers almost from the next edition while the electronic media institutions that saw their studios burnt have resumed broadcasting hours after being attacked. This has been due to the cooperation and support they have received from their industry while also being testimony to their individual fearlessness and resilience.

The other reason that media stays silent, in the face of threats to its freedom is economic pressure. When those that threaten democracy realise that overt threats are failing they resort to more subtle threats. These could include withholding advertising revenue from entities not toeing the preferred line of reporting, influencing financial institutions to withhold or recall loans and other financial lines of credit, imposing high taxes and duties on imports of content and consumables as well as equipment. In the extreme there have even been direct state appropriation of previously private media entities under emergency and other laws from their legitimate owners. Sri Lankan media has seen its fair share of such attempts by various governments and other powerful private entities and individuals. This pressure unlike the physical pressure can become too overwhelming to bear and resist. In Sri Lanka today the media is faced with such a situation. The early sign of their behaviour is not encouraging, however the road is long and the outcome will only be visible in the years to come.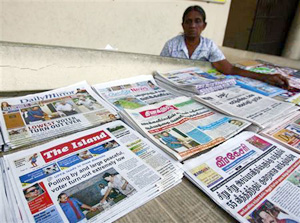 Democracy in Sri Lanka dates back to 1931.Then Ceylon (now as Sri Lanka) received universal suffrage for all irrespective of race, ethnicity, language, or gender while being a colony under the British. However particularly after 1948 in which the country regained independence, successive governments have sought to undermine democracy and extended their rule. The press stood silent as the government in 1973 nationalised the main private newspaper group and later as it took over the country's first television channel ITN in 1979.The industry failed to decisively act when other media companies saw their licenses to broadcast cancelled or their personnel/institutions attacked.

Why should the media "talk" as opposed to being silent? The answer lies in the impact that it can bring about.

In December 2010 a Twenty-six year old Mohamed Bouazizi who had been the sole income earner in his extended family of eight set himself alight in Tunisia protesting the dictatorial rule of it's President Ben Ali.If like in the decades before it ,the media in Tunisia had been silent then his sacrifice would have been worthless. However the Tunisian Media carried his story and inspired the entire Arab spring thereafter.



If the media stays silent then those that want to undermine democracy will prevail but if the media does their role of being a voice for the voiceless, a beacon of hope for those who have no hope then not only can democracy be kept alive but also the relevance and importance of the media institutions can be kept alive as well. If the public perceive one or more media institutions having lost its independence by toeing a government's line, then that institution immediately loses credibility with the viewers and eventually loses market share which in turn means it will be meaningless to the state that requested its assistance via a friendly tone in the first place. Such media organisations lose it all-they lose the consumers, advertisers, sponsors etc. The powers that be, will eventually see this sequence of events and nail the final nail in the coffin by finishing off the media organisations financially or otherwise. Hence it is always advisable for the media in a democracy to "talk" rather than being silent.

Media therefore is a catalyst for change. Its role cannot be underestimated. It provides validity and an outlet to those espousing democratic ideals. It serves as a motivator to those that fight dictatorship while also serving as a platform for diverse views to be heard even in a fully democratic country. If it's silent then those that it represents –the general public are also silent. This makes the civic conversation in a country dangerously one sided (via a dominant state media or large dominant private broadcaster) and eventually to a deterioration of democratic values and strengthening of autocracy. As countries that practice or slide towards autocracy will bear testimony it is not a successful model of governance in the long term.

As we commemorate World Press Freedom this month it is worthwhile remembering that while silence kills Democracy, a free press talks and keeps democracy alive. As all of us who believe in democratic values we must strive to keep the press talking in the years to come against whatever obstacles we face, for if we don't, our futures are bleak.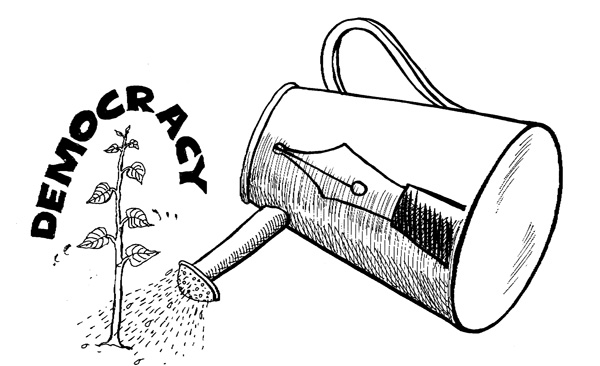 (The views reflected are those of the author alone)
The writer is the Chief Executive Officer-Sri Lanka Press Institute
---
Add comment

Comments will be edited (grammar, spelling and slang) and authorized at the discretion of Daily Mirror online. The website also has the right not to publish selected comments.

---