"My two children and I including my parents were in the nearest compartment of train engine. When the train was standing at the Pothuhera Railway station, I heard a deafening noise like a bomb explosion. My two children and I were thrown out and had fallen, said Ahinsa Dilhani a resident of Anuradhapura, who met with the accident. They were on their way to a relative's house in Ragama.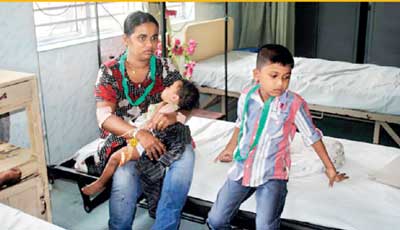 She has met with this accident when she was on her way to see a relative. in Ragama. When she was under medical treatment in Kurunegala hospital, she said , "We, all five members were seated in the second compartment close to the engine of Raja Rata Rajina. As I remember, the trains had stopped near the Pothuhera station for about 10 minutes. The next thing we knew was that another train which came in front had collided with this train," Ahinsa said while undergoing treatment at Kurunegala hospital. "I could remember while we were
screaming we were pushed out of the wreckage," she said.