---

Excerpts of the interview:
Senior Advisor to the President and Minister of Economic Development Basil Rajapaksa, in an interview with the , discusses the upcoming elections to three Provincial Councils and responds to some of the criticisms relating to the government's management of the economy.
Excerpts of the interview:
-By Ayesha Zuhair

Q Could you explain the rationale behind the move to call for early elections to three Provincial Councils – Eastern, Sabaragamuwa and North Central, and why elections to the nine provinces are not being held in one day?

If you look at it historically, from the day the Provincial Councils were established, up to now, there is not a single occasion in which elections were all conducted in one day. This was the case from the very beginning, and it is the normal practice in other countries as well. Even in India, separate elections were held in five provinces recently. According to the Constitution, it is the prerogative of the Chief Minister to dissolve the PC. Legally, the President cannot dissolve these bodies. When one president attempted to do so, it was declared null and void by the Supreme Court. The decision to have elections is therefore primarily the responsibility of the Provincial Councils.

Q But critics have pointed out that the term of these PCs are being cut short unnecessarily.

This is not a mere election to three PCs. When you consider the composition of the population in the three provinces, you will see that it is an election that will mirror the pulse of the whole country. The PCs where elections are to be held are different to each other, population-wise. We need to know the pulse of the people from time to time. If we are on the wrong track, we can take corrective action. It is important to know how the people view the incumbent administration's performance in these provinces.
Even the general elections have been held before Parliament's mandated term was complete. Normally, it is the opposition which calls for early elections in any country alleging that the government of the day no longer commands the confidence of the majority of the people. 'Go home, give us elections' has been the slogan. Early elections are an opportunity for the critics of any provincial authority to change the administration. What is clear is that the Opposition is afraid of even provincial elections! I find it funny that our opposition is criticising the decision to have early elections.

Q The Elections Commissioner Mahinda Deshapriya has stated that staggered elections are more costly, and that funds can be saved if elections to all PCs were held simultaneously. He has also said that the cost of the forthcoming elections would be between Rs. 600-650 million?

Democracy is costly. No one can say that you can save Rs. 600 million by not having the elections at all! On the contrary, the Elections Commissioner can also concentrate and do a better job when elections are held separately. Regular elections are an important democratic tradition. President Mahinda Rajapaksa, unlike other presidents, always likes to go to the people and see what they say. More importantly, he wants the elected leaders of the people to face the voters more regularly. Thereby provincial services to the people will improve.

Q But then why not have elections in the Northern Province?

In the Northern Province, we have not had any democratic institution functioning for nearly 30 years. The first Provincial Council election for the North has to be perfect and transparent. We don't want to have an election and then get blamed for the imperfections that presently exist on the ground there.

The voters list was not amended until last year because, as per the Constitution, you don't qualify to vote if you are not living in a given house in the area. In 2011, the Elections Commissioner, correctly updated the list to exclude those living overseas or in other parts of the country. Unfortunately, the TNA alleged that we have deleted the names.

Defying all expectations, we managed to resettle almost 95 per cent of the IDPs. But there are older IDPs from all three communities who have to be resettled. We have to create the proper environment for their return. It is the duty of the government to create such an environment before calling for elections. Otherwise, we will be blamed for depriving displaced persons of their right to vote. It will be said that the displaced persons have not only lost their properties but their right to vote in a free and fair manner.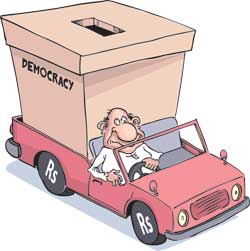 The people in the North have been under a repressive gang for almost three decades. The grass root level organisations are yet to be established. All political parties are entitled to campaign on an equal platform, and it is the government's responsibility to create such a platform.

Q Do you think such an environment can be created by next year?

The President and Defence Secretary are both very keen to have an election. But as a politician who visits the North very frequently, I know the environment is not yet conducive for a proper election. I think before 2013 September – that is the deadline – we can have the election. When we pledged to resettle the IDPs within 180 days, some felt that it was an overly-ambitious target. But we managed to do it. When 44,000 Muslim IDPs were displaced in Mutur, we resettled them within 45 days. So we are confident that it can be done.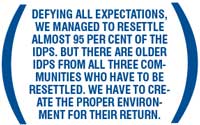 Q The government's efforts to develop the infrastructure particularly in the North and East have been widely commended. However, there is criticism that there are no similar efforts to reduce inflation. The Central Bank figures have shown that consumer prices rose to 9.3% in June 2012 from previous year, hitting a three and a half year high. This has affected the average household tremendously. What measures are being taken to invest in the production of goods and contain the cost of living?

For many years inflation has been very high. We have seen double-digit figures for the last 10-15 years. However, this government brought it down to a single digit figure. It is the government's responsibility to reduce inflation. However, when vegetable prices come down, everyone complains that the farmers are affected. When prices go up, they complain that consumers are affected.

Our economy has proved to be resilient and that our policies have been effective. The President realised that Sri Lanka has to be protected from global economic crises and we took steps to minimise our exposure to such adversities. We have faced many challenges that other governments have not been able to cope with.

Even India has a higher rate of inflation than Sri Lanka. The main reason is due to oil prices which are beyond our control, and we are an energy-minus economy. Sometimes we are affected by natural disasters, which too are beyond our control. The EU economy is on a downward spiral and so our exports have to come down. However, the reduction in percentage term is the lowest in Sri Lanka in comparison to our South Asian neighbours. The exports of India, Pakistan and Bangladesh to the EU have reduced drastically, but Sri Lanka has managed to keep the reduction to a minimum.

The only way we can tackle inflation, as articulated in the Mahinda Chinthana, is to increase productivity and the income of the people. That is our policy. Let me give an example of how the rural sector income has been increased. Maize was imported to Sri Lanka for many years; 85 per cent of our Maize requirement was imported. Our maize requirement is 180,000 MT. Our production this year is 200,000 MT, and now we export. An individual exports 10,000 MT which he purchases from farmers in Anuradhapura paying a price of Rs. 28 a kilo. That alone brings Rs. 280,000 million to the farmers. This is a new income which earlier went to farmers in some other countries.

Similarly 95 per cent of black gram was imported until a year ago. Now, we are 100 per cent self-sufficient because of the assistance we gave to farmers in the Vanni. The money which previously went out of Sri Lanka is now with the Vanni farmers. Likewise, there are several items which we can produce domestically.

Q In the current context where we see tensions between Sri Lanka and certain Western countries over human rights issues, do you see a necessity to diversify our economic and trade relations, and to perhaps reduce our dependency on the West?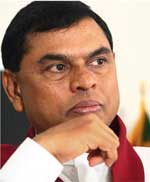 Q Concerns have also been raised about the country's external debt, which has been on the rise since 2008. Last year, it stood at USD 24.5 billion and predictions are that borrowings are likely to exceed that figure this year. Does the government have any plans to prune down its foreign borrowing?

The debt of a country is measured systematically in relation to GDP. That is the internationally recognised way to measure debt. During Ranil Wickremesinghe's time, it was 103 per cent of the GDP; now we have brought down to almost 80 per cent of GDP. So it is a reduction. You can't go on the dollar rate. A businessman who takes a loan to expand his business will find that his debt is going up, but that does not make him less wealthy. He becomes wealthier as a result of the addition to his assets. The same applies to a country; our national wealth is increasing and this is something we should be proud of. We have highways, airports, harbours, and power plants. Look at how much is being saved as a result of the Norochcholai power plant. If this hadn't been built, there would have been power cuts by now and industries would have had to close. As the President has said, we have never taken a consumer loan.

Not only because of human rights issues, but because Western markets are declining. We have good neighbours in China and India, where we have good markets. We definitely have to look at new markets not only for our exports but for tourism, and even investment. ASEAN today is more powerful than the EU. Unfortunately, Sri Lankan private sector is not geared towards this. Exporters and those in the travel business are still more interested in the European market. They don't look at these countries.
Q To move from a post-war to a post-conflict situation, and to ensure that peace and development are sustainable, it is essential to address the sources of conflict. How committed would you say this government is to addressing those root causes?

The government has to first create conditions in which people are able to think freely. Even Lord Buddha said that if a hungry man comes to listen to Bana, then he must be first given food. A person cannot listen to Bana in hunger.

Democratisation is one of the most important goals. When I speak to Tamils, Muslims and Sinhalese, they don't talk of discrimination. The North is lagging behind not due to political reasons but because of the conflict. The same is true of Anuradhapura and Moneragala. The colonial rulers destroyed the economies of these areas, and now we have to develop it so that all people can enjoy the economic dividends of peace. This is their main aspiration.

There are language barriers which are being addressed. We have to find solutions in a manner which is acceptable to the people. You can't clap with one hand, you need both hands. So the leadership of the Tamils must be ready to work with the government. They should join with the government and work for the people. Even with regard to the Indian housing project, I have said that the TNA must be involved and they also must agree to the recipient list.

I think the Sri Lankans must be happy because they are enjoying numerous benefits today. They must make use of the opportunities that are coming their way.