---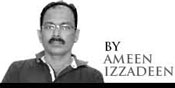 More whites die in police custody than blacks in the United States. According to data gathered by the Bureau of Justice Statistics, at least 4,813 people died while in police custody between 2003 and 2009 and 61 percent of those deaths were homicides. Of the victims, 42 percent were whites, 32 per cent blacks and 20 percent Hispanics. (Pardon me for using politically and morally incorrect terms - blacks, whites, etc.)

Yet, when an Afro-American (the politically and morally correct term) dies in police custody, it becomes news. Of late, such deaths have been triggering protests by blacks and civil rights activists indicating that there is much more to be done in the long march to freedom and equality in the United States, touted as the land of freedom and opportunity.

Freddie Gray will not be the last Afro-American to die in police custody. And his death last week after he was arrested by the police in Baltimore, Maryland -- 68 km from Washington DC –raises the question: How many Afro-Americans will have to die before the United States -- as Martin Luther King Jr. hoped in his 'I have a dream' speech -- rises up and lives out the true meaning of its creed: "All men are created equal."

In the past 12 months, a number of Afro-American men and boys have been killed by the police and white supremacists across the United States, sparking protests and sometimes riots. Among the victims was a 12-year-old boy who was carrying a toy gun. In almost all these cases, the police have used excessive force and in most cases, a grand jury has acquitted the officer responsible for the deaths. Exactly 23 years ago this month, race riots erupted in Los Angeles after the acquittal of four police officers who mercilessly beat Rodney King, an Afro-American, even though video evidence showed that the policemen had used excessive force. Some 53 people died in the weeklong riots that began on April 29, 1992.

Although the government cannot be held responsible for the actions of a few 'white' (or Euro-American) policemen, the riots point to the failure of successive US governments to adequately and meaningfully address the race issue.

This week's eruption of mass anger in Baltimore, where 2,000 National Guard troops have been deployed to bring the situation under control, indicates that the blacks in the United States have to walk a long distance to reach King's ideal state.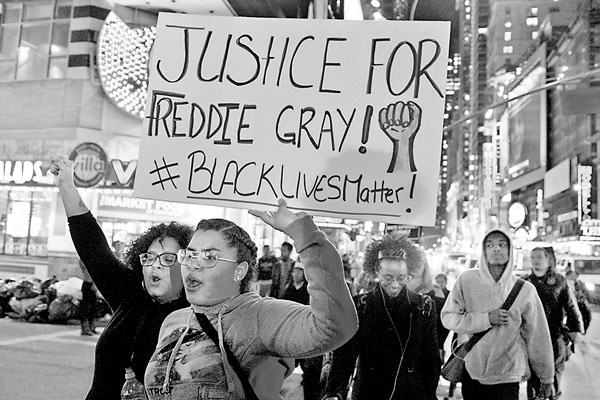 Protesters march near Times Square in the Manhattan borough of New York City, calling for social, economic, and racial justice April 29, 2015. Billed as "NYC Rise Up & Shut it Down With Baltimore," the demonstration was being held to support Baltimore's protests against police brutality following the April 19 death of Freddie Gray in police custody. Reuters

But race-based prejudices – like old habits -- die hard. This is all the more reason why governments should step up efforts to eliminate all forms of discrimination.

Multi-ethnic Singapore, for example, has adopted meritocracy and ethnic harmony as key state principles to create an equal society.

True, the United States has an Afro-American president and many top government posts are held by Afro-Americans. Yet it can take a lesson from Singapore if it is keen to avoid being called a cauldron of social discontent or a country that needs to do much more to eliminate institutional racism which is defined by sociologists as racism perpetrated by government entities such as schools, the courts and police.

Last year, following protests over the acquittal of the police officers responsible for the deaths of Afro-Americans in Ferguson and New York, a visibly agitated President Barack Obama said that more should be done to make all Americans feel that they were equal before the law. "When anybody in this country is not being treated equally under the law, that is a problem, and it's my job as president to help solve it," he said.

In another remark, the United States' first Afro-American President said, "…. there are issues in which the law too often feels as if it is being applied in a discriminatory fashion."

On Tuesday, as Freddie Gray was being buried in Baltimore, Obama said: "I think there are police departments that have to do some soul searching. I think there're some communities that have to do some soul searching. But I think we as a country have to do some soul searching. This is not new. It's been going on for decades."

Though he reminded the Americans once again that they have more work to do to bridge the racial divide and carry on the civil rights struggle of Martin Luther King Jr, he announced no new initiative.

In the absence of a well-focused programme to bring about social equality, the cries of protesters are not empty slogans. Neither are the riots a futile exercise. None other than the United Nations body dealing with racism has slammed the US for persistent racial and ethnic discrimination and failure to meet its treaty obligations under a key convention that seeks to eliminate all forms of racial discrimination. The United Nations Committee on the Convention on the Elimination of All Forms of Racial Discrimination (CERD) in a report last year, said minority communities in the US were disproportionately disadvantaged in all areas of life, including education, criminal justice, voting, housing and access to health care.

One CERD investigator noted that despite several decades of affirmative action, race-based segregation in US schools was worse today than it was in the 1970s.

Lauren Carasik, a clinical professor of law and the director of the international human rights clinic at the Western New England University School of Law, in an article to Aljazeera America, says African-American children are deeply disadvantaged in accessing educational opportunities. Minority students are not provided with equal facilities, many attend single-race classrooms, and their limited access to rigorous curriculums contributes to disparate levels of academic achievement and access to jobs.

The CERD report was a serious indictment of the Obama administration. When Obama won the 2008 presidential election, many thought there would be no more racism in the land where slavery -- which is regarded as a crime against humanity today -- was once an institutionalised reality, with people stolen from Africa and brought to America being stripped of their humanity and dignity and forced to work like dogs in the white man's plantations and mansions.

Obama was not merely the 44th President of the United States. When he was first elected in 2008, he symbolised black empowerment. He was the hope of those who were hoping for a world without racism. He cannot just dismiss the Baltimore riots as the work of criminals and thugs. He must recognize that the riots are the product of institutional, social injustice and come up with a plan to bring about an equal society. Then he will go down in history as another Abraham Lincoln, the US president who first abolished slavery.