---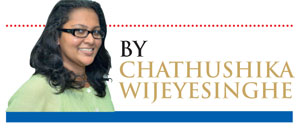 Child Development and Women's Affairs Minister, Tissa Karalliyadda said having been in the Sri Lanka Freedom Party (SLFP) for twenty years he will never desert the Party and will extend his support to the President. He said that the Government has done so much in order to uplift the lives of women. In an interview with the , the Minister said that out of the voters in the country majority are women who would vote the President the most. He reiterates that the President took the right decisions at the right time for the betterment of the country.


You have been with the Sri Lanka Freedom Party (SLFP) for twenty years. Are you satisfied with your journey so far?
As you know a politician is a genre, who is not satisfied. I do not mean by this that a politician should be given endless number of opportunities to stay in power. I have been in Parliament for 20 years and I have been a Member of Parliament, a Deputy Minister and a Cabinet Minister.

In 1994 when I got elected as an MP, I initiated many development projects in my electorate. During this period the war was at its height. I had a narrow escape in the year 2000 from a bomb blast in Medawachchiya, which was aimed at a meeting I participated. People could not live happily due to the war. It was President Mahinda Rajapaksa who pledged that he would finish this war after the Kebithigollewa bomb blast. The greatest contentment we have today is freedom. I first believe in peace and next, in development. There is development in the North Central Province which I come from and around ninety eight per cent out of the villages in my electorate has electricity now.

Out of the twenty years of my life as a politician, for fifteen years I have been living between life and death. Today after defeating the LTTE our country is in a good standing. Many countries seek our expertise and knowledge in war techniques. Our President is well recognised by other nations. With all these I am contented about my political journey.

There was a significant increase in the number of reported cases of violence against women and children. But why has your ministry has been unable to control this situation?
This is not a simple issue. Earlier these issues were not highlighted by the media. Now 1938 hotline is available to lodge complaints with regard to women's issues and 1929 for issues with regard to children.

Most of the issues reported are those that occur in the family units. Even the women should know how to use the freedom they have got. As ministers we have done our level best in educating people from the grassroots levels. There are many International and Non Governmental Organizations (INGOs and NGOs) that operate in the country which attempt to highlight these issues unnecessarily. They try to create a different picture. The reality is that these issues exist in the entire world and not only in Sri Lanka. I do not deny that there are incidents of violations against women and children. But what we must not forget is that Sri Lanka is not the only country where such issues exist.

I have tried my level best to eliminate these issues. The President has extended his support to women entrepreneurs. Unfortunately the media highlights only the negative issues. They too have a responsibility to educate people with regard to violence against women and children.

Once you said that you will establish the death sentence against sex offenders. But still it was not implemented. Why is that?
I did not get permission to introduce the death sentence due to pressure from the international community.

Don't you think under this situation the government will lose votes of female voters?
There is no such issue. It is women who vote for our President the most. I have been addressing people these few days and many women said that they will extend their support. There have been rumours that I will also crossover. Many women who attended these meetings requested me not to leave the Party. I will never leave the Party. Women who can understand the reality are with the President.

The Common Candidate presented by the Opposition is also from the North Central Province. This Province has many issues such as Kidney disease and issues with regard to farmers. Do you think this will be a disadvantage at the upcoming elections?
We look at the personality and the candidate. Our President is not a puppet. Just because the common candidate represent the North Central Province, that does not mean that people will vote him. The first research with regard to Kidney patients was done by me along with the Rajarata University 14 years ago. The same research has been done by the University of California recently. You cannot say that we have not taken steps. The Kidney disease is a complex matter. Even Maithripala Sirisena, who is the former Minister of Health and now the common candidate, could not do anything about it.