Following are excerpt from an interview conducted with Hudson Samarasinghe, Chairman of the Sri Lanka Broadcasting Corporation – to whom Nirmala de Alwis is pointing her finger regarding the assassination of her husband Premakeerthi de Alwis.

There is a serious accusation against you claiming that you are behind the assassination of Premakeerthi de Alwis. What have you got to say about this?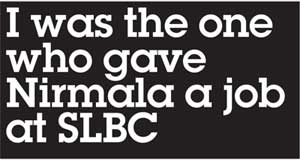 I checked my personal records. They are claiming that I committed this crime while I was Chairman of the Sri Lanka Broadcasting Corporation (SLBC) because I felt that my position was threatened by Premakeerthi de Alwis. Isn't that what this woman is saying?





Is there any truth to that claim?

No, I was not even the Chairman of the SLBC at the time that Premakeerthi was assassinated. He had been assassinated on July 31, 1989. I became the Chairman of SLBC on December 12, 1989.





So you became chairman a few months after the assassination?

Yes. So why would I have been afraid at that time? This woman is saying that I killed Premakeerthi to protect my position as the Chairman of the SLBC. But the time he was killed I was not even the Chairman. So, I had nothing to lose. So what reason did I have to kill him? I had no reason at all to kill him. I can't even imagine killing a man!





Did you have a grudge with Premakeerthi?

No, I had no grudge with him at all. I had nothing against him. We worked together.
I don't want to respond to this woman's accusations. I have sent a letter of demand. I am going to send the letter of demand to the newspapers as well.





Why?

I am going to sue for 500 million rupees. Premakeerthi's murder case has been heard by the courts and the ruling was given. It was even heard at Appeal Courts. I have those copies with me.
It is a crime to accuse innocent people in this manner.





Do you have a personal grudge witht Nirmala de Alwis?

I was the one who gave her a job when she came and begged for a job after her husband's assassination.





What was your position in the SLBC when Premakeerthi was assassinated?

I was an ordinary employee of the SLBC.





So why are these accusations directed at you?

They are trying to tarnish my reputation. I have no problem. I can bear these accusations. But how can my children go to school?





If there is no personal grudge, would a woman make such a serious accusation without any reason?

I don't know what is on her mind or what her intentions are.





Maybe it has to do with an issue when she was employed at the SLBC?

When she was employed at the SLBC, I was a Parliamentarian.





Do you think someone is directing Nirmala?

The JVP is behind this whole thing. There is nothing more to this story. I have not started speaking yet. Since I have to go to courts in the future, I can't speak much.