---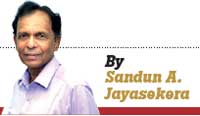 The Dailymirror during an interview with Gampaha District UNFGG candidate and Minister of Ports and Shipping Arjuna Ranatunga, discussed a wide range of issues. excerpts:




All other members of the Mahinda Rajapaksa cabinet who split with the UPFA have vividly explained the reasons for their decision but I think you still have to say much?


It was indeed a difficult decision but not only me but several others did not have a choice. We are committed not to betray the confidence placed by over 62 million voters on January 8 on Common candidate, Maithripala Sirisena his 100-Day Programme.

While in the UPFA, a number of Ministers and I were thoroughly disappointed, dejected and shocked on the goings on within the UPFA government.
Unfortunately, former President Mahinda Rajapaksa was not ready to accept the advice of intellectuals and saner counsel never prevailed upon him.

He, his family members and close associates were in an aura of glory basking in war victory and their thinking was that they would never do anything bad or they had a legitimate right to do whatever they liked with the country, economy and its people.

They were of the view that they had a God given right to do whatever they wanted without any concern for the repercussions. "We have saved the country from separatist terrorism and we can do whatever we like to the country whether you like it or not", that was the thinking of the Rajapaksa family and associates.





When compared to most members of the last UPFA Cabinet you were better qualified than many of other members to hold a Cabinet portfolio. Did the continuous denial of a ministerial post to you accelerate your departure from the UPFA?


I can't say no. President Rajapaksa always wanted yes men around him and he never tolerated different or dissenting opinion. I am a politician who puts the country before self always and I think I was adequately honest to qualify for a ministerial post from the UPFA regime.





Your family's loyalty and dedication to the SLFP are well known. Your father, the late Reggie Ranatunga was a colossus to the party and the Gampaha District. Are you satisfied with the way the Mahinda Rajapaksa regime treated him?


Not at all. My father, late Reggie Ranatunga, though he was a colossal in the SLFP and dedicated his entire life for the party, died a dejected and disappointed man.

President Chandrika Kumaratunga appointed him Governor of the Sabaragamuwa but his desire was to do something on national level for the country.
He was sworn in as an MP in February 2008 despite our protests after the death of Gampaha district MP Sripathy Sooriyaarachchi as he was concerned about a steady development of Gampaha.

Though he had served as the Chief Government Whip, the Governor held a number of ministerial portfolios. He died in June, 2008, a man who was not given an opportunity to accomplish his dreams and desires for his people.

I feel sad, neglected and disdained, when we recall the incident where President Rajapaksa refused to go to Gampola to pay last respects to my father. When we closed casket at Jayaratne's and were about leave for Gampola, he came suddenly and insisted that we re-opened the casket and let him pay his last respect. We reluctantly obliged as we had no choice.





Mahinda Rajapaksa gave the leadership to the battle to eradicate separatist terrorism from the soil of Sri Lanka. It is history. He could have easily become one of the greatest rulers of Sri Lanka but was rejected by the people after five years of the war victory. In your mind, where and when did Mahinda Rajapaksa go wrong?


The problem with former President Rajapaksa was that he was a fairly considerate and flexible man before the war victory. But unfortunately for him and for the country, he became a completely different man, who did not listen to anyone, I mean to any good advice after that.

I still have high regards for President Rajapaksa for giving the leadership to win the war. When he decided to take care only on his family members and close associates who were always yes men, he started with that attitude to excavate his own grave.





How is your rapport with your two brothers, who are contesting the poll from two rival political parties to the UNFGG?


We normally do not take party politics to our family functions or argue with each other. Therefore, we have been able to keep our family ties and affections intact.

But my motive and style in politics are vastly different from those of my brothers and that is why I decided to take a different path in politics. I want to be a part of development, reconciliation and rehabilitation and work with intelligent and corrupt free leaders for the good of the country and people.

There was not a single new product we exported from Sri Lanka since 2009. I believe with the leadership of President Maithripala Sirisena and Prime Minister Ranil Wickremesinghe Sri Lanka stands a good chance to become one of the tiger economies in Asia in the next 60 months.





Do you feel this election an easy go for the UNFGG?


Yes, indeed. There is not the slightest doubt about it. In the worst case scenario, the UNFGG will get a minimum 115 seats to easily form a government.
But what is important is the Five Point Development Programme, and the completion of the 100-Day Programme.

The new UNFGG government will give priority to introduce electoral reforms aka 20th Amendment to the Constitution and Right to Information Bill, activate the Constitutional Council and the Independent Commissions. before the end of the year.

Prime Minister Wickremesinghe has a vision to make Sri Lanka the Centre of Excellence of South Asia and pass the US$ 10,000 mark in DGP within the next 60 months.

I believe he has the capacity, ability and determination to do that and that is why I want to be a partner of this programme.






You have come up with a five year plan for the Ports and Shipping sector in the country. Would you explain it briefly?


My priority is to set up a ports network connecting all local ports in order to carry out a bulk of goods transport round the country with a cheaper and safer mechanism. Right now, goods transport is done by container carriers, which have led to a huge traffic snarl. I want to convert all container transport to a small and mid-size shipping network.

On international level, we need to take advantage of Sri Lanka's very favourable economic geography. Sri Lanka is located in this dynamic Asian region, close to the main shipping route, a couple of miles away from the fast growing Indian Sub Continent market. The Sri Lanka Ports Authority possesses a well trained, disciplined, hard working and motivated work force.

We have made available massive investment opportunities in port and port related industries such as Colombo Port Expansion Project connected with Cargo Villages, Hambantota free port etc., Sri Lanka is confident that whilst supporting the ever growing trade out of ISC, we could also combine the commodity movement from the Middle East and from other continents including East Asia, East Africa, Oceania etc., thus acting as the catalyst for the South Asia in the future.

I intend to revamp The Sri Lanka Shipping Corporation (SLSC) with foreign investor participation and import our goods using our own ships. In the first phase, we expect to start with importing coal to the Lakvijaya Coal Power Plant using SLSC ships.



What do you do with much touted Hambantota Port?
We have no intention to close down the Hambantota port but shall introduce a new strategic plan with foreign collaboration for this port. The problem with Hambantota port is that there has been no proper feasibility study before its construction to ascertain how many ships could be berthed, what was the capacity to handle import goods and reshipment. We have already talked to five big investors on how we can turn around this port to make a profit making concern.



I cannot hold back without asking you about the current state of affairs of sports and in particular of cricket. We have recently heard of many a setbacks in the field of sports and cricket is on a downturn. Your comments.
Sri Lanka Cricket is one of the prime victims of the money mafia. If we are to save cricket from this disaster, we need a Sports Minister with a strong backbone as the first target of the mafia that has taken SLC for ransom is the minister.

However, I have great confidence in Minister Navin Dissanayake as he is a clean politician like his father and does not want to amass wealth abusing political advantage. I am ready to extend my hand of friendship and assistance to him if and when he seeks my help or advice for the good of sports and cricket in particular.

I have no doubt that he has a genuine desire to develop national sports in the country and we have discussed this in many times. We have extremely talented sportsmen and women and cricketers. They must be encouraged, provided all kinds of support and incentives for them to excel in the international sports arena.

Prime Minister Ranil Wickremesinghe also has paid attention to develop sports. I hope and wish spring will be dawned to Sri Lanka's cricket and sports before long and I give my fullest cooperation to realise that target.

I have no doubt that Sri Lanka will win her first Olympic Gold Medal and the second limited over cricket World Cup within the next five years under a government led by Prime Minister Ranil Wickremesinghe.