---

The response 'Investigations are on,' which was the truth,was a better option

The infamous Embilipitiya incident turned yet another page of the story of the Sri Lanka Police on many fronts; professionalism being the foremost factor. The entire episode depicted how unprofessional our police force had been in handling a crisis and the damage controlling efforts in its aftermath.

There seem to be two clear sets of officials when it comes to their professional conduct. The most senior officials including the Inspector General handled it in a professional manner without attempting to cover up the wrong-doing of his junior officials, as I see it. Added to this credit is Senior DIG Chandana Wickramaratne who prepared a thorough investigative report on the incident that left no stone unturned.

Senior DIG Wickramaratne's attempt was somewhat contrary to those of his own colleagues who tried to justify the brutal attack on the HNDE students through press conferences held several months ago. Their justification of the attack proved wrong within a few weeks as the Police Commission found it erroneous and took action against the officials involved.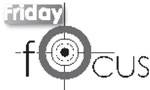 Former Anandian, Senior DIG Wickramaratne is known for his professionalism within the rank and file since he joined the police force as a young graduate commissioned officer in the early 90s. He exposed the unprofessional conduct of his junior officers in the Embilipitiya police division through his lengthy report to the police chief while recommending and also seeking advise from the Attorney General to take legal action against the errant officials. Thus, the magistrate ordered the arrest of an ASP and the Embilipitiya HQI on Wednesday (27). More action would follow.

As reported in the media, ex-DIG Wickramaratne's report was explicit about the totally uncalled-for conduct of the concerned police officers of Embilipitiya. This particular incident not only demanded stern action against those officials, but also a total assessment on the psychological status of men and women in police uniform. A comprehensive study is required - first to understand the reasons behind their unusual conduct and then find solutions to those issues through a comprehensive process of perception change. It may also require structural changes within the police force since most of those unstable conditions are derived from job frustration – a common lament that one could hear from almost every police officer.

Look at the way police officers have treated journalists during the magisterial inquiry by snatching their note books. Just think of the mentality of that particular officer. What kind of a higher authority does he hold when conducting such an act within a magistrate courts? I am interested to know the steps that have been taken by Senior DIG Wickramaratne on this particular issue.

This notebook incident prompted The Editors Guild Of Sri Lanka also to take some admirable steps for the protection of freedom of expression within this context. The guild will file a strong FR case as advised by the Chief Justice which will not only be a classic case study for the freedom of the press in Sri Lanka, but also a good lesson for the high-handed police officers who took the law into their own hands.

The act of the guild further provides a message to other media organisations, too. Such errant acts by officials demand something beyond street fights such as holding placards and shouting slogans.The guild has handled it in a professional and systematic manner and hope it will teach a good lesson those in uniform when dealing with the media and freedom of expression issues.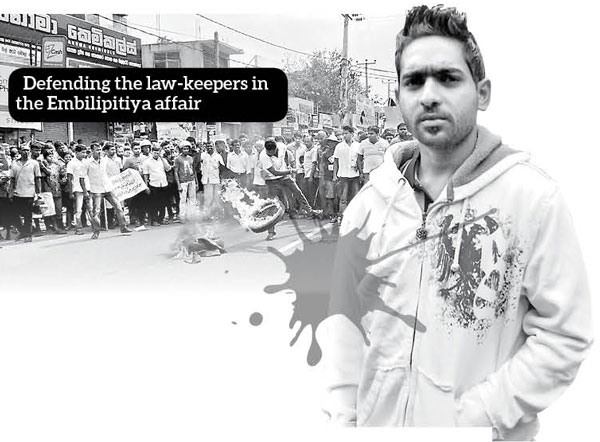 There is one strong lesson that police officers should learn-that it is not the 19th or 20th century when the uniform over rode the rights of the citizens. The people of this country stood against unruly force and authoritarianism on January 8 last year and they would not tolerate it at any cost. In a nutshell, Sri Lanka is no more a police state, we converted it into a state of good governance, which needs to penetrate into the police as well. Yahapalanaya will not be realistic if law enforcement agencies do not understand the very concept of good governance.

There is another victim of this entire Embilipitiya incident - my classmate buddy ASP Ruwan Gunasekera, the police spokesman.

As I have highlighted in many of my previous columns, these particular positions such as spokesperson requires specific skills and capacity before appearing in front of microphones and cameras. Like a reality show superstar, he reaches stardom within days but loses credibility and reputation sooner than he reached stardom. In countries like India, such officials must undergo specific training programmes before undertaking a painful job of spokesman. The Indian Institute of Mass Communication in New Delhi is one such institution that conducts those courses for Indian police and military forces. As Sri Lanka has no such system in training these officials in this strange field, officials pushed before the cameras soon become laughing stocks among the public. No spokesperson, especially in the police, ended up with an untarnished image and ASP Gunasekera is the latest victim of this chain. We know how his predecessors like SSP Ajith Rohana were caricatured in social media for their unsuccessful attempts to defend their colleagues and their errant acts. This is not their fault at all - this is a mistake of the system.

Of course, the duty of the police spokesman is to defend his own kind and office based on the reports he receives.

The initial reports from Embilipitiya police were entirely misleading and false: The Wickramaratne report exposed this fact. But Gunasekera made an extra effort in his attempts to defend his Embilipitiya colleagues and then later he said he did not know. That was not professional at all.

One has to be mindful that information could not be hidden from the public in this era of information technology. Within hours of the incident social media was full of stories as to what has happened on January 4 night at the Mendis Building in Embilipitiya. Thus, how could a spokesman swim against the current to defend his colleagues at the cost of his own reputation?

In simple terms-a spokesperson should not go into detail if matters are not clear. Even in journalism we say "if in doubt-leave it out." But ASP Gunasekera could not leave it out as he was questioned by media, but he could have bought time by saying "investigations are on," which was the truth, because the Wickramaratne report came two weeks later.

---
Add comment

Comments will be edited (grammar, spelling and slang) and authorized at the discretion of Daily Mirror online. The website also has the right not to publish selected comments.

---