---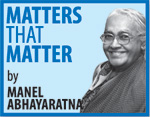 By Manel Abhayaratna
Vesak is over and the crowds who apparently ha and ho'ed regarding the beautiful decorations and pandals and visited each and every dansala now perhaps replete with all the goodies that satisfied mind and body have now returned home thanking the powers that be for granting an extra holiday before they face the reality of the continuously escalating cost of living.

Perhaps politicians should wake up to the fact that festive seasons will not detract the people from the frugal lives they are called upon to live. Recently, a news report stated that the price of a box of matches has been increased by Rs, 5. When such a lowly but essential item is increased with no reference to the needs of almost every citizen in the country, one tends to wonder whether the authorities are merely interested in collecting indirect consumer taxes.
While this unfortunate drama is unfolding itself in the economic atmosphere , the Central bank has increased the interest rates on the credit cards. This will certainly affect all those who now believe that the little plastic card they have got from various competing banks is the sesame for a good life.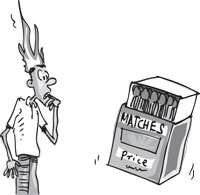 In fact as soon as a youngster joins a new firm as a junior executive, numerous banks woo him to obtain a credit card and of course this gives added importance to the young executive . After all he can go to a hotel and order a sumptuous meal for himself and just flash out his credit card to pay the bill!
But when payments are to be made, the banks pressurise the young executive and even in certain instances make use of various agents to threaten the cardholder or even his family to regain the unpaid payments. In fact recently a news article stated that the outstanding balance from credit card holders has increased to an all-time high of Rs. 38.5 billion! In fact in a discussion I once had with the financial ombudsman, he stated that the country will very soon face a bank credit crisis due to the unrestricted granting of credit cards!

It is sad that in a sense while we are yet unresolved in the process of reconciliation we appear to be totally unaware that the recession that started in the United States some time ago has not lessened and continues to have its spiralling effect; and our Financial pundits following old time economic theories that devaluation of the currency will increase income from exports and reduce imports appear to have failed to realize that almost all our exports have a component of import duties inbuilt for their production.