---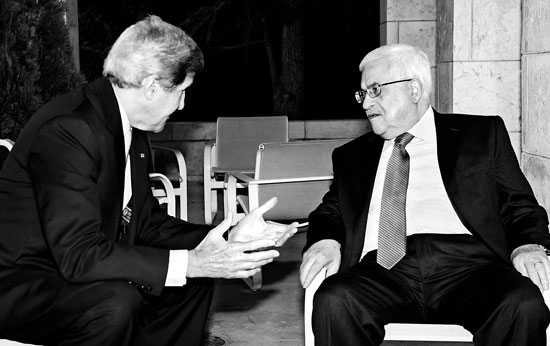 A handout picture released by the Palestinian President's Office (PPO) shows Palestinian leader Mahmud Abbas (R) US Secretary of State John Kerry meeting in an upscale hotel in Amman as they shared a traditional iftar dinner to break the day-long fast during the holy month of Ramadan on July 16, 2013.

When the United States Secretary of State, John Kerry, announced last Friday that Israel and the Palestinian Authority had agreed to resume peace talks, one wondered whether US President Barack Obama had finally decided to live up to the expectations of those who gave him the Nobel Peace Prize.

Peace in Palestine was one of his foreign policy priorities. Yet, he has so far miserably failed in making any breakthrough. With time fast running out, will Obama be just another US President who tried and failed to achieve peace in the Middle East? Obama began his presidency giving promises of peace. But, like his predecessors, he succumbed to political compulsions connected to his reelection and sacrificed his beliefs and policies on the altar of the Israeli lobby during the last days of his first term. Free from such pressure now, the United State' first Afro-American President is once again stirring hopes in much the same way he did during his early days in the White House and playing for history books.

It was President Barack Obama's first day in the Oval office on January 21, 2009. He took the telephone and dialed a number. It was his first official overseas call after assuming the presidency. The voice on the other side was that of Mahmoud Abbas, President of the Palestinian Authority. Obama assured him that making peace between Israel and Palestine and setting up of an independent Palestinians state were among his foreign policy goals.

If that was a message of hope for the Palestinians, it was a warning to Israel, which has been occupying Palestinian territory since 1948. Obama's move and his election to office on a platform of anti-war won him the Nobel Peace Prize in 2009. The Nobel committee in a significant departure from the usual practice of assessing the performance of the nominee, awarded the peace prize to Obama on the assumption that he had revived faith and hope for a peaceful world at a time when the world was torn apart by wars. The Nobel committee said Obama was awarded the prize for his extraordinary efforts to strengthen international diplomacy and cooperation between peoples.

Whether these efforts had borne fruit was not a factor the Nobel Committee had considered. In fact, even when Obama received the medal in 2010, his hope-generating words had not translated into a peace dividend in any of the world's trouble spots.

Obama continued to package his speeches in such a way that they evoked a ray of hope even in a hardcore pessimist. One such speech, which the Nobel Committee must have taken note of, was made at the Cairo University in June 2009 during his first ever tour of the Middle East after assuming office. A significant highlight of this speech titled "A New Beginning', was Obama's call for peace between Israel and the Palestinians. Striking a balance and making sure he did not antagonise the Israelis, the US President underlined his country's special relations with Israel, saying their mutual bond was "unbreakable". But in the same breath, he also described Palestinian statelessness as "intolerable" and recognised the Palestinian people's aspirations for statehood and dignity as legitimate — just as legitimate as Israel's desire for a Jewish homeland.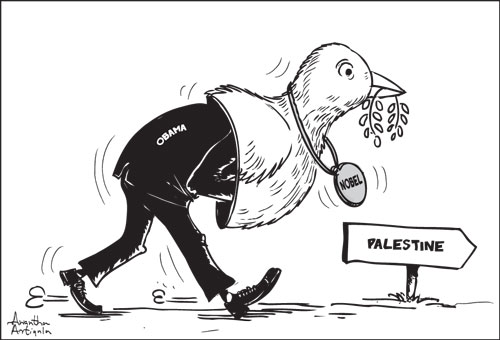 A month before he made his Cairo speech, he had talks with Israeli Prime Minister Benjamin Netanyahu and Palestinian Authority President Abbas in separate meetings in the White House. New to the office and his student day activism rejuvenated, Obama assured Abbas that the United States would work towards a two-state solution within the 1967 borders.

In his meeting with Netanyahu, Obama urged him to stop settlement building activity in occupied Palestine. Netanyahu was apparently in no mood to listen to Obama's advice. Returning home, Netanyahu announced that Israel would build more settlements in Palestine in what was seen as a slap in Obama's face, while hardline Israeli media described Obama as the Zionist state's foe. An apparently disturbed President Obama snubbed Netanyahu when the latter came to the White House for a meeting in September 2010. This was how the London Telegraph captured what took place in a White House meeting room on March 23, 2010:

"The Israeli prime minister arrived at the White House on Tuesday evening brimming with confidence that the worst of the crisis in his country's relationship with the United States was over.

"Over the previous two days, he had been feted by senior Republicans and greeted warmly by members of Congress. He had also received a standing ovation from the American Israel Public Affairs Committee, one of the most influential lobby groups in the United States.

"But Mr Obama was less inclined to be so conciliatory. He immediately presented Mr Netanyahu with a list of 13 demands designed both to end the feud with his administration and to build Palestinian confidence ahead of the resumption of peace talks. Key among those demands was a previously-made call to halt all new settlement construction in east Jerusalem.

"When the Israeli prime minister stalled, Mr Obama rose from his seat declaring: 'I'm going to the residential wing to have dinner with Michelle and the girls.'
"As he left, Mr Netanyahu was told to consider the error of his ways. 'I'm still around,' Mr Obama is quoted by Israel's Yediot Ahronot newspaper as having said. 'Let me know if there is anything new.'

"For over an hour, Mr Netanyahu and his aides closeted themselves in the Roosevelt Room on the first floor of the White House to map out a response to the president's demands.

"Although the two men then met again, at 8.20 pm, for a brief second meeting, it appeared that they failed to break the impasse. White House officials were quoted as saying that disagreements remained. Shimon Peres, the Israeli president, added: 'Apparently they did not reach an understanding with the United States.'"

As relations between Netanayahu and Obama remained strained, the Middle East peace plan suffered in the process -- with Abbas also insisting that the peace talks would not be resumed as long as Israel continued with its settlement building activities. To his credit, Obama weathered pressure from the Israeli lobby and remained adamant on his demand that Israel should stop settlement building. Even as late as September last year, Obama shocked Middle East observers by not meeting Netanyahu who was in New York for the UN General Assembly sessions – something no US president has done since the creation of Israel.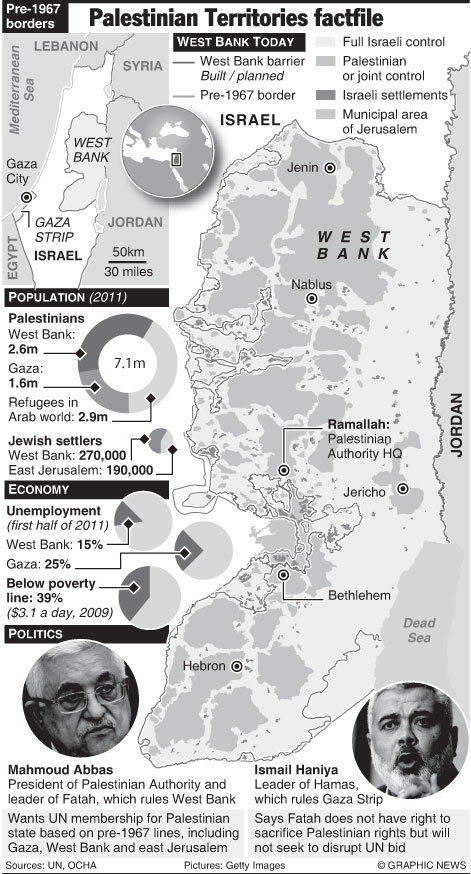 But when the November elections neared, Obama, with his oratory skills, reached out to the Jewish voters and Israeli sympathisers -- most of whom eventually voted for Republican candidate Mitt Romney at the 2012 presidential polls -- by presenting himself as a friend of Israel during his election campaign. He successfully dissuaded the Palestinian Authority President from seeking full membership in the UN.

It is against this backdrop, that one needs to look at Kerry's peace moves in recent months. As much of the world's attention was on the civil war in Syria and the dramatic but disturbing developments in Egypt, Kerry's quiet diplomacy received little media attention.

Kerry's peace mission began with Obama's kiss-and-make-up visit to Israel in March this year. With both Netanyahu and Obama being reelected to office, the two leaders, united by their common enmity with Iran, began a new chapter in their relations. Yet, while in Israel, Obama spoke about the need for a "viable Palestinian State" and expressed some empathy with the feelings of a people under occupation.

To push Obama's peace initiative and restart the Middle East peace process that had remained stalled since 2010 over Israel's refusal to stop settlement building activities, Kerry made at least six visits to the region this year.

It is said the carrot Kerry stretched out to the Palestinians came in the form of a major investment plan aimed at reviving the struggling Palestinian economy. With Israel refusing or reluctant to release the tariff and taxes it collects on behalf of the Palestinian Authority, the Palestinian economy that has hit an unemployment rate of nearly 25 per cent is heavily dependent on foreign aid and remittances sent by the Palestinian Diaspora. Often, the Palestinian Authority runs out of money to pay the salaries of its public servants who constitute more than 60 per cent of the work force.

Unveiling his economic plan for Palestine at the World Economic Forum in Jordan last month, Kerry said the US$ 4 billion investment deal could boost the Palestinian economy by 50 per cent in three years and the average wage by 40 per cent and reduce unemployment by two thirds. "It is a plan for the Palestinian economy that is bigger, bolder and more ambitious than anything proposed since Oslo, more than 20 years ago," he said.

But the Palestinian people are in no mood to sacrifice their political demands for economic gains or empty promises. Aware of the public mood, Abbas has said any agreement which the Americans may broker will be presented to the people at a referendum. Even Netanyahu has said he too will seek the people's approval in a referendum.

Although few details of the Obama-Kerry initiative have become public, it appears that the Palestinians are being pressurised to recognise Israel as an exclusively Jewish state in exchange for some Israeli concessions on settlements. Did not Obama speak about Israel's legitimate desire for a Jewish homeland when he delivered his famous speech in Cairo in 2009? If this is the deal, this spells disaster for Israeli Arabs who constitute 20 per cent of the Zionist state's population. Will the US peace plan or Obama's move to add a veneer of legitimacy to his Nobel medal, lead to ethnic cleansing?