---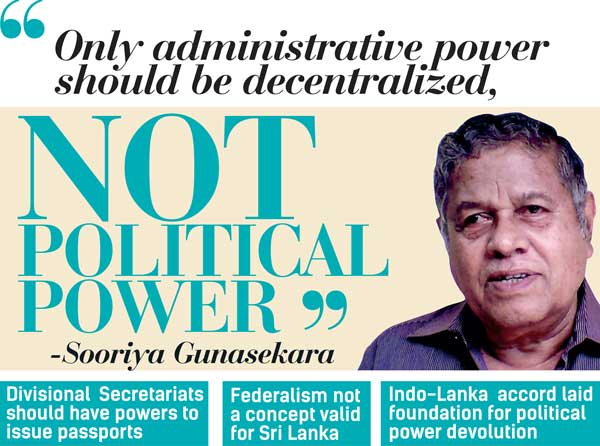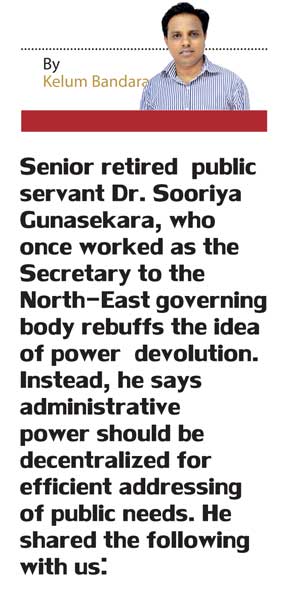 Q As a civil servant involved in administrative activities in the North and the East in the past, how do you see the importance of power devolution?

When you say power devolution, it is mostly identified with Federalism. Federalism is a concept used for unifying two or more countries as one country. In Sri Lanka, we do not see such a situation. Power devolution took place for the first time in England in 1700s. England, Scotland, Northern Ireland and Wales were united in this manner. England is the main county, and others are its allies with devolved power. The concept of devolution originated with that.

Federalism, as a concept, was born in Germany after the World War II. In Germany, there were numerous tribes. The country called 'Greater Germany' was born then after unifying all.
In Sri Lanka, there is Thesawalamai law in the North. This is similar to a law that prevailed among tribes in Germany. Otherwise, it is not a law that was brought from Tamil Nadu or elsewhere. Federalism is applicable, in my view, to India. India was actually formed after unifying 18 principalities by the British. A Commission was appointed in the 20th century to decide on power to be given to local nationals. The Commission submitted its report in 1925 and had recommended the creation of States given cultural, ethnic , religious and other forms of diversities in that country. They brought out three yardsticks in this case- the language, religion and culture. If these three are same in a particular area, it should be declared a State despite geographical size.

We find similar features of this Commission's report implemented in Sri Lanka as well. The powers were categorized as reserved and transferred. Under the reserved category, powers to be vested with the centre were determined. Others were powers to be transferred to states.
In Sri Lanka, they implemented what happened in India which is a country with 18 languages and 18 States (Daha Ata Dese , Daha Ata Baase).

Q How did it impact Sri Lanka?

Going by this concept only, in Sri Lanka, the idea was mooted for the amalgamation of the northern and eastern provinces. The Tamil language, the Hindu religion and the culture were considered as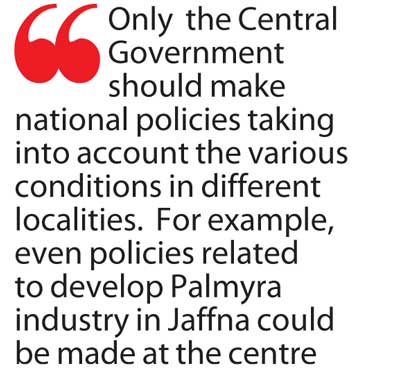 the element needed in this case. Nobody talks about it. The basis for the idea was laid in the report submitted by that commission in India. We were taught about it at school during our time. Initially, the five provinces in Sri Lanka were created according to the report of the Colebrooke Commission. That happened after the British unilaterally violated the 1815 Kandyan Treaty. They appointed five Boarder Commissioners for these five provinces.
Later, these five provinces virtually became irrelevant. Only the Government Agents appointed at district level were functioning.

In Sri Lanka, the foundation for power devolution to the provinces was laid under the 1987 Indo-Lanka Accord. In this accord, the North and the East were seen as the traditional homeland of Tamils. There was no historical and archaeological evidence to prove that these were Tamil homelands. In South India, there were enough and more evidence in the form of ancient temples, literature, statues, folklore, inscriptional materials etc. But, here in the North and the East, we do not find them. During archeological excavations, only Buddhist antiquities were found.
When the Portuguese ruled the coastal areas of Sri Lanka, there was no map for the identification of the country's boundaries. Portuguese historian Queroz referred to administrative units of the country at that time as kingdoms: The Gampola Kingdom, The Raigama Kingdom etc. Jaffna was also seen as a kingdom. In English, kingdom connotes a country. In this manner, there were 14 such units in Sri Lanka at that time.

Q In your opinion, how important is political power devolution or power sharing?

Legislature is the political authority. It consists of representatives elected by people. For one country, there should be one legislature. It makes laws. Governing a country means law-making, implementation of law and punishing those violating the laws.
Technocrats have introduced different terminologies to convince people on the devolution of powers of legislature. That is called political power devolution. It is not the thing to be done. What is to be done is the devolution of administrative or executive powers. In the hierarchical order, there are Ministers, Ministry Secretaries, and Additional Secretaries etc. They should be given increased authority in the discharge of their duties. When Felix Dias Bandaranaike was the Public Administration Minister, he said that people always found it difficult to reach the District Secretariats for their needs. Therefore, he advocated that Assistant Government Agents (AGA) should be appointed. Before that, a land related issue should have to be reported to the Government Agent (GA) of the district concerned. Then, the AGAs were empowered to attend to such matters of people. In this manner, work related food rations and social services were transferred to officials at divisional levels.
In fact, a person should be able to reach the Divisional Secretariat in his area and get his work done. That way, administrative power has to be decentralized.

Q In your view, how has the lack of administrative power at grassroots level hindered the work of officials?

For example, when I was the AGA for Agalawatte, people used to come the previous day to attend to their work the following day. They used to camp on the wayside near my office. At that time, transport facilities were scant. The situation was even worse in areas such as Anuradhapura and Vavuniya. People should be able to get their work attended to, in their own localities. For that purpose, administrative power should be decentralized to Divisional Secretaries.
In England, even passports are issued over the counter at post offices. It has not led to corruption. In Sri Lanka, I do not understand why Divisional Secretariats have not been given power to issue passports. We have to work out modalities. Today, you see the passport office in Colombo where people swamp it from all corners of the country.

Q Actually, those seeking political power demand authority for policy-making. How could it be addressed by decentralization of administrative power?

Only the Central Government should make national policies taking into account the various conditions in different localities. For example, even policies related to develop Palmyra industry in Jaffna could be made at the centre. Yet, through its implementation, power could be assigned to the authorities in the area. The Moragahakanda Irrigation Project is now underway. It is to provide water to the North as well. Northern Province Chief Minister C.V. Wigneswaran is asking for power to have control over it. Yet, the project originates from elsewhere in the country.

Q What is the role you play to create public awareness on decentralization of administrative power?

Today, people are divided politically. Then, a National Movement only could do it. In the past, people had been organized politically under ethnic identities such as Sinhala Maha Sabha and all. Tamils were organized under the All Ceylon Tamil Congress and Muslims under the Muslim League. These parties went before the British Governor in 1945 seeking parliamentary representation. Then, the government stressed on them to have democratic political parties. Parliamentary system cannot function without democratic political parties. There were Marxist revolutionary parties. Then, all these Sinhala, Tamil and Muslim groups turned back. Finally, it was found that the system was going to ensure 80% of representation for Sinhala people. Later, they wanted to devise a mechanism to unite under one banner, and thereby gave birth to various political parties.