---

Education can only thrive in a context of examinations. Those who deny this must probably have ignored the practical realities, behind the teaching situation in schools, examinations serve a function for society at large in attesting to standards of academic performance.

Our examination system is the most notorious aspect of education in Sri Lanka. The incessant blunders of examinations have caused a whirlwind of confusion and chaos. The worst troubles were in the Department, where considerable confidence, was badly shaken. There were recriminations of course, as newspapers, politicians and parents, bemoaned it as a national disgrace. A barrage of scepticism and criticism has cast doubts about examinations.

In response to this perceived vendetta, a vicious circle of anger of gross-misconduct in examinations has led the public having little faith in the examination system. It has subjected teaching to examinations, making it virtually impossible to provide true education, and to develop genuine interest in expanding educational horizon and has created temptation to cheating, corruption and favouritism. The obsession to obtain by hook or by crook a place in the University has overshadowed the good aims and purposes of education which a good examination should aim at.

To bring some order into this chaos, there is an urgent need for an up-to-date account of the scientific procedures now available for constructing psychological tests and for assessing and interpreting the results so obtained. Examinations rightly designed and intelligently used can be a useful factor in the educational process. The introduction of a sound system of examinations with the necessary modifications and adaptation will prove a great service to Sri Lankan Education.

How then is to decide whether or not a particular test will serve the purpose of a test. This is one of the chief questions, one must set out to answer. The answer is unequivocal, everything depends on the way the test has been constructed and validated. As for validity, as long as examinations, remain as unreliable, as most still are, validity must, be of course remain low.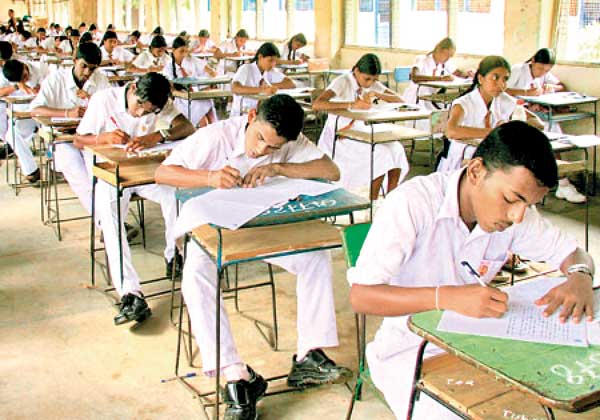 Indeed most teachers and examiners, when required to set a question paper, sit down, jot down their problems and dispatch them to the printer. Few realise that, the task of drafting an efficient test is a highly stalled affair, it calls, not only for a fertile imagination and first hand experience, and also for repeated pilot trials, special techniques to assess the results, and usually a long arduous research.

Unfortunately most of the popular discussions of the problem, and indeed of the whole subject of testing, arise from a sheer misunderstanding of the terms employed and the objects in view-that is partly due to Sri Lanka's peculiar history. Perhaps we should also get the needed impetus for better research, on testing on a much larger scale, which alone can improve existing measures and reduce the error inherent in all scientific measurement. Without the help scientific tests advancement into better educated groups will be barred to many children from disadvantaged families, thus bringing to the top a large number of mediocre ability.

Considerable publicity in the press and on television has been given to certain test items, which were undeniably shockingly bad. Equally important and more valid is the criticism that the tests have been poorly made. Sometimes the test constructor did not know the concept of scientific testing. It is a failure to realise that devising new tests is a skill process, requiring considerable fertility of imagination, elaborate experimental trials, and much hard work.

They are not scientifically constructed based on the findings on psychological and psychometrics.

Cyril Burt the eminent psychometricion says "Here I cannot hope to do much more than convince the would be test constructor that there is a theory of test construction and that the only way to secure good results is to observe well established principles and rules, which are as technical as those for constructing an aeroplane or building a ship."

A test should have the following characteristics.
It should have norms for referring the scores to those of the known population.
It should discriminate reliably over the desired range of ability.
Questions should cover a representative sample of the abilities tested
It should be tried out on a representative sample of the population to whom the final test is to be given.
There should be evidence of its validity and reliability
Standardisation of the test situation, administration and scoring includes precise instructions and the scoring of success or failure for such type of tests. The latter can conveniently be achieved by making the test consist of multiple type items or new-type of items. The latter can conveniently be achieved by making the test consist of multiple type of item or new-type items.
It should be stressed that inventing test items is highly skilled work, requiring expert knowledge, of the subject matter of the test, facility in expression and, above all, imagination. If it is a test constructed team must either itself possess a varied background of specialized knowledge or be able to rely upon intimate co-operation with specialized in these fields. To obtain introspection on the test instructions, examples does not contribute to the objectivity of the test.
For any test required for examination purposes the first step is to draw up a test "blue print" indicating which aspects or field of knowledge the test intended to cover and how items should be allocated between different content areas.

Having decided the general layout, the test constructor should think of many items at least three times as many as well eventually be needed. Writing test items is highly skilled works, requiring expert knowledge of the subject matter, technical skill and above all imagination.

Member of a test construction team usually try new draft tests out of each other and also use of a 'pool' of people who have to act from time to time as experimental subject. The fact that this has been done is assurance of objectivity, though maintained by the Examinations Department.

As this examination is required for a general purpose, rather than for optimum discrimination at any ……articular level, than a linear distribution of scores be of medium difficulty, with comparatively few items that are either very easy or very hard. This has been violated.

In an examination the important thing to consider is the task, representative and translating samples of the competence, we wish to assess or are they unreliable or biased. Any kind of competence is complex, it is made up of many skills, knowledge of facts and their relations, insights and attitudes. Thus a student will vary in his performance according to the questions set.







Considerable caution is needed in judging what an examination measures from its apparent content. Psychologistics have good grounds for non acceptance of the so-called "face validity" of an examination. The Commissioner of Examinations to place hundred per cent trust on this aspect, which is highly erroneous in psychometrics. Familiarity in taking such tests enables the child to distribute the available time wisely. The questions in the paper penetrate to tortuosities when complex questions are often wrapped up. A few may as in this instance develop neurotic phobia. The major problem again is one of representativeness.

---
---
Add comment

Comments will be edited (grammar, spelling and slang) and authorized at the discretion of Daily Mirror online. The website also has the right not to publish selected comments.

---