---

The Lesbian, Gay, Bisexual, Transgender, Intersex and Questioning (LGBTIQ) or the Queer community has been a laughing stock of society for decades. Although equality is a term that has been interpreted in more or less the same way, equality on the terms of gender identity and sexual orientation still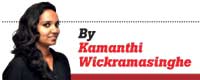 remains at a primary level. In an attempt to highlight the current status on LGBTIQ rights, the Dailymirror spoke to the former Commissioner of the Human Rights Commission Dr. Prathiba Mahanamahewa. Excerpts:




What is the current legal situation when it comes to issues on LGBTIQ persons?


This is an ideal time to talk about this subject because the new constitution is in the making. We need to incorporate sexual orientation and gender identity in this document. There is a committee called the International Gay and Lesbian Human Rights Commission (IGLHRC) where Sri Lanka was represented last year. Here it was said that there is no discrimination for sexual orientation and gender identity in Sri Lanka under Article 12/1. According to this, everybody is equal before the law. It was also mentioned that sexual orientation and gender identity are unconstitutional under Article 12/2. They sent a report to the Human Rights Commission regarding harassment, violation of human rights and employment issues faced by LGBTIQ persons.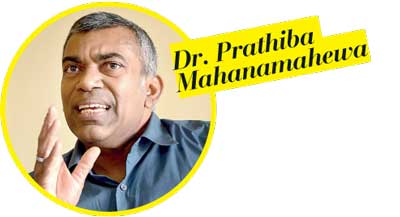 Several issues such as sexual harassment in the workplace, job discrimination, domestic violence and loss of employment were highlighted. But the practical situation is quite different. It is common to see two girls being taken into custody if seen holding hands. This is an issue which has a social and a religious barrier as well. Although it says under Article 12/1 that everyone is equal before the law, the penal code has a different interpretation. Section 365 of the Penal Code of Sri Lanka was amended in 1995, adding another Section 365A. Here, sex between people of the same gender is described as an unnatural offense and therefore no cases are being filed.


What can be done to dissolve this legal barrier?
It is because of this that the International Human Rights Commission and other United Nations Human Rights activities argue about decriminalizing LGBTIQ persons. There is another section 399 which carries the Vagrancy Law, the Gender Impersonation law and the Vagrancy Ordinance. Even though the supreme law is considered very important, my argument is that two men, women or even animals for that matter, cannot be separated.

The issue largely revolves around what society perceives them to be. When a person is born, he or she may have characteristics of the opposite sex. How can we control this? This is genetic. Take the case of transgender persons; there is no one time where they can openly speak in public. People make defamatory statements and how can we simply accept this? In order to dissolve this legal barrier, the Penal Code offences should be decriminalized and the new constitution needs to highlight this issue.


Stigmatisation?
Stigmatisation exists in all forms. They do not have access to employment. When a person is identified as a transgender person, they are given odd jobs.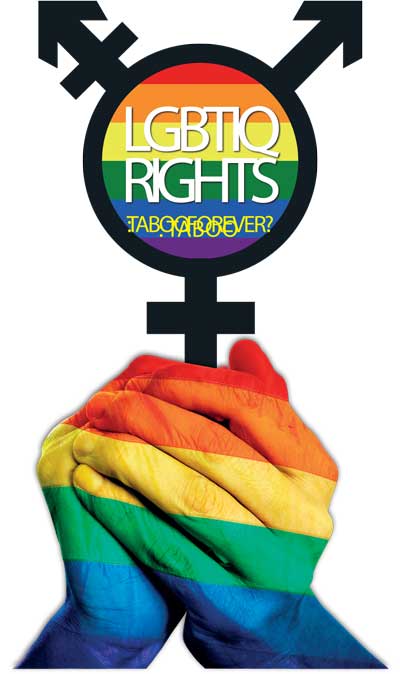 This shows that the gender equality law is not being practiced. One good example is the Indian state of Tamil Nadu that now has no issue with transgender persons. When they go to the Police, no harassment takes place. On the contrary, in Sri Lanka, LGBTIQ persons are subjected to violence either in the workplace, home or anywhere else. We are mainly discriminating them because there is no Right to Privacy.


Therefore we need to introduce this when drafting the new constitution. If we see a boy and a girl holding hands, there is no issue. But if two girls or two boys walk in public holding hands, they will end up in jail. This happens at grass-root level. If we take those from affluent families and the elite society, we have not come across anybody who was arrested for these offences. Therefore, those at ground level have to hide for the rest of their lives. Of course there is a risk of spreading sexually transmitted diseases such as HIV but these can be controlled. They are being suppressed legally, socially and culturally. We have to recognise the LGBTIQ community.


Let's talk about the religious barriers.
Because of religious barriers, they cannot have a family life. So what will happen to the next generation? This is no more an issue. Adoption laws exist and they can simply adopt a child. Just because a few people live this way,

I am sure the entire world will not turn upside down. As a human rights activist, I respect their freedom, dignity and conscience. If a person has an urge to be a boy or girl but is born in the opposite sex, they should have the freedom to be able to choose what they want. The surgery required for this is available in Singapore and even in Sri Lanka. If this is illegal, then even abortions should be illegal in Sri Lanka and any doctor caught aborting a child should be subjected to seven years of imprisonment. But how many abortions take place annually?



What measures can be taken in order to make them a more active community?
If we see a transgender person, we use harsh words to address them. This is something that needs to change. Also, their citizenship documents such as the national Identity card, passport etc. should be upgraded. The Sri Lanka Human Rights Commission (HRC) proposed to recognise their identity.


They have to serve a jail term if found guilty. Do you think this is appropriate?
They do have to serve a jail term if found guilty. But if they do not have a previous record of criminal offences or jail terms and if they are still punished for being with a person of the same sex, we are re-introducing them to the world of discrimination. Sri Lanka doesn't openly talk about sex but look at the number of rape cases that get reported. Education is important. We need to introduce human rights to the school syllabi.


Several non-governmental organisations (NGOs) are very vocal about these issues. But they only address a certain part of this community. Shouldn't these programmes be initiated at a national level?
Certainly. I know that many NGOs are very active but only at a grass-root level. Therefore this topic is addressed at some point. They have limited funds and can only go up to a certain level. They are making an impact on society, however and people will gradually start to perceive this issue differently. If we take a record of cases that are being heard in courts, we can find more divorce cases than those for property ownership or other matters. Divorce cases are mainly due to same-sex relationships. Wife finds husband with another man and goes for a divorce and vice versa.

The traditional marriage system will force these people to marry. But it is morally wrong to take away their freedom. These cases also exist in hostels and day-care centres. At the national level, institutions such as the HRC, Ministry of Health and even an independent Police Commission are present to instruct Police Stations to treat these people in a more friendly and decent manner. We need to give proper training to those who handle these cases in divisional secretariats. NGOs should work hand in hand with the government but this cannot be practiced efficiently. The Government will do their part and the NGOs will do their part with no collaboration.


The UN decided to support same-sex marriages and Sri Lanka too supported it. How do you see this?
I think we took a radical step. We are following British colonial laws. If you support human rights, you should
not take away the freedom of LGBTIQ persons. Until you change this ideology, people will continue to discriminate and ostracize this community. Ideology comes first and then the law should change. I suggest that if section 365A of the Penal Code is decriminalized, they will be accepted in society.



There are instances when those having same-sex relationships have gotten married in countries where same-sex marriages are legal. Can they live in peace after they come back?
Although they get married abroad, once they are within the boundaries of Sri Lanka, they cannot exercise their cohabitation rights. They will be arrested under the vagrancy ordinance. Their marriage certificate is not recognised in Sri Lanka. As a result they will have no property or inheritance rights. This culture has to change. But there are a lot of homosexual couples who are living together.



Do you think the new constitution will adopt a clause or a section addressing LGBTIQ rights?
I am very positive about it. It is about time that we make a change and give them justice.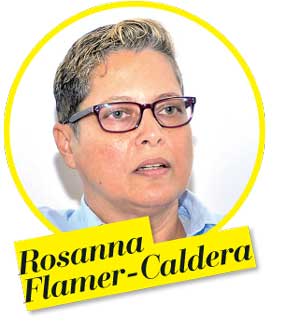 When it comes to addressing LGBTIQ rights, many NGOs have been doing their part to ensure that this community will have a better say in society. Equal Ground is one such organisation that has been active in seeking human and political rights for the LGBTIQ community of Sri Lanka. Speaking to the , Rosanna Flamer-Caldera, Executive Director at Equal Ground shared her views about the issue of LGBTIQ rights, the activities done by Equal Ground and her future aspirations in taking this community to the next level.


What comments do you have about the current situation in addressing LGBTIQ rights?
We are working with outdated sodomy laws. The act of same-sex couples having sex is termed as 'gross indecency' or 'carnal intercourse' in the Penal Code. The section 365A of the Penal Code doesn't apply to anybody. If two people want to be in love, whether it's two men, women or animals, let them. Why does the state have to interfere in these matters?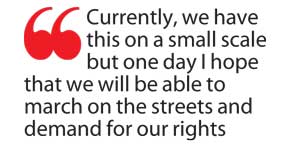 Let's talk about Equal Ground.
Equal Ground began operations in 2004 and was initiated to fill the void which was created when it comes to addressing issues on the LGBTIQ community. It is an advocacy organisation, which not only talks about the LGBTIQ community but also about heterosexuals. We conduct programmes in all three languages and mostly focus on sensitising the public on issues related to the LGBTIQ community.

Counselling sessions are provided for those who have been pressured and marginalised from society and are mentally ill. We have even established a counselling hotline for LGBTIQ persons to call for assistance with regards to their issues. In addition to this, several workshops are also held each year in the rural areas to educate the public on issues such as Gender and Patriarchy, Gender Based Violence, Human Rights, HIV/AIDS etc. In 2012, we initiated a transgender project which incorporates an enhanced programme including field visits, social gatherings, HIV and STI workshops aimed at enhancing the lives of the transgender people.


Equal Ground also hosts 'Colombo Pride'. How has the response been over the years?
We have been organising 'Colombo Pride' for the past 11 years. If these people walk on the road asking for their rights, they will be stoned to death. Equal Ground is the only organisation that hosts Pride celebrations in Sri Lanka. Currently, we have this on a small scale but one day I hope that we will be able to march on the streets and demand for our rights. Therefore, Pride celebrations are organised as private yet public functions attended by persons from all over Sri Lanka. Each year, a diverse range of events are held to encourage the Queer community to come out and be proud.


In order to raise awareness on LGBTIG rights, a rainbow coloured profile picture campaign was introduced on Facebook. Do you think social media is an effective tool to address this issue?
Social media is a powerful tool. It can create both a positive and a negative impact on society.


Message to society when dealing with the LGBTIQ community.
I would like to ask the public to accept others for who they are. We follow Buddhist philosophies and as a country that respects democracy, I think it is high time that we look at these people in a positive light.

"Like being a woman, like being a racial, religious, tribal or ethnic minority, being LGBTIQ does not make you less human. And this is why gay rights are human rights and human rights are gay rights." -Hillary Clinton.