Education Minister Bandula Gunawardena claims that students' confidence in the education system and the Examinations Department has not deteriorated despite the numerous blunders. He further maintains that the government would have the final say when it comes to the regulation of international schools.

Education Programmes for JuvenileDelinquents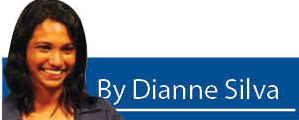 Q:
How does the government plan on implementing its proposed programme for educating juvenile delinquents, while they serve their time in confinement?
There are child prisoners serving time for minor offences and some of those children are at the age when they must sit for their Ordinary Level and Advanced Level examinations. In such instances the Examinations Commissioner conducts special programmes to hold examinations within the prison—this is already being done.
The Minister of Rehabilitation and Prisons Reforms communicated to us that this was inadequate, therefore there needed to be a more systematic approach to educating these children to reintegrate them into society. According to this we signed an MoU and took a decision to have a systematic programme to educate these students in terms of the curriculum for the A/Levels and O/Levels and to also train them in other skills. In Panuluwa, Homagama there is a prison for those convicted of minor offences and we intend beginning classes there. For those who opt not to do the exam we intend teaching them computer skills, English and other foreign languages and focus on skills development—which will be useful to them; we have trained graduate teachers for this.

Similarly there is a request by the Minister of Health to provide a programme of this nature for children at the Lady Ridgeway Children's Hospital who stay in the Hospital for long periods. However under the present law it is not possible for us to send teachers to the hospital. Therefore we intend obtaining special Cabinet approval through a Cabinet paper co-signed by myself and the Health Minister.




Q:
How do you intend recruiting teachers to work in prisons and hospitals; there is a likelihood that they would be unwilling to work in these conditions?
No, they won't have a choice. Because when we recruit teachers, that recruitment will be done to the nearby national schools. For instance, the nearest school to the Panuluwa Prison is the Homagama Mahinda Rajapaksa Vidyalaya; the teachers would be recruited there and sent to teach at the prison. Similarly we will get teachers from Devi Balika Vidyalaya to teach at the Lady Ridgeway Hospital.

Politicisation of teacher appointments
Q:
The Ceylon Teachers' Union is alleging that teacher appointments are being done in a highly politicised manner.
There is no such thing, this is not true—we never give a single appointment based on political favouritism. These are lies being spread by the CTU which is an organisation that is trying to bring disrepute to all of us. We can only recruit teachers through two methods; firstly graduates and secondly teachers that are released from Teacher Training colleges. We have an exam in order to choose the graduates, however we face a serious problem once we have the exam, hold an interview and then give appointments—teachers don't take up these appointments.

For the first time we had "School Based Appointments", however the CTU only shouted about the issues in the system - they never came up with an alternative plan. They say there are no teachers in the rural areas, but when we give teachers these appointments they don't stay in these areas.

We had cabinet approval to give 1000 Teachers of English appointments, but we don't have 1000 graduates, therefore we could only give appointments to 292 (around three months ago), however only 93 have accepted their appointments. We gave 962 appointments for IT but only 600 have accepted their appointments.
I can give you an assurance, as sure as the moon and the sun, that as Education Minister I have never given a teacher an appointment due to any political influence. Because I know that it is the greatest disservice we could do to children. This has been done in different ways in the past and there have been people who approved these as well.



Q:
Another accusation is that the Teacher Transfer Board has been made redundant through the new processes you have adopted.
During the time of the Teacher Transfer Board there have been unfair practices that I don't think have been seen anywhere in the world. Privileged schools have been given favouritism. There are two types of schools, the National Schools and the District Schools. Everyone wants to teach at the National Schools, and in these schools there are no teacher transfers—from the day they were appointed they have stayed in the same school, until retirement. This was what was being done by the Teacher Transfer Board.

The understanding during the reign of the Teacher Transfer Board was that if you tried to interfere with their process of favouritism, it would be the Education Minister that would be sent home, not the Teacher Transfer Board.

I submitted a Cabinet paper, requesting permission to transfer all those who had served for more than 8 years at National Schools. I completed the first step of that programme this year. For those who had served more than 20 years, we transferred them between National Schools—we were considerate. At the same time if someone is close to retirement then we don't transfer them. Further, those teaching in A/Level classes or those who were ill or were suffering from disabilities were not changed.

This year, I have already made a plan to transfer anyone who has served for more than 10 years at a National School, even if that transfer means they are sent to a District School.



Deteriorating confidence in the Exams Department
Q:
Students no longer have confidence in the national level examinations that are being conducted due to mistakes in papers, papers being leaked, misplaced or misrelated results etc. What is the Ministry doing to help students, parents and the general public regain confidence in the system?
In the past, papers went missing in bulk, people entered the Exams Department from the roof and stole papers, people broke into the safes of those who made the papers and in certain instances the whole exam was repeated, with the same test papers. However during that time there was never such malicious political movements to remove the Education Minister.




Q:
Your response to the failing confidence in the Exam Department, is that at least it is better than what it was?
The Unions are creating lies and mud campaigns to discredit the good reputation of the Department and I am going to take legal action against those unions which created all these lies. However if you look at what has happened in the past, what is happening now is nothing.
Do you want zero mistakes? It is not possible! Look at the Examination marking schemes of certain London Exams that students in this country and other countries sit for. There are mistakes, but those exams say that the decision of the board of examiners is final and no one can question those.

Q:

The Ministry has stated that it would regulate international schools in future; what is the progress on this front?
The Parliament appointed a Special Advisory Committee for education and it has met for over 30 days; I am the chairman of the Committee. Over 1000 people have given evidence, it has been translated to English, Sinhala and Tamil and it is to be presented to Parliament soon. One proposal from the Committee is that international schools need to be monitored and regulated by the government.
The President, when he visited the Education Ministry stated that there needed to be more regulation of international schools. Therefore in an Act that would soon be presented to Parliament, international schools would be regulated. They would not be abolished as some people are saying but they would be regulated.
This process would be similar to those private schools in the country.
Q:

These have not been set up as schools; they are registered as business entities under the BOI. How can the government impose educational regulations in such instances?
Parliament can do what it wants, whether these are BOI companies or not .
Q:

You are saying that despite the fact that these are business entities, the government can dictate how these 'businesses' need to be run?
Business is one thing and education is another. If a business goes wrong that is only for one person, but if children are not educated properly, that is a bane on society.
Q:

But those parents who choose to send their children to international schools, have made a choice—they have decided that they want to send their children to a school that is not regulated by the government, how can you take that right away from them?
That is not relevant to us. These can be businesses, but in this country they have to adhere to our laws. The Parliament is sovereign and it can put in place any system it wants.
Q:

The government is unable to monitor the government schools, under its purview, why take on more?
We will take care of that, you need not worry. It is only the privileged who go to these international schools—so we can't let businessmen dictate the policy.
Q:

If those who possess the means to pay for an international school, want to send their children to those schools—then how can the government deny them the option or opportunity?
They can't receive education the way they want, they have to receive education the way the government dictates. We have a National Education Policy.
For instance homosexuality is legal in most countries, but not in this country. We won't let it become legal, because that is not how the law works here. Some countries have made prostitution legal, but it won't work in this country.
Q:

You are taking away the right of students and parents to choose whether they want to attend a government regulated school or not?
There is a law in this country, they all have to abide by that law—everything else is irrelevant.