---
It's no secret that the Chinese government's human rights record falls short of international standards. Dissidents are imprisoned, and harsh policies are imposed on Tibet and Xinjiang.

Religious groups that operate without government approval are persecuted and a one-child-per-family policy is still pursued. Though the number of executions has dropped sharply, more than 3,000 people are still put to death every year.

Yet China has made important strides in at least one crucial area: the treatment of juvenile suspects and offenders.

Police arrested about 80,000 juveniles – those between the ages of 14 and 18 – in 2010. That same year, 64 per cent of juveniles whose cases were heard received custodial punishment. (The rate that juveniles are imprisoned after trial is around 27 per cent in the United States and considerably lower in most European countries.) In China, juveniles released from custody are often rejected by their families and face barriers to work, attend school and find spouses, in part because their records are unsealed.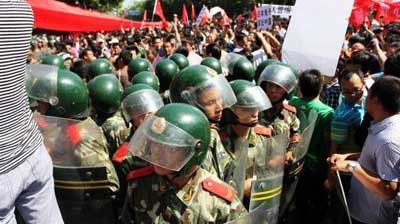 This will change when legal revisions take effect next year. "Conditional non-prosecution," a concept modeled after "diversion" practiced in the West, will be introduced to allow youth who commit minor offenses to avoid jail time by successfully completing six to 12 months' probation.

In an effort to promote rehabilitation, which is the principle focus of the Chinese juvenile system, the sealing of juvenile criminal records will also be applied nationwide for those who have been sentenced to less than five years' imprisonment. In theory, this should make it easier for youths to reintegrate into society.

Behavioural and psychological assessments are to be used at every stage of adjudication, and more protection for juvenile suspects are being introduced. Young women will no longer be interrogated unless a female officer is present. The effect of these reforms, if implemented nationwide, would sharply lower the incarceration rates for Chinese juveniles. Thousands of Chinese youth could be spared time in juvenile detention centers and juvenile reformatories. At present, juveniles can also be sent to "work study schools," and it is not clear how the reforms would effect these facilities.

Internal migration – approximately 160 million workers from the interior provinces reside in coastal cities – has led to a rise in the incidence of juvenile delinquency. In the decade between 1998 and 2007, the number of juveniles adjudicated in China jumped more than two-and-a-half times. In one district in Shanghai, children of migrant workers made up 95 per cent of juveniles arrested during the three-year period 2008-10. In the thriving special economic zone of Shenzhen, more than 75 per cent of juveniles sentenced in recent years have been children of migrant workers from provinces outside Guangdong.

As in the United States during the great waves of immigration and internal migration in the late 19th century, children of migrants often don't speak the local language, and educational opportunities are limited. They are discriminated against in workplace.

Without educational and employment opportunities, some turn to petty crime. After another double-digit increase in juvenile arrests in 2003, China's Supreme People's Court announced a plan to build a juvenile justice system. In 2007, the court began a pilot programme to establish independent juvenile courts in 18 locations. Local jurisdictions were encouraged to experiment with ways of reducing delinquency and arrests, and some partnered with foreign non-governmental organisations to establish community corrections programmes and other innovations.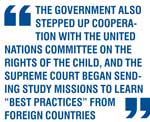 The government also stepped up cooperation with the United Nations Committee on the Rights of the Child, and the Supreme Court began sending study missions to learn "best practices" from foreign countries. Between 2008 and 2012, the non-governmental organisation I head, the San Francisco-based Dui Hua Foundation, undertook three exchanges with the court's Guiding Group on Juvenile Courts, hosting Chinese judges twice and sending American judges to China once.
These exchanges have had a major impact on reforms in China, but they have also revealed an American debt to Chinese reform. In October 2008, a Chinese delegation met with US Supreme Court Justice Anthony Kennedy, a towering figure in American juvenile justice. Justice Kennedy was the deciding vote in the 2005 Roper vs. Simmons case that declared capital punishment for juveniles unconstitutional. China had effectively abolished capital punishment for juveniles in 1997, a move referenced by Justice Kennedy in the majority opinion he wrote. The experience of US-China cooperation regarding the rights of juveniles suggests that it is possible to identify areas of common interest in the field of human rights and to work together to improve each other's human rights records. The two countries should spend more time acknowledging where progress has been made and making constructive suggestions on what improvements might come next.
In human rights, as in business, sometimes one needs to give a little to get a little.
Khaleej Times
---
---
Add comment

Comments will be edited (grammar, spelling and slang) and authorized at the discretion of Daily Mirror online. The website also has the right not to publish selected comments.

---