---
Kamal Nissanka, Attorney-at-Law

Judicial Power
The impeachment of the Chief Justice of Democratic Socialist Republic of Sri Lanka is by every means seems to be a judicial function. In this context it is vital and interesting to see how the Select Committee appointed by the Speaker of the Parliament acquired its jurisdiction.
According to the Article 4(c) of the 1978 Constitution, judicial power of the people is unequivocally vested in the courts, tribunals and institutions created by law (e.g.: Rent Boards)

According to article 4© of the constitution, Parliament can act judicially in regard to matters relating to privileges, immunities and regarding powers of Parliament and its members.

A literal interpretation of the Article 4© clearly manifests that the Parliament did not possess jurisdiction to investigate an impeachment motion when the constitution was passed in 1978.
Then a question arises as to whether the parliament could grab judicial power directly for a subject which is not falling under privileges, immunities.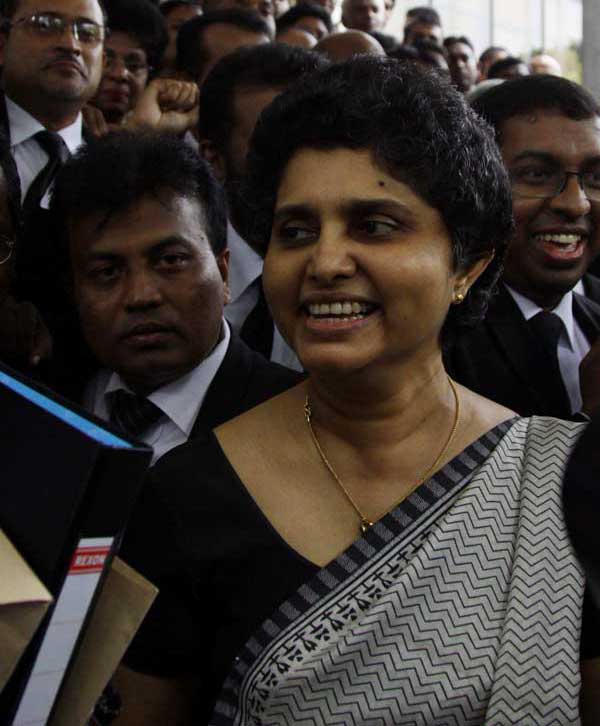 Law or Standing Orders?
Instead of drafting a bill first and then making it an Act for the impeachment process incorporating "an investigating body or board" comprising of retired judges and eminent personalities, then government opted to introduce Standing Orders in this regard in 1984.

It was to impeach former Chief Justice Neville Samarakoon that the Parliament under President J.R. Jayewardene had passed the respective Standing Orders. If the investigation elaborated in the Article 107(3) is done by a tribunal, body or board created by law passed by Parliament as mentioned in the same article that would have been in par with Article 4© of the constitution.

Instead the Parliament by creating Standing Orders had grabbed the judicial power unto itself in the impeachment process contravening or violating Article 4c of the Constitution. Thus the then government had also violated the concept of separation of powers by installing "judicial power" regarding impeachment in the legislature.

Standing Orders -78 A
The following Standing Orders which were passed by United National Party government in 1984 will be applied to the impeachment process of the Chief Justice.
78A (1) Notwithstanding anything to the contrary in the Standing Orders, where notice of a resolution for the presentation of an address to President for the removal of a judge from office is given to Speaker in accordance with Article 107 of the constitution, the Speaker shall entertain such resolution and place it on the Order Paper of Parliament but such resolution shall not be proceeded with until after the expiration of a period of one month from the date on which the Select Committee appointed under paragraph (2) of this order has reported to Parliament.

(2) Where a resolution referred to in paragraph (1) of this order is placed on the Order Paper of Parliament, the Speaker shall appoint a Select Committee of Parliament consisting of not less than seven members to investigate and report to Parliament on the allegations of misbehaviour or incapacity set out in such resolution.

" It was to impeach former Chief Justice Neville Samarakoon that the Parliament under President J.R. Jayewardene had passed the respective Standing Orders. If the investigation elaborated in the Article 107(3) is done by a tribunal, body or board created by law passed by Parliament as mentioned in the same article that would have been in par with Article 4© of the constitution "

(3) A select committee appointed under paragraph (2) of this Order shall transmit to the Judge whose alleged misbehaviour or incapacity is the subject of its investigation, a copy of the allegation of misbehaviour or incapacity made against such judge and set out in the resolution in pursuance of which such select Committee was appointed, and shall require such Judge to make a written statement of defence within such period as may be specified by it.
(4)The Select Committee appointed under paragraph (2) of this Order shall have power to send for persons, papers and records and not less than half the number of members of the select committee shall form a quorum.
(5) the judge whose alleged misbehaviour or incapacity is the subject of the investigation by a select Committee appointed under paragraph (2) of this Order shall have the right to appear before it and to be heard by, such committee in person or by representative and to adduce evidence ,oral or documentary in disproof of the allegations made against him.

(6) At the conclusion of the investigation made by it, a select committee appointed under paragraph (2) of this order shall within one month from commencement of the sittings of such select Committee, reports its findings together with the minutes of evidence taken before it to Parliament and may make a special report of any matters which I think fit to bring to the notice of Parliament.
Provided however, if the select Committee is unable to report its findings to Parliament within the time limit stipulated herein the Select committee shall seek permission of Parliament or an extension of a further specified period of time giving reason therefore and Parliament may grant such extension of time as it may consider necessary.

(7) Where a resolution for the presentation of an address to the President for the removal of a Judge from office on ground of proved misbehaviour or incapacity is passed by Parliament, the speaker shall present such address to the President on behalf of the parliament.
(8)All proceedings connected with the investigation by the select Committee appointed under paragraph (3) of this Order shall not be made public unless and until a finding of guilt on any of the charges against such Judge is reported to Parliament by such Select Committee.
(9) In this Standing Order "Judge" means the Chief justice, the President of the Court Appeal and every other judge of Supreme Court and Court of Appeal appointed by the President of the Republic by warrant under his hand.

Conclusion
A question regarding the jurisdiction of the Parliamentary Select Committee (on impeachment) created under Standing Orders 78A arises as they were passed by Parliament in 1984 in violation of Article 4(c) of the Constitution. The exercising of "judicial or quasi judicial power" by a body of the legislature is in violation of the theory of separation of powers. As the majority of the Select Committee members belong to the government party they are naturally influenced and interfered by their political leader. Thus prosecutor becomes the judge. (See Sinno Appu Vs Rajapakse(1928)30NLR 348)
Given that this is clearly unfair, and that the Standing Orders seem to be in violation of the Constitution, it would be best to amend the Standing Orders, and perhaps the Select Committee should recommend this. This can certainly be done for the present case, given that the time prescribed can be extended.
Alternately, the Select Committee could appoint a Sub-Committee with former judges of the Supreme Court forming a majority, to assist in the investigation. Such assistance seems essential since what appear to be the principal and indeed only charges possibly warranting impeachment, those relating to financial misbehaviour, clearly require judicial investigation before any decision can be reached.

(Writer is the Secretary General of the Liberal Party of Sri Lanka)

---
---
Add comment

Comments will be edited (grammar, spelling and slang) and authorized at the discretion of Daily Mirror online. The website also has the right not to publish selected comments.

---