---
The Health Ministry, one of the most important ministries in the Government, often comes under criticism for what it does or what it fails to do. One of the most enlightened plus points in the ministry is the vision 2020 charity unit whose main aim is to make the blind to see the world through a totally free cataract operation.
According to the Vision 2020 unit, globally there are more than 39 million blind people and 285 million who are suffering from low vision. It says 80 per cent of blindness is preventable. Most of the blind and low-vision people live in Third World countries with limited access to eye care.

The main cause of blindness is cataract. In Sri Lanka surveys indicate that more than 200,000 people including children are blind. Some 70 per cent of them have gone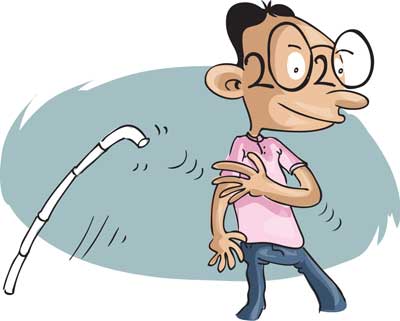 blind due to cataract. Vision 2020 says many cataract patients do not go for the simple operation due to various problems. One of the main reasons is that cataract surgery needs an artificial lens to be implanted within the eye. This lens is expensive and is not usually provided by the hospital. Patients have to buy it from outside. The cost is between Rs.20,000 and Rs.30,000. As a result many poor patients do not get their cataract operations done. They continue to be blind till they die.

Eye specialists say cataract is the clouding of the natural lens of the eye. This happens usually because of aging. Gradual vision loss leads to complete blindness over a period of months or years. The most affected are those who have passed the age of 60. A blind person often becomes a burden to the family and the society.
Cataract surgery is a quick, simple, painless procedure with immediate sight restoration.
This is conducted in public hospitals which have eye units. But even in these public hospitals including Colombo's Eye Hospital, patients are told to buy the artificial lens.

The main mission of Vision 2020 is to provide these lenses free of charge. At the Colombo Eye Hospital this weekend, 200 cataract operations will be carried out free of charge with philanthropist Dr. Velautham Sarvaswaran and the progressive youth front buying the lenses through the Health Ministry from a reputed British firm at a cost of less than Rs.4,000 each. This package includes an artificial intraocular lens, consumables and eye medication. The question being asked by the people and by health analysts is why transnational companies are being allowed to charge between Rs.20,000 and Rs.30,000 for these lenses and why some specialists are also prescribing these expensive lenses.

Vision 2020 with the help of patient-friendly and sacrificial eye specialists, conducts such free cataract operations once or twice a month in different parts of the country.
Vision 2020 is appealing to the people to help the poor or elderly to get the cataract operation done. As a result he or she will start to see the world again. By giving about Rs.4,000 you can help a blind person to see and it will be a gift for life. Vision 2020 appeals to the people to think of a bind man or a woman before spending thousands of rupees on a luxury event. If you wish to participate in this noble venture you could contact vision 2020, Room 37A, Ministry of Health or telephone 2693744.
Vision 2020 says that by continuing this mission it hopes to have a cataract-free Sri Lanka by 2020.
---
---
Add comment

Comments will be edited (grammar, spelling and slang) and authorized at the discretion of Daily Mirror online. The website also has the right not to publish selected comments.

---