---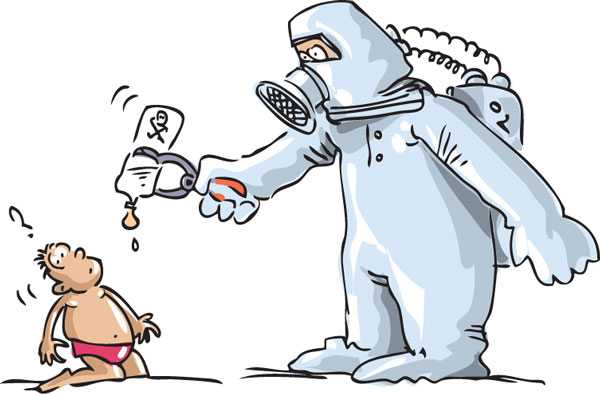 As we mark World Food Day today, we need to reflect deeply on what has happened to our traditional food and nutrition diets during the past 40 years of the globalised capitalist market economic policy which Sri Lanka swallowed wholesale after 1977.
The people, Government leaders and officials need to examine their conscience and ask whether we are, knowingly or unknowingly, allowing transnational giants to freely indulge in economic neo-colonialism in the vital areas of food and nutrition including milk-foods and agriculture.
According to most independent economic analysts, the multi-million-dollar food and milk food giants are being allowed to make Sri Lanka a dumping ground for their substandard or fake food and processed rubbish, sometimes containing preservatives, flavour-enhancing substances, artificial sweeteners and colouring substances that may be toxic. We are also allowing transnational agro-chemical giants to dump excessive quantities of fertilisers, weedicides and pesticides, some of which contain toxic substances. As a result, the food we eat daily contains some poison, and that may be one of the reasons why most of us are falling sick more often with medicine also becoming a big business in the sickening bargain.
More so we are foolishly polluting our Mother Earth, and experts warn that if we go on doing it, several layers of the soil may become infertile. Some analysts believe the excessive use of agro-chemicals is one of the causes of the epidemic of kidney failure because the ground water has been polluted in the North-Central Province, though the Government says the origin of this chronic kidney disease is still unknown.
The Daily Mirror, in an Editorial recently, quoted the Government Medical Officers' Association's public health unit as saying Cuba had offered to transfer modern technology for organic farming, but the Government has not responded positively, apparently because of pressure from transnational agro-chemical giants. Are we allowing a State within a State, a Government within a Government? Cuba, a long-standing and faithful friend of Sri Lanka, has offered to transfer the organic farming technology free of charge, but the Government is continuing to waste hundreds of millions of dollars on agro-chemicals that are poisoning our food and polluting precious Mother Earth that has blessed us abundantly for thousands of years.
One of Sri Lanka's highest qualified, people-friendly nutritionists, Dr. Damayanthi Perera made some startling revelations in a talk she gave recently at the annual sessions of the Medico-Legal Society of Sri Lanka. The talk was titled "Globalisation, Unrestrained Free Trade and Exploitation: Consumer Rights and Professional Obligations".
Dr. Perera says she believes western food and nutrition policies have failed, and globalisation has led to globesity where a large number of Americans and other westerners are suffering from morbid obesity. She says transnational companies undermine time-tested traditional diets, food cultures and agricultural practices to boost the sale of highly unnecessary, harmful and potentially harmful ultra-processed diets, including burgers, colas and other fizzy drinks, imitation milk, fake butter, unnecessarily fortified breakfast cereals and genetically modified food. This has led to an increase in diabetes, heart disease, cancer and other diet-related diseases leading to long-term debility or premature deaths.
The nutritionist warns that transnational food companies unable to increase sales in the West have moved marketing campaigns for their products to emerging economies in Asia and elsewhere with predictable effects on the body weight and health of the people.
On this World Food Day, the Daily Mirror urges politicians to stop their big talk because we cannot eat words. Instead, we need action to restore the culture of being Sri Lankan and buy Sri Lankan, so that we could eat safe and quality food grown or prepared in Sri Lanka.