---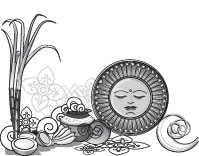 For the first time after about 60 years, Sri Lanka's Tamil community and the main Tamil political parties are actively and sincerely cooperating with the national government in multi-faceted moves for a just and fair resolution of the ethnic conflict. They hope to achieve this through truth-seeking, reconciliation, restitution and a commitment to interracial and inter religious unity in diversity.

People of all religions and races will join the Hindu community comprising 1,552,518 or 7.1% of the population in celebrating the largely agricultural festival of Thai Pongal today. The National Thai Pongal Festival will be held today in Jaffna with the participation of President Maithripala Sirisena, Prime Minister Ranil Wickremesinghe and Britain's visiting Foreign and Commonwealth Affairs Deputy Minister Hugo Swire.

Thai Pongal is one of the most important festivals celebrated by the Tamil people in the Indian State of Tamil Nadu, the Indian Union Territory of Pondicherry, Sri Lanka and Tamil people worldwide. The day marks the start of the sun's six-month-long journey northwards. This also corresponds to the time when the sun purportedly enters the 10th house of the Indian Zodiac Makara or Capricorn. Thai Pongal is mainly celebrated to convey appreciation to the Sun for providing the energy for agriculture. Part of the celebration is the boiling of the first rice of the season consecrated to the Sun - the Surya Mangalaya.

The origins of the Thai Pongal festival may date to more than 5,000 years ago. Epigraphic evidence suggests the celebration of the Puthiyeedu during the Medieval Chola empire days. Puthiyeedu is believed to represent the first harvest of the year. Tamil people refer to Pongal as "Tamizhar Thirunaal," the festival of Tamizhs."

This year Thai Pongal is of special significance not only in Sri Lanka but worldwide. During the climate change summit in Paris last month about 200 countries decided they would take immediate steps to reduce the increasing temperature to two degrees Celcius or if possible 1.5, substantially reduce Carbon emissions and use creative digital technology to discover renewable sources of energy especially from the sun. The sun's enormous and pure energy is freely given to all people 24/7 and every day.

In the 1960s, British economist E.F. Schumacher had indirectly warned of over-dependence on fossil fuels. More than 60 years later the emissions of pollutants from burning fossil fuels and biomass are recognised as a serious global problem, causing not only worldwide air pollution, acid rain and adverse health effects but also threatening to alter the Earth's climate in ways which could prove disastrous and irreversible on a timescale of decades to centuries. Happily, Sri Lanka to coincide with Thai pongal, is launching small scale village level solar energy missions which in the months and years to come may help us to turn 1800 degrees on fossil fuels to solar, wind and other natural energy sources.

Another important dimension linked to Thai Pongal is the way we relate to and treat our Mother Earth. During the past 40 years, Sri Lanka has been using and abusing imported agro chemicals to such an extent that soil scientists believe that a huge percentage of our soil or Mother Earth is polluted or poisoned. Thai Pongal is a time of thanksgiving for the bountiful harvest given freely to us by Mother Earth and it is an appropriate day for all people to turn from our self-centred wickedness of killing Mother Earth which feeds and nourishes us. Practically we need to turn to the more difficult course of organic agriculture using bio-fertilizer such as cattle dung which is available freely. We are thankful for small movements like the Oblate Community which collects cattle dung from poor villages in Mullaitivu and Kilinochchi. While providing an income for the livelihood of those poor people, this cattle dung is heated, powdered, packed in one kilo bags and sold at Rs.100 each at the Fatima Church premises in Colombo so that home garden and plant nursery enthusiasts here could also use organic fertilizer.

When we go to these healthy, life sustaining dimensions, festivals like Thai Pongal and those of other religions could be transformed from the dryness of rituals or head-level ceremonies to practical aspects for the common good of the people of all religions and races.
---
---
Add comment

Comments will be edited (grammar, spelling and slang) and authorized at the discretion of Daily Mirror online. The website also has the right not to publish selected comments.

---