---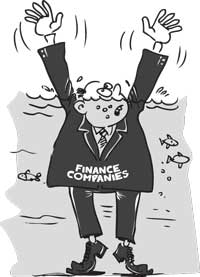 The issue of troubled finance companies has surfaced again. In 2009 we saw a string of unlicensed finance companies and a few licensed ones belonging to a conglomerate going bust, leaving their depositors high and dry. Some companies were closed and others were given new identities through new managements. The legal battles against some of these companies and their director boards are still going on. But the majority of the depositors have so far not even received 20 per cent of their deposits.

A couple of months back, the Central Bank had to intervene in rescuing two licensed finance companies. In one case, the director board was asked to pledge their other assets to bolster the minimum capital a finance company should have while for the other it had to find a managing agent, who could draw up a revival plan to rescue the troubled finance company.

Following these two incidents, the fears have surfaced again and the stability of some of the licensed finance companies is being questioned.

There are 47 licensed finance companies operating in the country. Isn't this bit too many for a country with a population of just over 20 million and also with a strong banking system, which operates branches in literally every nook and corner of the country?

The other interesting question is that whether the Central Bank has time and resources to carry out regular audits on these licensed finance companies. We doubt the ability of Non-Bank Supervision Department to allocate at least one official for each 47 finance companies to carry out regular checks. The Central Bank has recently indicated that it would not issue new finance company licences, probably realising this shortage of resources.

But it's the inalienable duty of the Central Bank as the regulator of banks and finance companies to monitor and audit their operations ensuring the health of the depositors' moneys as well as the health of the entire financial system. According to many financial sector stakeholders, it would be prudent if the Central Bank could reduce the number of finance companies that have mushroomed to a number its Non-Banking Department can monitor and audit in detail.

The Central Bank might also need to rethink its strategy in discouraging people to put their hard-earned monies into riskier investments. Despite the high number of advertisements and public awareness campaigns, the greed in the people will drive them to deposit their moneys in finance companies, which offer incredibly attractive interest rates that none of the well established banks in the country can give.

It is a public secret that despite the Central Bank's regulatory cap on maximum interest rates the finance companies can offer, certain finance companies offer higher rates, though the documentations with regard to clients' accounts are drafted within the Central Bank regulations. As a concluding remark we kindly ask our sportsmen and other celebrities to be extremely cautious when becoming brand ambassadors and promoters of finance companies by way of appearing in advertisements and other sorts. They should remember that though its good money—especially when you promote a finance company or a bank—when that company breaches the public trust by not honouring commitments to its clients, your reputation also goes out of the window.
---
---
Add comment

Comments will be edited (grammar, spelling and slang) and authorized at the discretion of Daily Mirror online. The website also has the right not to publish selected comments.

---