---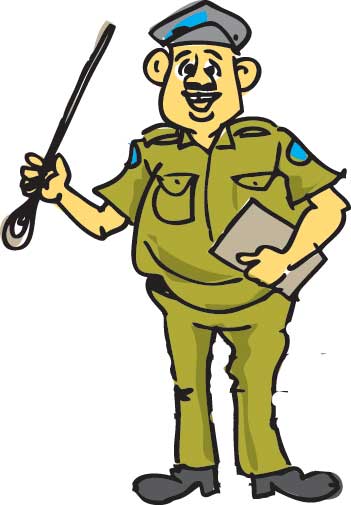 Like any other public institution that is misused and directed according to the whims and fancies of the incumbent regime, the police service in Sri Lanka too has become a tool in the hands of the powers-that-be. The impediment has changed the police into a pet dog from a watchdog where the men in khakis are expected to be blind to the incongruities of the law-breaking politicians, while snapping at the majority of law-abiding public at their comparatively slight blunders.

The stratification, irrespective of its definers and authors, has put to shame the dignity of the profession, safeguarding of which, brings respect to them in return. However, we are passing a time when policemen are compelled to watch politicians riding bikes without helmets; their useless protests are given full protection while those who protest against the same cause are tear-gassed and baton-beaten for the relief of the privileged few.
Over the years, people have begun distrusting the Police and their capability to maintain law and order in the country. As a result of this, whenever a tensed situation arises, people seem to be taking law into their hands and meting out justice. Their only excuse for such unruly behaviour is that, during the recent times, police have been a law unto themselves.

Unlike other armed forces that were established purely for military purposes, the Sri Lanka police force came into being in order to guarantee public security. The duties they were assigned and the discipline they were supposed to adhere to were different from those that were compulsory for other armed forces.

The Police directly deal with the people, however, their public relationship skills are very much in question. As much as the training on weapons, they should be trained to effectively interact with people. The contemporary, unquotable language used by them needs to be given a makeover. This is the main reason why people think twice when they have to get the support of the police.

Apart from that, police is known to be one of the most corrupt institutions in the country and the the department consist of corrupt individuals. It goes without saying that they do not attend to do their duty with the attitude that they are there to ensure the security of the public; instead they go to govern and suppress the people with the power of their uniform and weaponry.

However, none of this justifies the gravity of people trying to take law into their hands when justice is delayed or forgotten. Time and again, Sri Lanka has witnessed people damaging public properties due to the failure of the law enforcement authorities to bring the culprits to book.
It takes courage to stand up to the wrong that springs from higher echelons. When it comes to Sri Lanka police, it is a matter of exhibiting their right kind of courage where it is needed, for the safety of their own dignity.

---
---
Add comment

Comments will be edited (grammar, spelling and slang) and authorized at the discretion of Daily Mirror online. The website also has the right not to publish selected comments.

---